By Marsha Shyer, Chair, Homeowner Committee, Frank Lloyd Wright Building Conservancy
Samantha Lotti, owner of the Balch House, has a generational bent towards preserving and nurturing the environment. As the fourth generation of a family that valued the gifts of the earth via a family farm, her natural propensity toward saving the environment is based on a childhood centered on the natural world.
With this background, it is no wonder that when she bought the Balch House, designed by Frank Lloyd Wright and completed in 1911, her thoughts turned to the environmental footprint of the house.
Reducing Our Footprint
"If the house cannot damage, and in fact can co-habitate with nature, I think that it is living up to the ideals of Frank Lloyd Wright. Technology has finally come to a point where it has caught up with those ideals of being one with nature, and lowering our footprint on the Earth," Samantha said in a recent interview. This was Samantha's thought as she sat in a very cold house during a polar vortex, when the gas heating system would not raise the temperature in the house above 55 degrees.
Samantha soon began a multi-year journey toward a net-zero outcome at the Balch House. Samantha emphasizes that "the house will never be net-zero – that was the original idea. When we did the energy assessment, we discovered what was possible, and that while not net-zero, we could become significantly more energy efficient."
Samantha applied the underlying philosophical understanding of the environmental principles she had first begun to consider many years before on a family farm in Italy.
Samantha grew up spending summers on Tenuta San Carlo Farm in Maremma, Tuscany. She and her sister Ariane represent the fourth generation of ownership of the farm, which was established by her great grandfather in 1936 in a fertile corner of the province. It was on this beautiful landscape, which is also partially a parkland, that Samantha developed an abiding appreciation for nature, and passion for the environment, and concerns beyond her own creature comforts.
Fourth Generation Family Farm
"Growing up at Tenuta, I developed a profound appreciation of nature's power, as well as its dominance," she said. When Samantha and her sister inherited the land, they decided to continue the tradition of operating the property as a family farm. Samantha developed agritourism on the property, and Ariane converted the farm to organic production, with a crop that is primarily rice. Each specialized variety of rice is named for a beloved family ancestor.
Samantha credits her study of art history at the University of Chicago for her first spark of affinity for the work of Frank Lloyd Wright. She went on to get a masters in Chinese medicine and a doctorate at Daoist Traditions College of Chinese Medical Arts. Her specialty is acupuncture.
She describes her reasons for buying the Prairie-style Balch House in 2016 very simply: "I fell in love." The previous owner had recently and sensitively updated the house. The heating issue Samantha encountered is a common old house issue–climate control is difficult, and solutions are complex. Samantha's concern was not only with her own comfort but with the health of the planet.
Thankfulness
Still, Samantha overall felt that the house was in great shape. "I am grateful I didn't have to think about those basics, which had been completed, and could think beyond the box," Samantha said.
"I see it as such a privilege to live in a Frank Lloyd Wright House, because it is a work of art," she continued.
Samantha had heard about the work of passive house consultant and architect Tom Bassett-Dilley, and hired him, as well as builder Doug Freekson and architectural consulting engineer Mark Nussbaum.
"I felt deeply as a steward of the home that the project was in alignment with both the philosophy and the work of Frank Lloyd Wright. He reflected deeply on the relationship between architecture and nature. And he was known, whenever there was a new building material available, to try that material."
"In the philosophical conversations with Tom and our team, I became interested in the idea of the evolution of architecture over time – how an old home like this one, from 1911, could become up-to-date with the comforts of modern life while also pursuing what is new in architecture, basically allowing historic architecture to remain intact yet evolve."
Frank Lloyd Wright: Examples of Environmental Architecture
Frank Lloyd Wright, who coined the term "organic architecture," used the environment around him to inspire and construct his buildings. The root of many of the current trends in environmental architecture may be found in his original structures.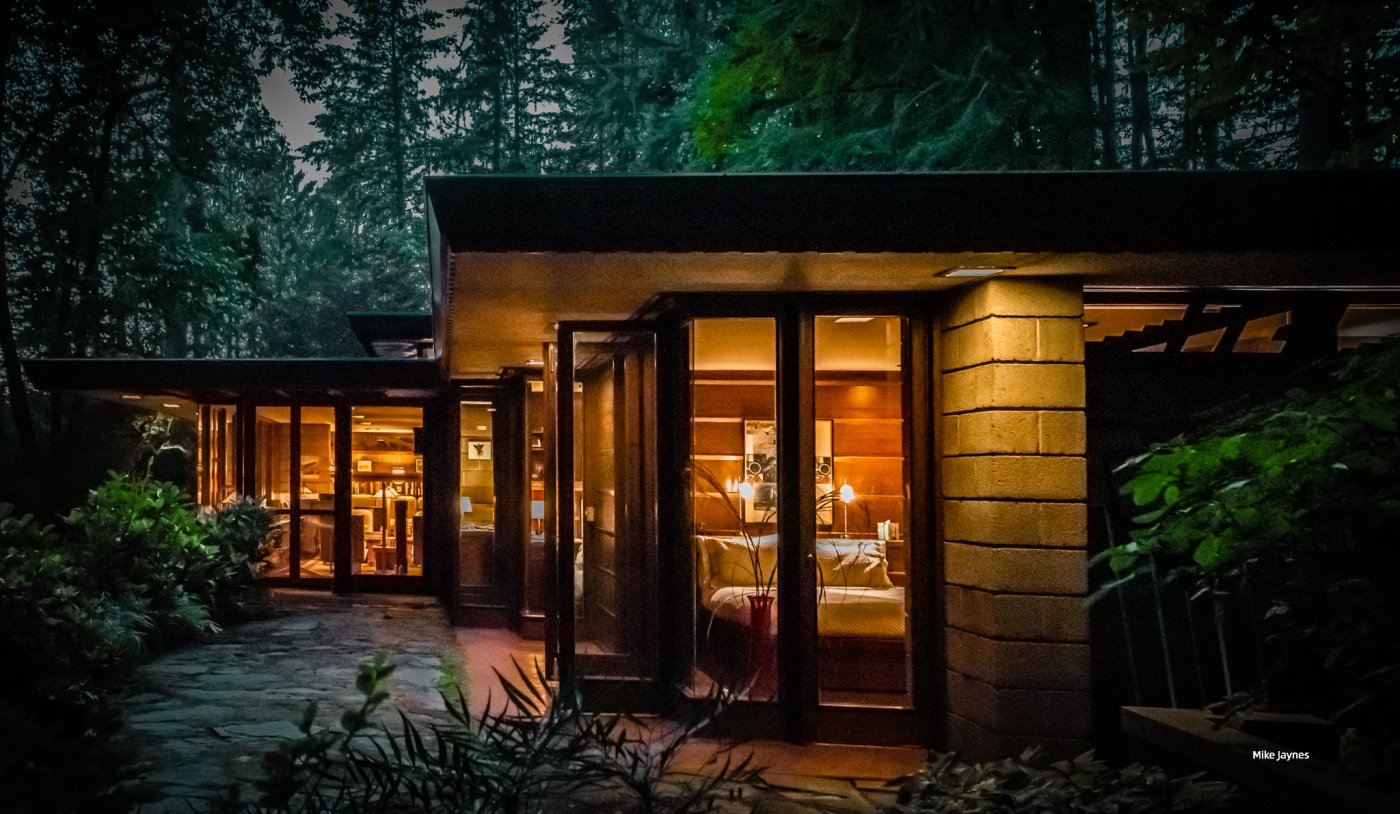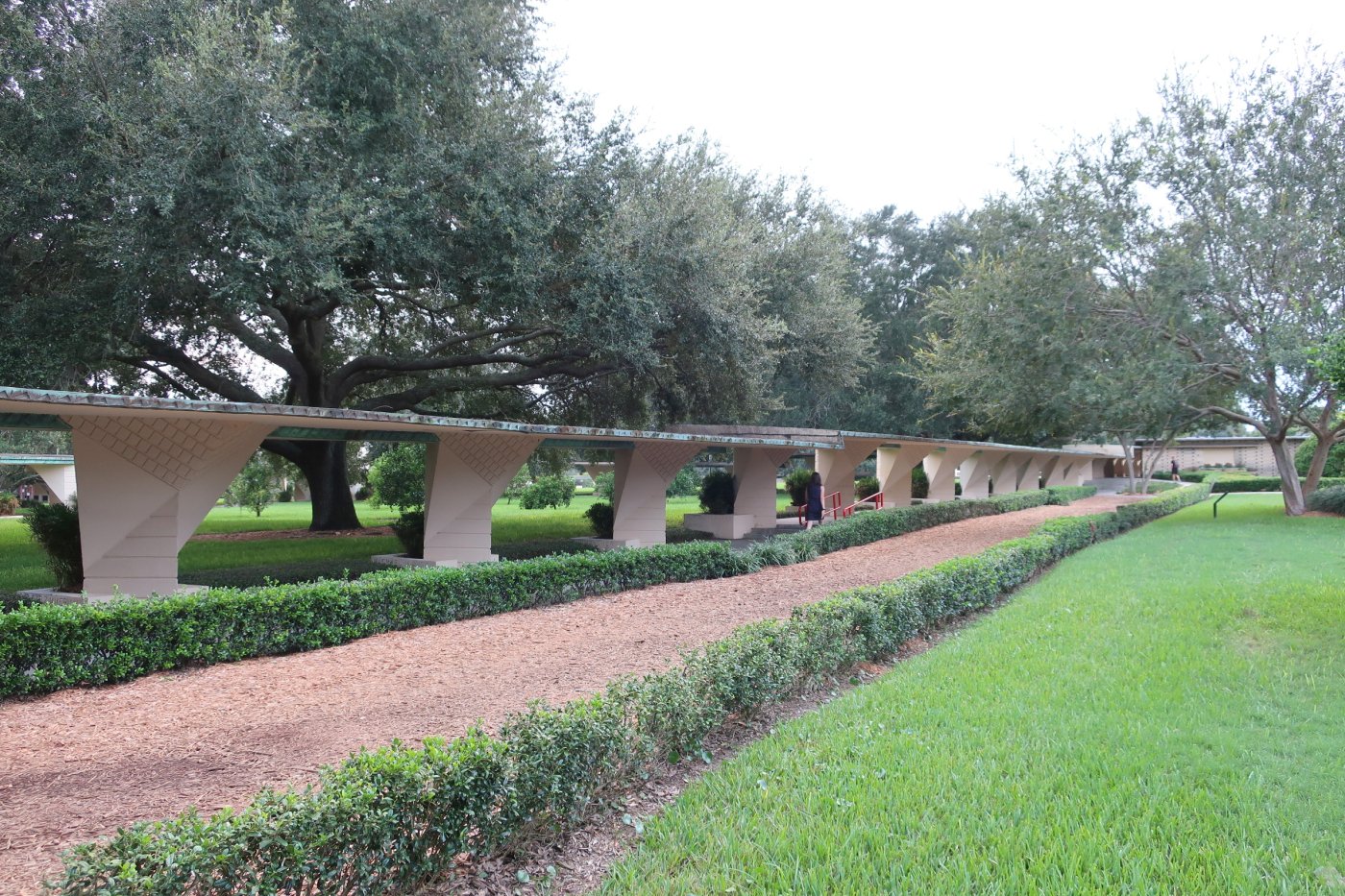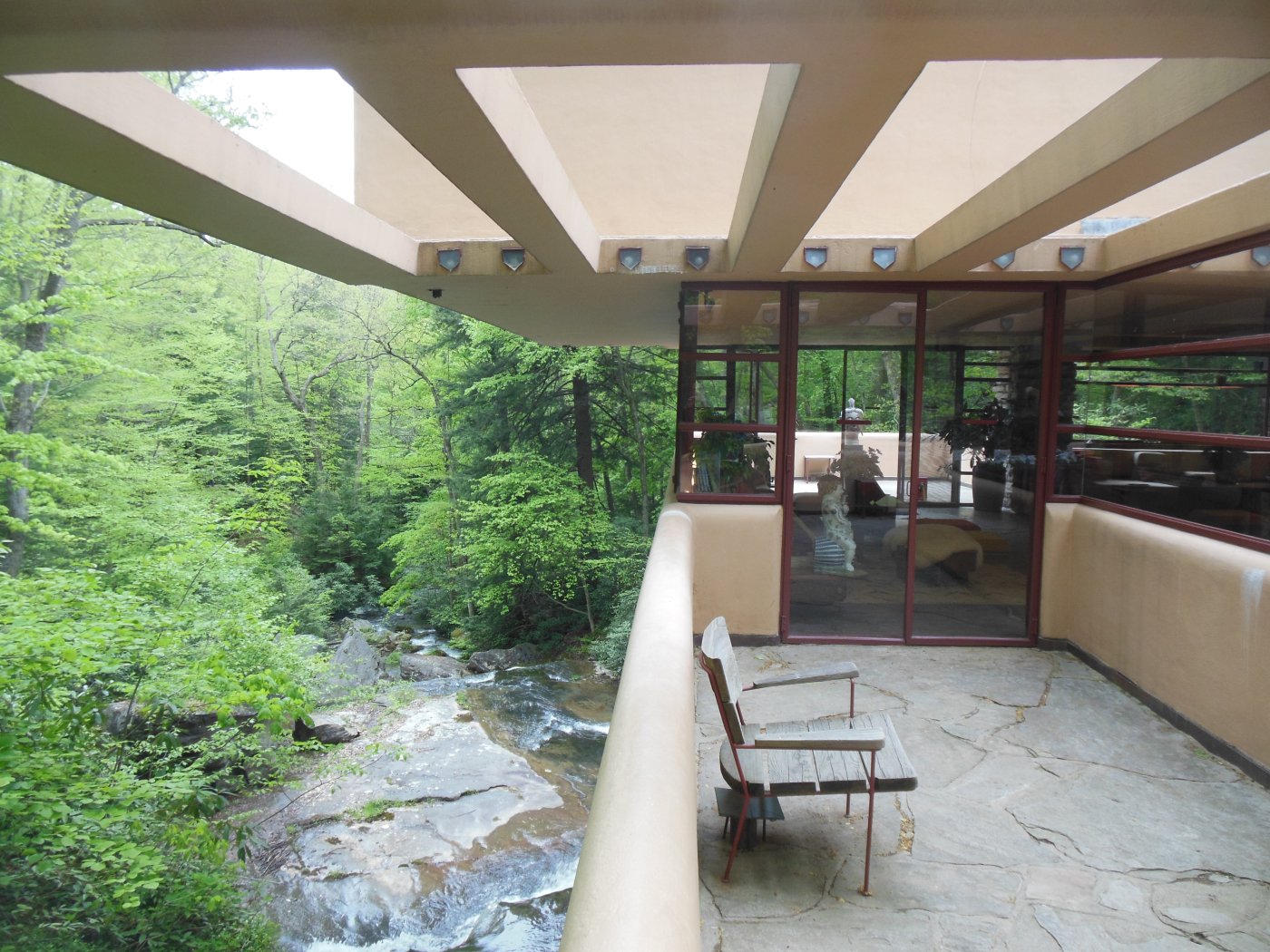 Years of Work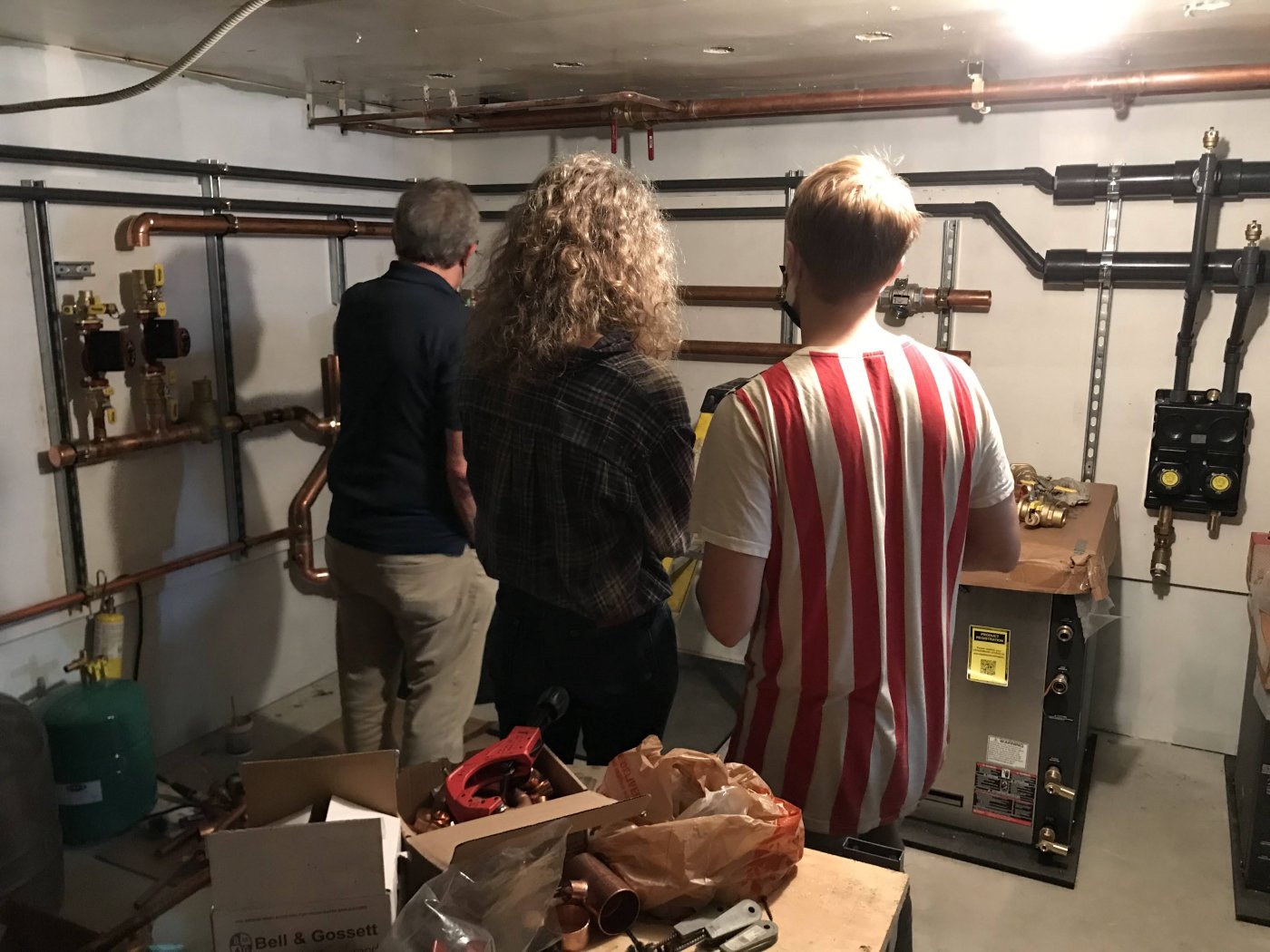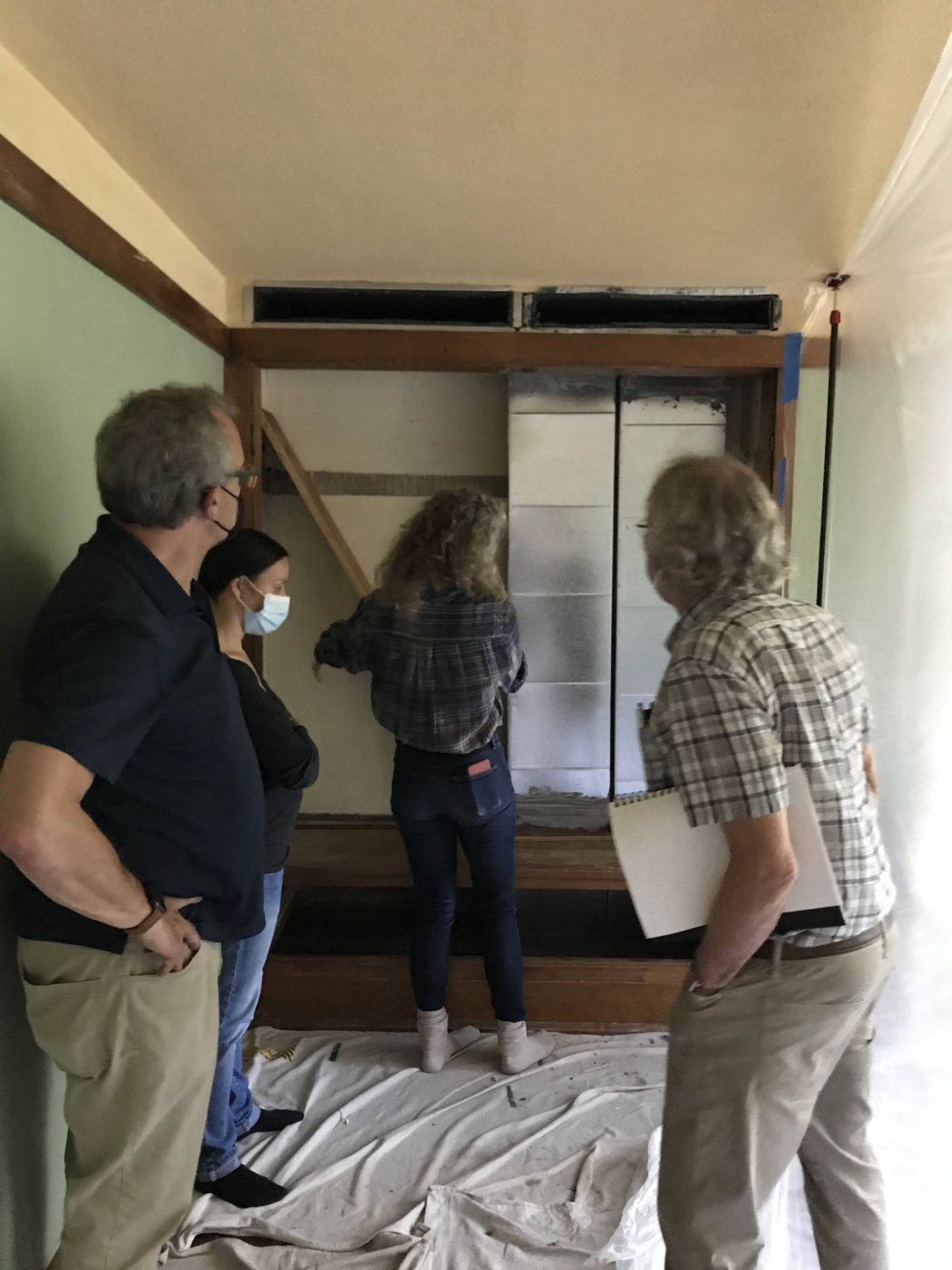 Over the next three years the team managed to reduce the carbon footprint of the house by approximately 40-60%, with projects still under way. They did this by accomplishing the following projects:
Energy audit with blower door test
Energy modeling with decarbonization retrofit design
Adding interior storm windows
Installation of a geothermal system, with the removal of the gas boiler and water heating system
Six 450 foot wells for geothermal system
New landscaping
Retrofit roof insulation and new second floor ceilings
New roof
Future phases include:
Retrofit and insulate basement slab and foundation walls
Retrofit and insulate exterior walls and re-coat plaster to match original gold color
Install rooftop solar, not visible from street
"We have achieved a much more comfortable living space that is also more energy efficient," Samantha reports.
But more important than quality of life, is how this makes her feel.
"I feel good personally that the house runs on geothermal and not on gas," she said.
She also feels that by taking on this major project in an important house, she is making a statement that others will listen to:
"I don't understand why energy-efficient solutions are always considered the lesser solutions. I feel that by applying those solutions to an important historic house, it is making a statement that these solutions are solid, mainstream solutions that can be used by other people."
The Costs
The costs, as well as time spent, she noted, were not similar to those for other, non-Frank Lloyd Wright houses. "You always have to go up a level for Frank Lloyd Wright," she pointed out, referring to finding and paying for painters, carpenters, and various other trades. She knew going in that this would happen, and felt strongly that she wanted to do the project, which is ongoing.
"After three years of constant construction, I decided that I needed a break, but we have more to do. Next up is a small number of solar panels, that will be hidden from view, and will power the entire geothermal system, which runs on electricity instead of gas. Even without that, the cost for air conditioning has been reduced by 20%."
Prairie Garden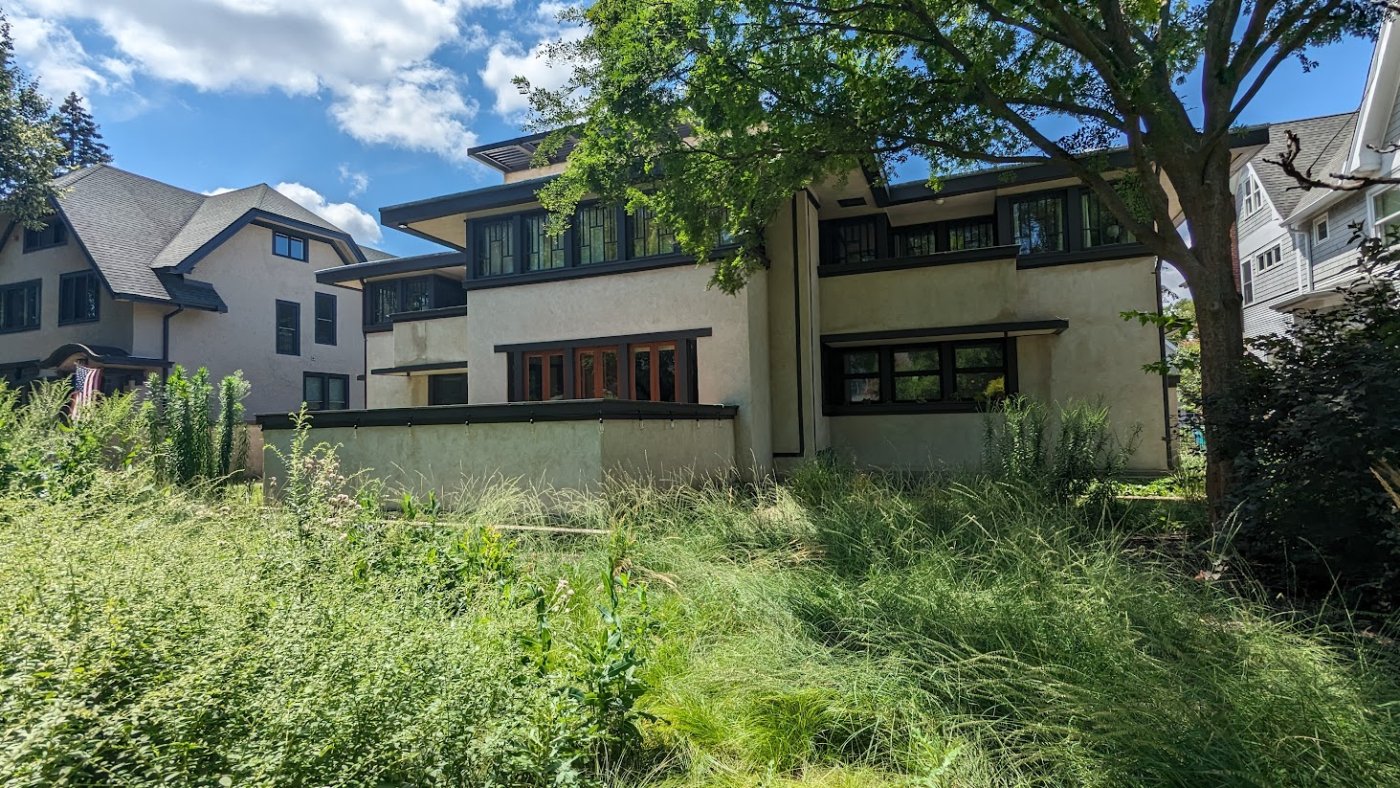 Another beneficial environmental project that Samantha has recently completed is converting the front and back yards into native Illinois prairie gardens.
"Eventually they will be self-sustainable and drought-resistant, but at first maintenance is a lot of work."
"I am already seeing species of insects and birds that never previously visited the garden. It's extremely healing for the local environment, and at the same time, it's gratifying to see the work starting to come to life."
Again, Samantha is helping the environment, valuing the historic with a clear eye to a cleaner and more natural future.
Follow Samantha's decarbonization diary of the Balch House on Instagram: @BalchHouse
---
For All U.S. Homeowners: Tax Credits Available through the Inflation Reduction Act
The U.S. Government is now encouraging owners of all different types of homes to move to climate friendly and energy efficient solutions with provisions in the Inflation Reduction Act, which encourages Americans to make the most energy efficient choices for their homes through tax credits and rebates, including*:
Home energy audits
A tax credit of up to $150 is available from the U.S. Department of Energy. Good until 2032
Clean energy technologies
Geothermal heat pumps, solar panels, wind turbines and stand-alone batteries can cover tax credits for up to 30% of the total purchase price, including labor. Tax credits between 22-26% are available until the program is phased out in 2034/35
Energy-efficient home systems
Water heaters, central air conditioners, boilers and other appliances that meet energy certification requirements can receive tax credits of up to $600, or 30% of the cost. Good until 2032 (except for hot water boilers, which can receive tax credits until 2027)
Energy-saving home improvements
Adding insulation, sealing air leaks, and installing energy-efficient doors, windows and skylights can receive tax credits. Each one of these home improvements have a different maximum credit. There is, however, an annual limit of $1,200. Good until 2032
Heat pumps
New heat pumps, which can both efficiently heat and cool your home, are also one of the best tax savers, giving tax credits of up to an additional $2,000 (over the $1,200 limit on other rebates) for both purchase and installation. Good until 2032
*for more information please check with your personal tax accountant
---
Read More Homeowner Stories
The SAVEWRIGHT: Notable Women Homeowners Project tells the stories of the remarkable women who have stewarded houses designed by Frank Lloyd Wright.
Posted August 28, 2023