By Marsha Shyer, Chair, Frank Lloyd Wright Building Conservancy Homeowner Committee
Elle Wernette, the current steward, with her husband Luke, of Frank Lloyd Wright's 1939 Goetsch-Winckler House (built in 1940) knows about sleep. She has a Ph.D. in Psychology (Cognitive Neuroscience) from nearby Michigan State University, and six years as a graduate researcher at the University's Sleep and Learning Lab. It is no wonder that in recent interviews about her three years living in the house, the subject comes up, especially in connection with the newest resident, their 10 month old daughter Liliana:
"As a sleep researcher and 'crunchy' mom (a mom with a holistic approach), I love that this house allows my daughter to be so in tune with nature. I know it is what is best for her circadian rhythm-she sees the sunset every day, no blinds in her room, no city noise just nature like birds, frogs and crickets. She sees natural colors on her walls, and she gets to constantly watch nature outside while playing in the living room every day."
Connection to Nature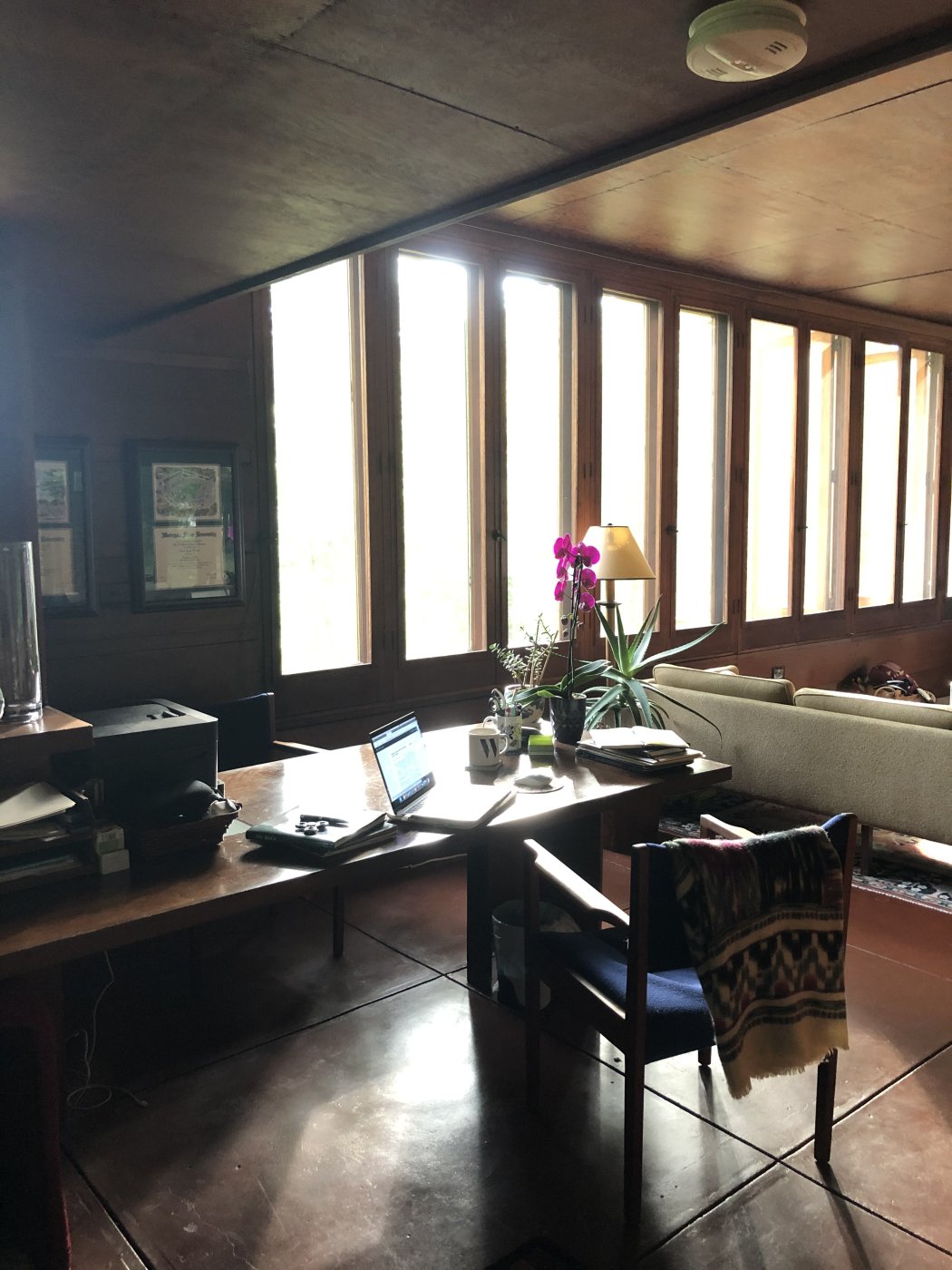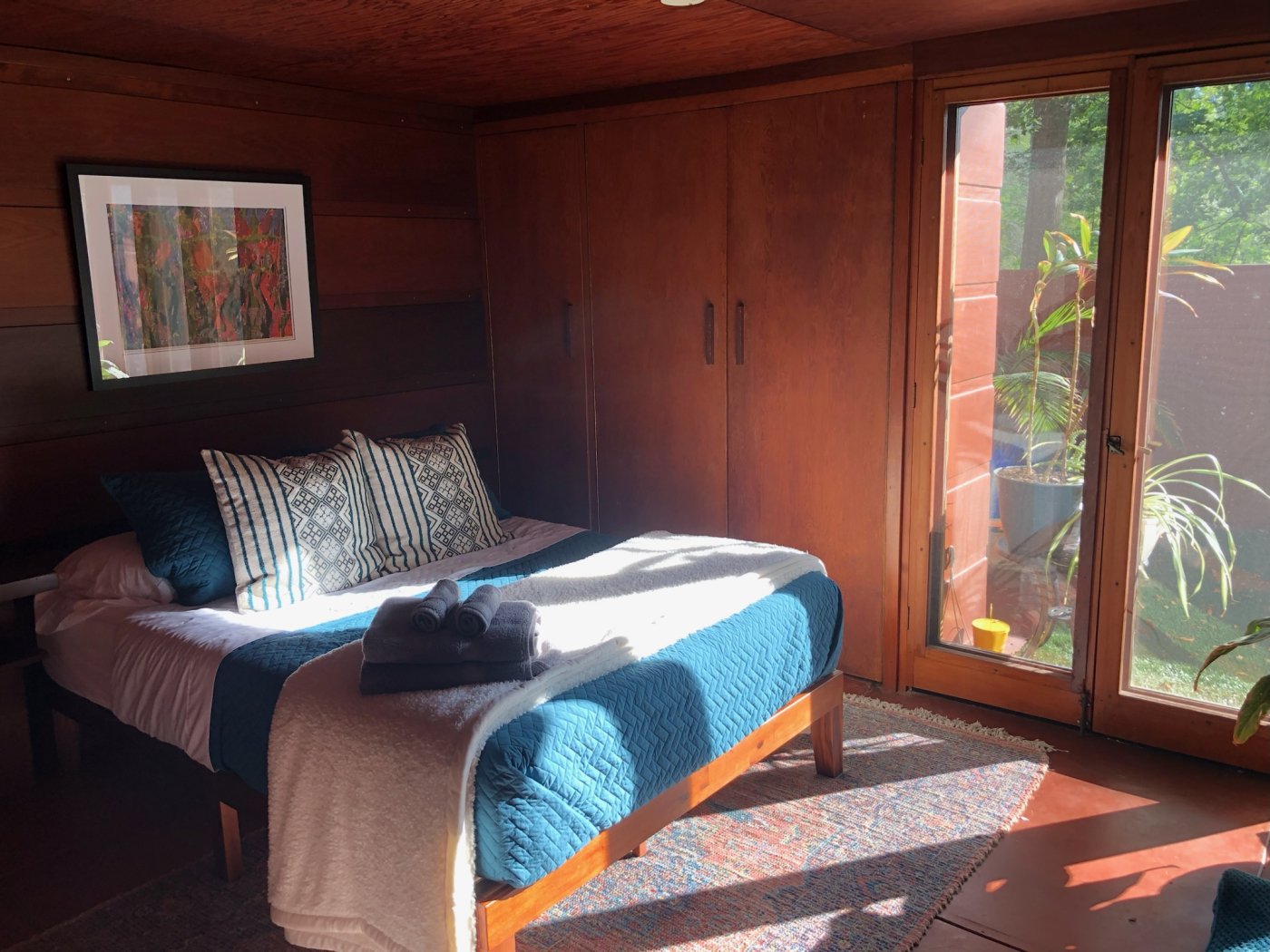 The house's setting and connection to nature is a theme to which Elle returns often; it is one of the many things about the house that she has come to love.
"I can feel the humidity rise when a storm is rolling in during the summer and we can hear the wind traveling across the pond into our house. We get to watch the phases of the moon and location of the sunrise and sunset every day of the year. We get to see every detail of the trees on our property through the clerestory windows- a true 360 view. Despite all of these vast views, our house is totally private from the road and our neighbors."
"I always find it funny when deer walk through our yard because they usually look in at us through all of the windows, and it makes me feel like I am the zoo exhibit and the deer are observing me."

"We have a snake that lives under our lanai and gets in daily battles with Adonis (our dog) and we always think it's funny watching Adonis, he gets so afraid of such a little garter snake. But at the same time, Adonis is way too curious to not try and sniff the snake over and over again."

— Elle Wernette
Living the Goetsch-Winckler Lifestyle
Frank Lloyd Wright built the house for Alma Goetsch and Kathrine Winckler, two influential professors and artists who were on the faculty of Michigan State University, where Elle has focused her life over the last 6 years as she achieved her B.A., M.A. and Ph.D. from the University. Elle has felt the pull of the two women's influence as well.
"Their (Goetsch and Winckler's) vision for the house and the way they wanted to live their lives is a very strong influence in my life. The grand living space that invites in our many guests in and opens up discussion. It's where we spend all of our time when we aren't sleeping. The way the workstation overlooks the pond on the property next to ours– truly inspiring for an artist or anyone who doesn't want to feel stuck at a desk."
This inspiration was particularly important during the pandemic, when Elle worked from home.
Elle has made certain that Goetsch and Winckler's art is being displayed within the house. She owns an extensive collection of their work and is adding to that collection on a regular basis.
Elle did not originally have a strong connection to Frank Lloyd Wright. Her father Douglas DelGrosso, has been a lover of Wright since his days at Lawrence Technological University in Southfield, Michigan, where he earned his degree in mechanical engineering. That school owns Frank Lloyd Wright's Elizabeth and Gregory S. Affleck House. Once Douglas saw that the Goetsch-Winckler House  was on the market, and convenient to MSU, he called Elle.
"He reached out to me and asked if my husband and I we would be interested in living in the house and helping to maintain it …a few weeks later, we were moved in and living in what felt like a dream."
Influences of Frank Lloyd Wright
Once living in the house, Elle developed a deep and personal connection to Wright and his design.
"Now I care so much about the history of his work and this house. My husband and I always make a point to tour public access Wright homes while traveling. Wright also very much influences my everyday life because the design of this house totally controls our day and tells us how to live. Our lifestyle has changed to match the flow and demands of this house, which in some ways is wonderful and gives me a deep understanding of Wright's intentions for this house. Although sometimes tough on me as an individual, I deeply respect him and his philosophy of architecture."
Major Restoration Projects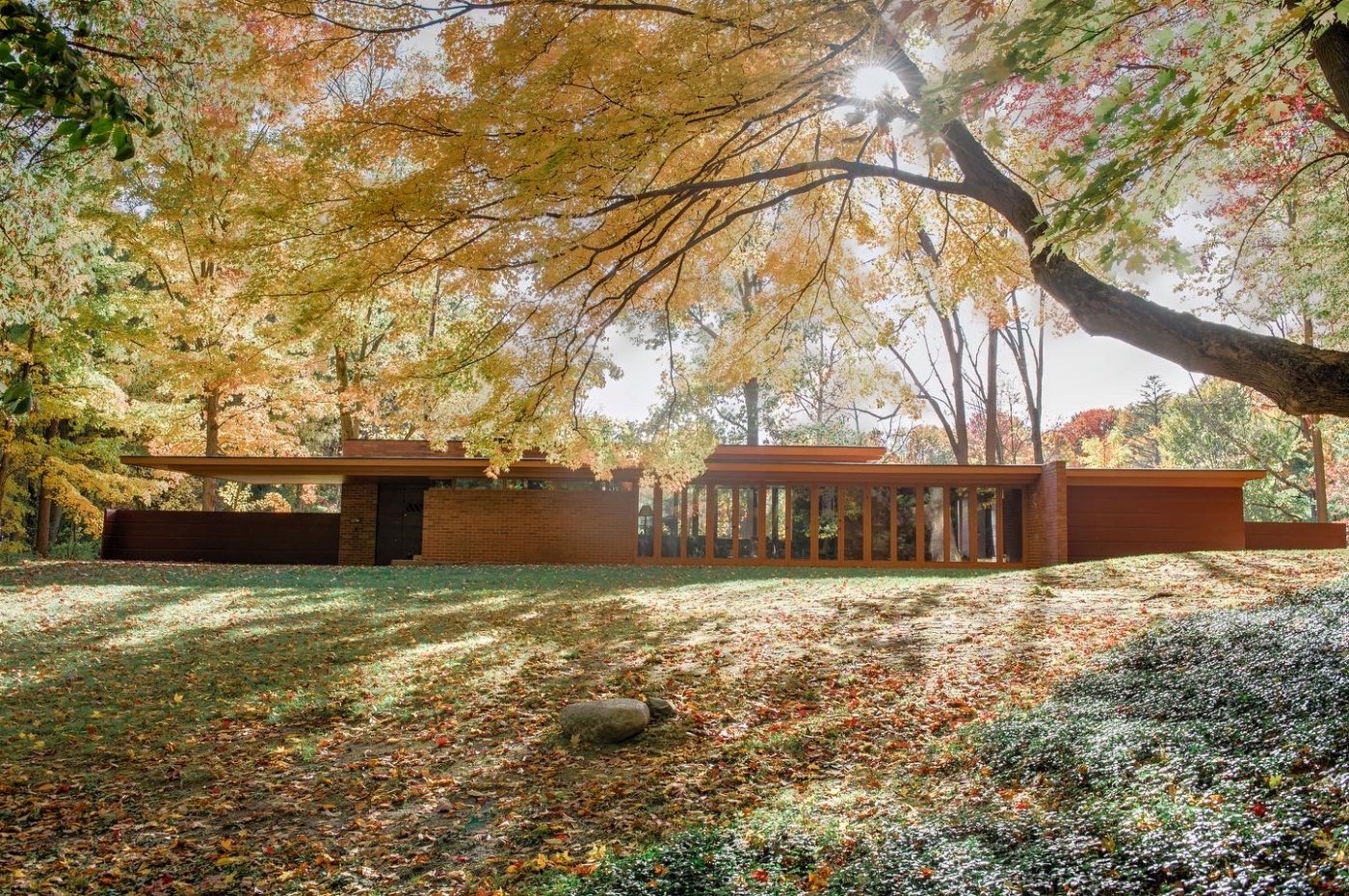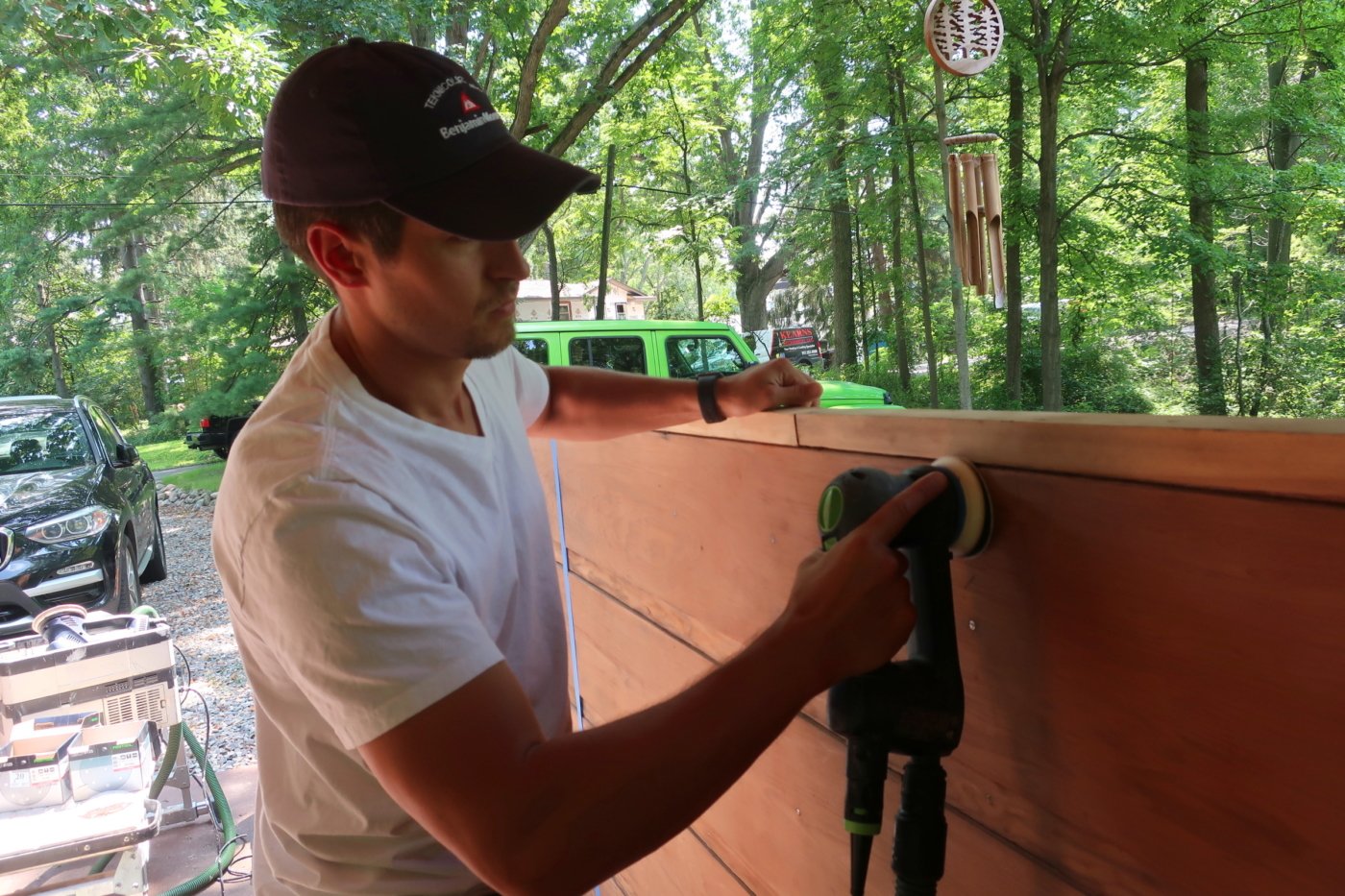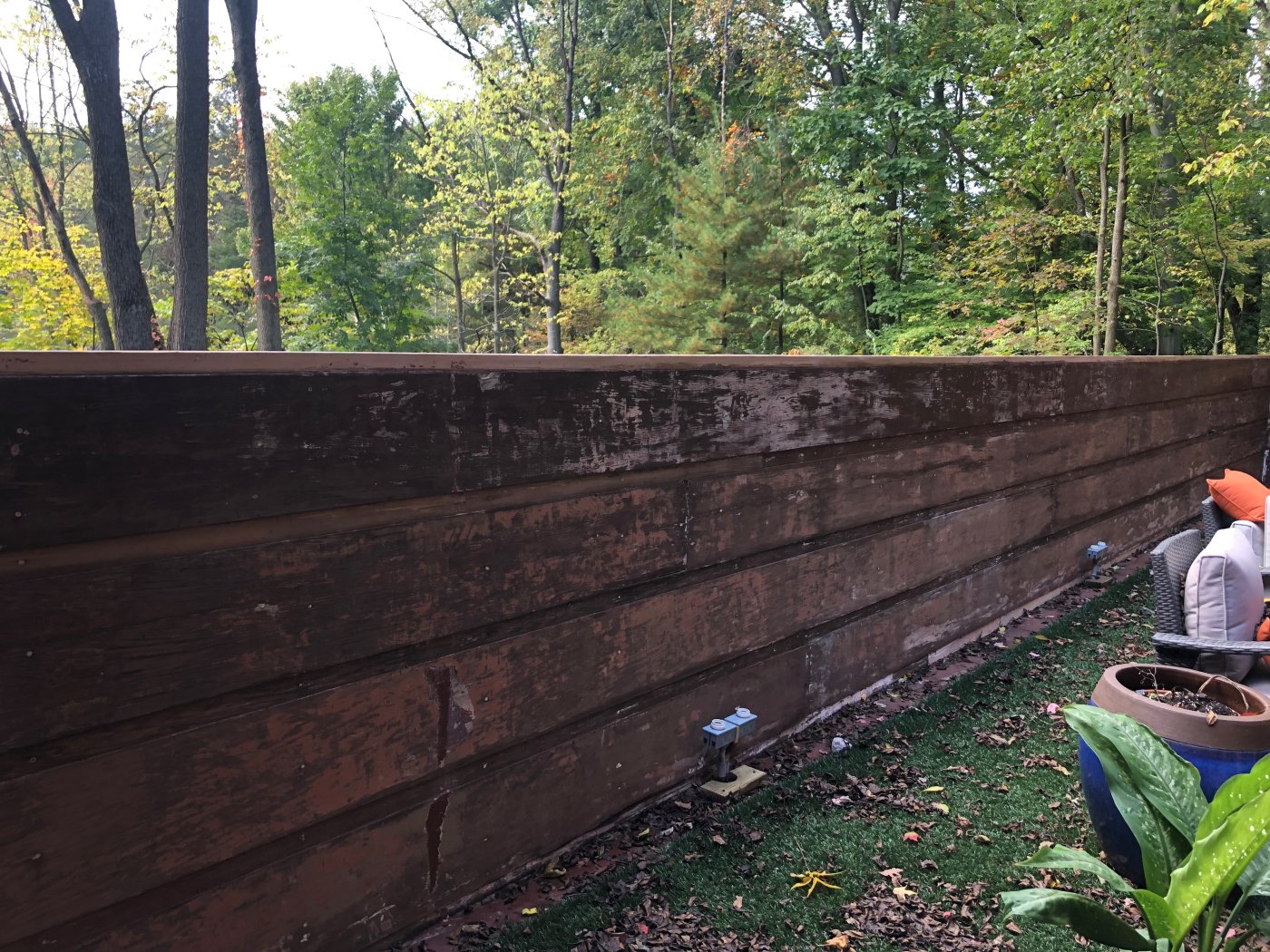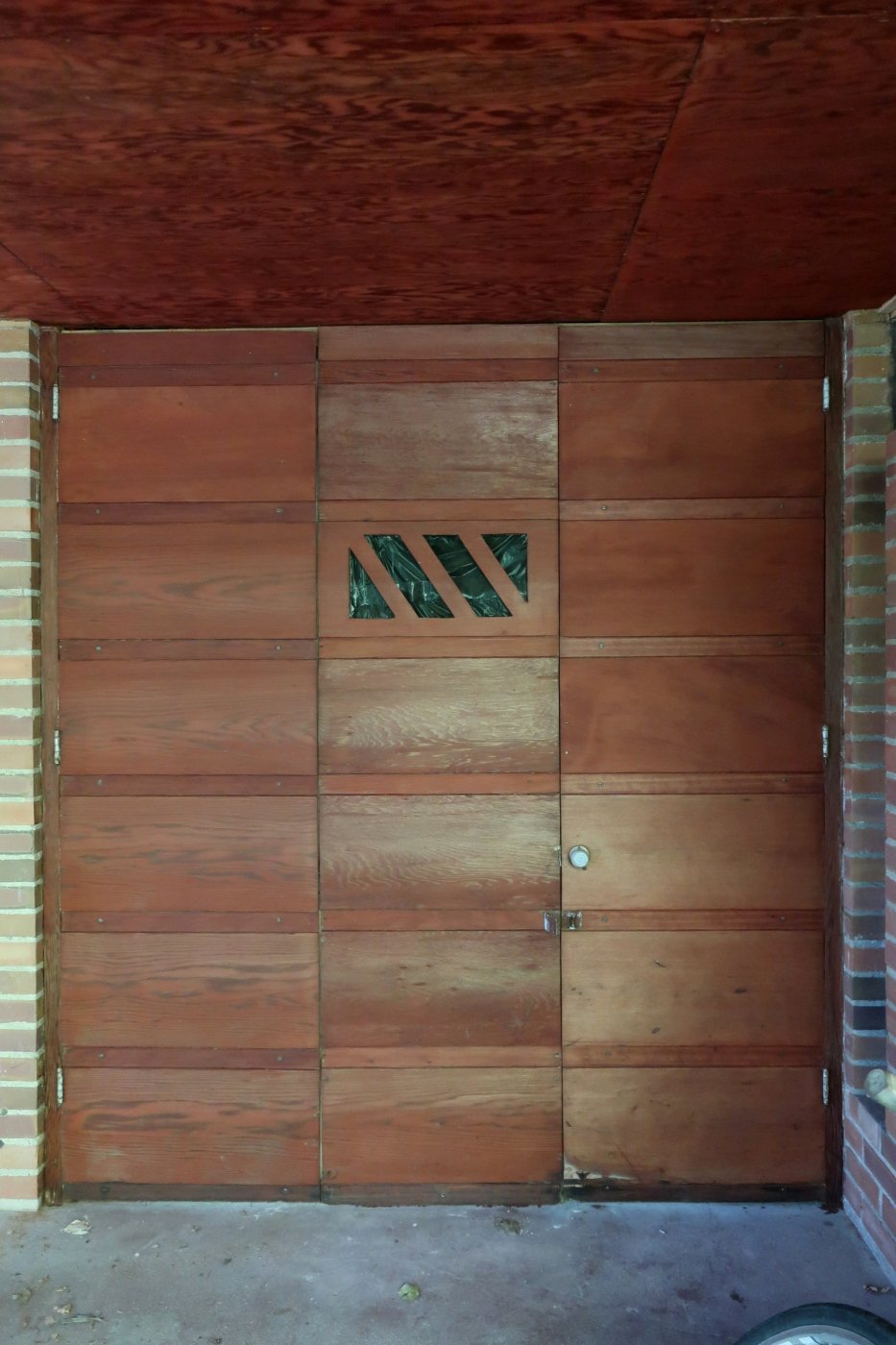 Maintenance of the Goetsch-Winckler House is also a bit of a challenge compared to a standard suburban house. But Elle took it on with enthusiasm, and has completed three major (as well as many minor) projects: a bathroom remodel, an exterior wood restoration project and a landscaping update.
While all of the projects were extensive, the exterior wood restoration was by far the most significant in terms of difficulty and historic conservation. That project, in its final stages after 10 months, has already yielded beautiful results.
"With suggestions from the Frank Lloyd Wright Building Conservancy, we stripped the many layers of paint that had been applied to the house over the years. There were at least two different colors of paint. They had to use special/gentle sanders to ensure there was not too much original material lost, as preservation is the ultimate goal. They then applied a stain color that was used on another similar Frank Lloyd Wright house."
As a die-hard triple-grad MSU Spartan, connected to Goetsch and Winckler through their history and art, and to Frank Lloyd Wright through his brilliant design, she is definitely in the league of the SAVEWRIGHT: Notable Women Homeowner Project.
More about the Goetsch-Winckler House
Related stories from the Notable Women Homeowners Project
Read More Homeowner Stories
The SAVE WRIGHT: Notable Women Homeowners Project tells the stories of the remarkable women who have stewarded houses designed by Frank Lloyd Wright.
Posted June 1, 2023