By Steve Sikora, Owner, Willey House
You may not know it, but the Frank Lloyd Wright Building Conservancy offers a host of complimentary services for Wright building stewards.
Supporting the public and private stewards of Wright building was the raison d'être for establishing the Conservancy in 1989. Support includes technical services, advocacy, networking, referrals and preservation easements.
Enter John Waters, licensed architect, architectural historian and full-time staff member. An architect with over 20 years of practical experience, much of it in historic preservation, John's responsibilities as Preservation Programs Manager for the Conservancy include:
monitoring the preservation status of all extant Frank Lloyd Wright-designed buildings
overseeing a database of built structures by Wright
management of the Conservancy's preservation easement program, and
one-on-one consulting with building stewards.
I sat down recently with John (safely distanced of course, in two different cities) to learn more.
How does the Conservancy help building stewards?
Support comes in many forms. In the area of technical services, it can range from helping to facilitate discussions with local regulatory agencies in situations that might affect the long-term preservation of a structure, to connecting stewards with materials conservation specialists, such as wood conservators and art glass specialists.
Whenever possible I try to make site visits to get a first-hand understanding of issues. This is obviously more easily done in the Chicago area, but last year, despite the pandemic, I was able to visit sites on the East Coast and also to some Southern states, ending up on the roof of the Rosenbaum House in Florence, Alabama. Getting up on roofs and down into basements (when there are basements) is always a treat for this geek!
The Conservancy is ultimately an organization that works to convene members of the Wright community, linking building stewards with their peers, and with preservation professionals and experts.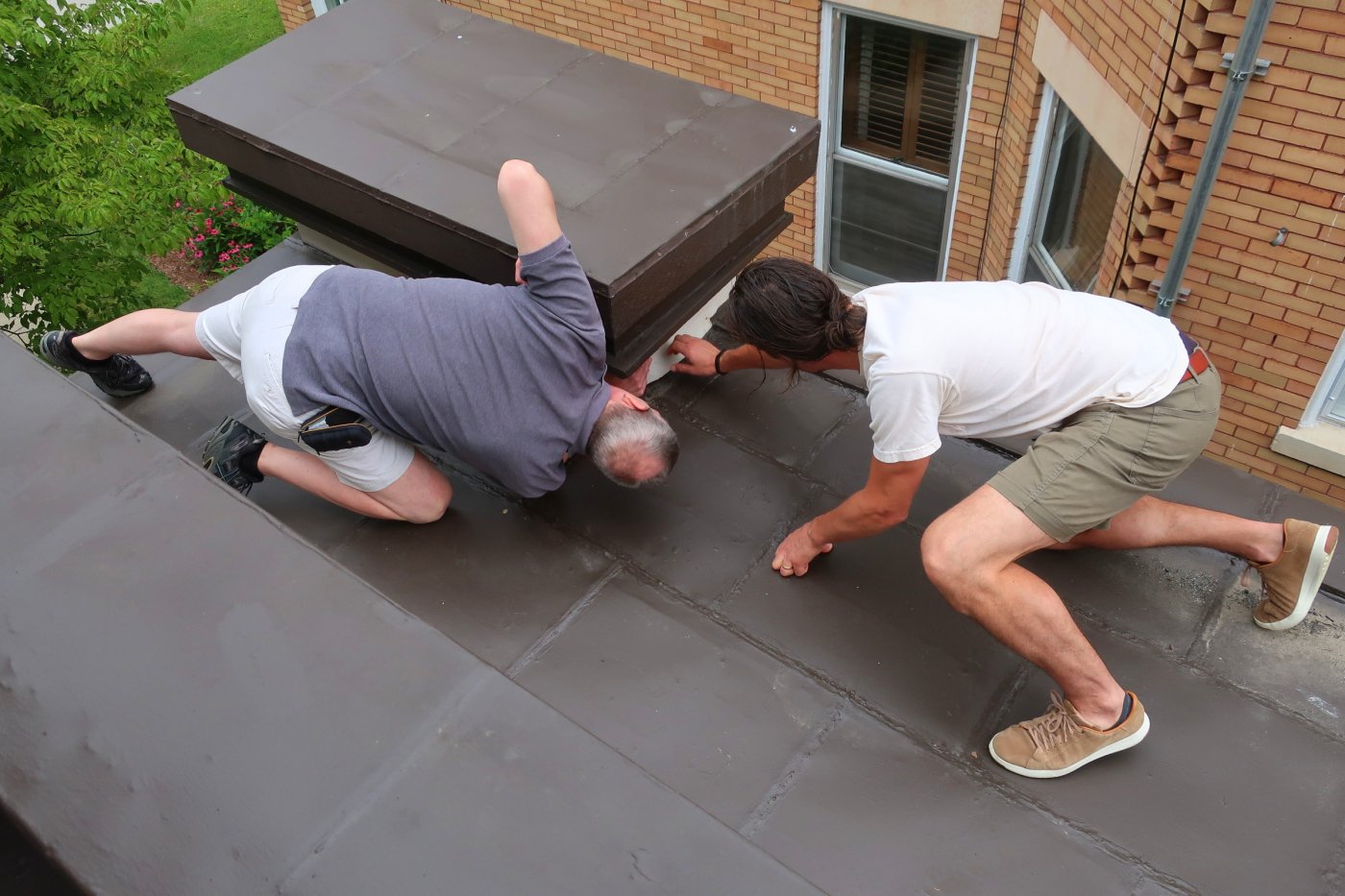 You also serve as staff liaison to the Conservancy's Architectural Advisory Committee. Tell us about that.
One of the important resources the Conservancy can provide is our Architectural Advisory Committee. The committee is made up of restoration professionals including architects and contractors, as well as homeowners. It meets monthly, via Zoom, reviewing current inquiries and shepherding longer-term research projects. On occasion, building stewards have joined our meetings to discuss issues directly with committee members.
Who can take advantage of the services the Conservancy has to offer? Does one have to be a current homeowner or even a Conservancy member?
First and foremost, we are available to any Wright building steward, public or private. I often speak with potential house buyers as well, particularly in cases where the Conservancy holds a preservation easement on the house. When the Conservancy holds an easement, we have a special relationship with the house and a partnership with the owner in the house's preservation.
What is the difference between the work that you do and the work that is done by hired design and preservation services that a homeowner might need?
While I am a licensed architect, the Conservancy is not in a position to provide design or preservation services that an architect or conservator would provide. The information that the Conservancy provides is just that, information. It is based on a broad knowledge of Wright's work, but each building steward will be the most knowledgeable about his or her particular property and must ultimately make the decisions regarding that property.
Let's call it sage counsel.
How many Wright Properties do you work with over the course of a year?
The Conservancy directly serves between 80 and 100 Wright properties a year, in many different ways. We may advocate for a site's preservation in some way, we may list it on our Wright on the Market webpage, or we may provide some form of technical service. The boundaries between these areas sometimes overlap. Providing technical services that may assist in the preservation of an at-risk property can be considered both an advocacy effort and a technical services effort. In the last several years we have had between 25 and 35 specifically technical service-related engagements.
Is advocacy in the scope of your work or are you solely focused on technical services?
Advocacy definitely is. While I'm the primary point person for technical issues, I work with executive director Barbara Gordon, our Advocacy Committee and local advocates and volunteers to monitor and advocate for Wright properties. One of my proudest efforts was the save of the Bagley House last year. I had developed a good connection with a preservationist in Hinsdale, Illinois, who was able to alert us when the house went on the private market in July. Without that connection, the house would likely have been sold to a developer and demolished.
Please share a few examples of past engagements with building stewards.
One thing that all private homeowners should know is that their inquiries to the Conservancy are confidential. We don't identify the sources of information gathered from private owners unless agreed to by the owner. In that spirit, my engagements have included:
Working with a Usonian homeowner's designer who was leading an effort to restore the exterior finish of the house. I was able to link her with conservation experts who provided appropriate restoration options.
Sharing information about insurance companies used by Wright homeowners.
Working with the owner of a house on which we hold a preservation easement, to troubleshoot water infiltration issues and review acceptable repairs.
Working with a homeowner to facilitate discussions with the local municipality to mitigate site flooding.
Working with the owner of an American System-Built House to develop window restoration details.
Providing a restoration contractor with period stucco specifications.
What general advice do you have for prospective Wright homeowners?
Learn as much as you can about preserving older buildings in general and Wright's buildings in particular. Learn about the period of Wright's career in which the house was built. Prairie-period houses are very different from Usonians. With his designs of the earlier Prairie period, Wright was doing usual things with (generally) typical building processes, so solutions to issues may be similar to those in non-Wright houses of the same era. With the Usonian buildings, Wright was doing unusual things with a building system that he developed, so solutions to issues may be like those of other Usonians, but not necessarily of other buildings of that same era.
If a building is going to need restoration, be realistic about your economic and emotional capabilities. Are your finances in line with the possible budget? Do you want to be living in or with a house that is a construction site for any length of time?
Are you able to refer preservation-minded contractors, architects, artisans and materials resources when needed?
We can provide information on design and preservation professionals, including architects, conservators and contractors, as well as restoration material resources. Our goal is to link building stewards with professionals who have experience with Wright buildings. Our ability to do this will vary depending on a number of factors, particularly geography. Not surprisingly, this goal is easier to achieve in areas where there are concentrations of Wright buildings. We are a convening organization. I strongly encourage building stewards who have had a good experience with professionals or a particular material supplier to let me know, so I can let other stewards know!
How does a building steward who wants to work with you get started?
It's as easy as contacting the Conservancy through its general email: [email protected]. As much information about an issue in the email is very helpful. That allows me to do some advanced research, before discussing the issue with the property steward. I try to acknowledge an inquiry within a day or two. From there it will depend on the amount of research I need to do.
Are you the person to contact in an emergency?
Well, just like with a doctor's office, of course call 911 first! Certainly if a site is in danger, we are happy to try to help, but some time may be required, so that we can help with research and planning. Potential buyers are always welcome to contact me for general information about Wright's work from a technical standpoint.
Thank you, John–this has really been enlightening. Having worked with you, I must say, you are a most valuable asset to the Conservancy. As a homeowner myself, you are a gift.
Posted April 1, 2022