By Marsha Shyer, Board Member, Frank Lloyd Wright Building Conservancy
Jamie Von Klemperer, President and Design Principal of Kohn Pedersen Fox Associates, was kind enough to take some time from his always packed schedule to speak with us recently. KPF was a major sponsor of the 2021 Buffalo conference and the 2017 Wright at 150 conference in New York City. He has won AIA design awards for his Peterson Institute for International Economics in Washington DC, Dongbu Financial Center in Seoul, Park Fifth residential project in Los Angeles, Riverside 66 urban market in Tianjin, and One Vanderbilt tower, which is currently under construction in New York City. Jamie is a graduate of Harvard University and Princeton University Architectural School. KPF's continued support of the Frank Lloyd Wright Building Conservancy shows the firm's and Jamie's fundamental belief in the value of historical preservation of the work of exceptional architects like Frank Lloyd Wright and Louis Kahn.
1. Your firm's and your personal commitment to Frank Lloyd Wright and his built work is notable – when do you think it started?
I think there's a kind of nostalgia many of us feel when we actually see a Frank Lloyd Wright house. It reminds us of a period of time, of style, and household objects, furniture, of course, buildings. He's so infused into the many aspects of our society that we don't always know when we were first in touch with Frank Lloyd Wright's influence. Some of the earliest pieces of architecture that I was exposed to as a kid had Frank Lloyd Wright influences. We spent a summer when I was very young in Palo Alto. My dad was teaching there, so we went to visit his friends who lived in what were Frank Lloyd Wright style houses done by very credible architects. I think that was my first exposure to Wright – not even knowing that this was Wright in architecture.
Although I majored in history and literature as an undergraduate. I did take a course with Neil Levine about Frank Lloyd Wright. That was a great gift -be able to study with somebody who understood Wright so well.
My first in-depth contact with the actual buildings was going to Oak Park. That happened after my first year in grad school. One of my housemates had grown up there. And he was a young architect. We stayed at his parents for a couple of weeks and just did nothing but crawl around the Oak Park houses.
I remember another time when I spent a weekend visiting a friend on outer Long Island and he had Edgar Tafel over for dinner. So there was one of Wright's still -surviving disciples who had been there for the creation of Fallingwater and within Wrights employ. And that was something special.
I can think of many more instances. So, my exposure to the work of Frank Lloyd Wright came in layers.
2. As a multiple AIA award-winning architect, how has that multi-layered immersion affected your design?
I think Frank Lloyd Wright's work appeals to architects on a gut level, the way some music might, even if we don't always understand the rhythms of or the complex harmonies of it. I think that for each architect, their design process is quite personal. But there are also elements of systematic thinking that are shared by many architects that are that are a more common kind of property of the craft of architecture. And I think in the case of Wright there's a very intuitive appeal that his work exercises on us. – For instance the sense of a kind of nurturing shelter in the way you feel embraced by his overhanging roofs and his solid walls that give way to clerestories above, creating an almost womb- like character to some of the Frank Lloyd Wright's spaces. There are very intuitive aspects to the way his buildings hug the landscape and work within natural terrains. When you sit down to design, there are influences that you're not aware of, but they flow through your pen. You can't help but bring forth the things that that you love.
Again, I think you can liken this to music. In fact, harmonies and music have to do with different types of mathematical proportion, similar, I think, to the sort of elegance of Frank Lloyd Wright's verticals, and the flowing and sometimes almost weightless character of his horizontals. These are basic things, but they're actually architectural habits.
3. Can you do a one-on-one comparison of any of your buildings to a Wright building?
You can see the results of Wright's influential thinking process in some of my buildings. I would not do a "comparison" with Frank Lloyd Wright, but in certain cases you can see the influence.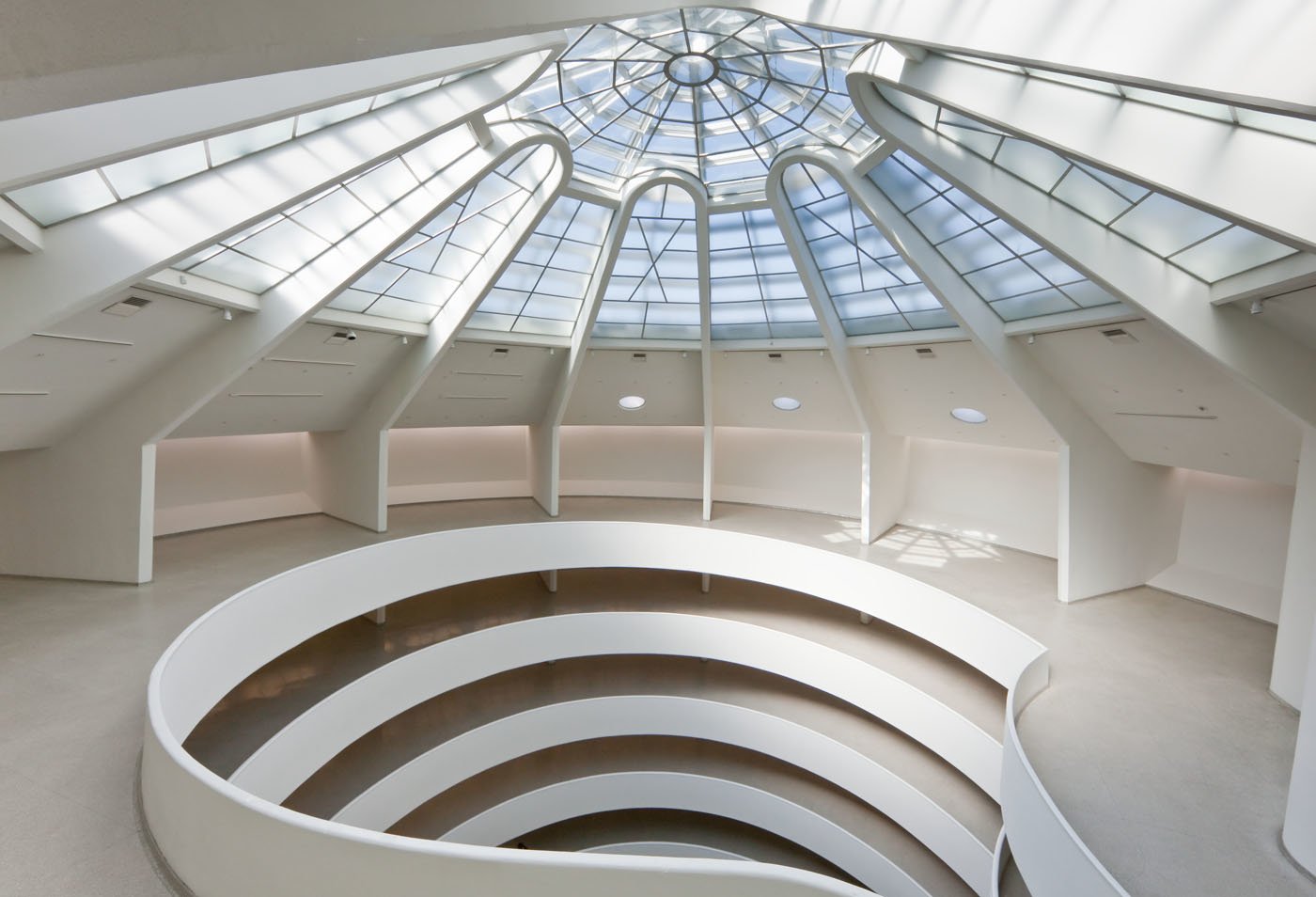 4. I know that through your work as President of KPF, you often come into contact with a younger generation of architects. Do you get the feeling that they, also, have a relationship to Frank Lloyd Wright?
One of the fascinations in the architectural community today and very much in service of young architects, is the notion of craft. It's how we make things you know, and up and coming creatives think of themselves as makers — makers of the craft beers in Brooklyn, makers of jewelry. It's a cool thing to be a maker, even if you're writing code in a technology setting, you're making something and have this feeling of return to craftsmanship in the American society. There is also a sense of American pride in it – locally sourced and American. Frank Lloyd Wright is one of the great reference points to the invention of the textile block, the invention of wooden window frames, all these other higher design elements. I think that that is one of several areas in which he gets a huge amount of respect from young architects today.
5. What about your contemporaries in the field of architecture. How do they feel about Frank Lloyd Wright?
I think any architect practicing in this country considers themselves a student of Frank Lloyd Wright. They always come back to Wright's work out of sheer enjoyment – the ideas, the form as well as the intelligence…Wright is so relevant to the problems that we face today, particularly to the issues of sustainability and the integration of nature and architecture.
Posted October 5, 2021