In September 2019, the owners of the Henderson House (1901) in Elmhurst, Illinois, donated a preservation easement to the Conservancy, protecting the Prairie-style house that was then on the market in a teardown-prone area.
The house was designed by Wright in 1901 while in partnership with Henry Webster Tomlinson. Frank Henderson purchased the land from William H. Emery Sr., whose son, William H. Emery Jr., commissioned a home from Wright associate Walter Burley Griffin on a nearby lot. The Emery and Henderson houses were in construction in the same timeframe. The Hendersons sold the house in 1908.
The plan of the Henderson House is anchored on its south side by a tripartite living area that is centered on a large Roman brick fireplace and flanked by a library and a dining room. Each of the latter rooms terminate in half octagonal bays that recall the bootleg Gale and Emmond houses in Illinois as well as the Ocean Springs Bungalow designed for Louis Sullivan in 1890. The living room opens to an uncovered terrace to the south that is equal in size to the living room.
The plan for the Warren Hickox House (1900) in Kankakee, Illinois, is a near mirror image of the Henderson plan, but their roof structures are entirely different. The central chimney, banded windows, battered base and low-pitched hip roof of the Henderson House define it as one of the first mature Prairie houses by Wright.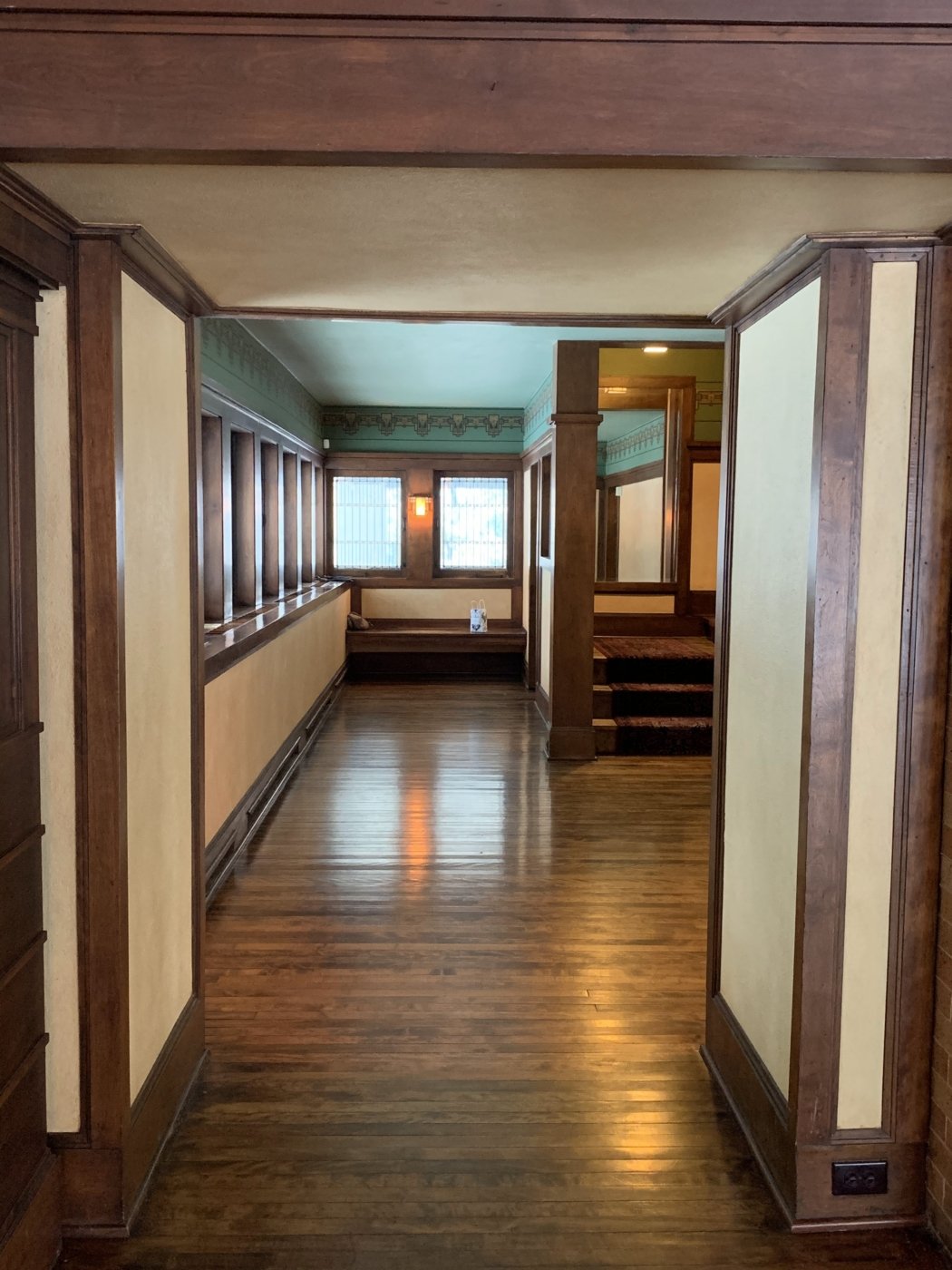 Over the years the house had been altered in major ways, including the addition of an enclosed second-floor sleeping porch over the south terrace that reportedly infuriated Wright. Beginning in the 1960s a series of owners have expended tremendous effort to restore the house, including David and Joyce McArdle, who purchased the house in 1988. As a result of their ownership, McArdle handled the legal filing of the articles of incorporation for the newly formed Frank Lloyd Wright Building Conservancy.
The Henderson House today remains as it was originally designed by Wright with few exceptions. Owners Patrick Fahey and Penny Nichols donated the easement to the Conservancy as they seek to find a new steward for the house.
---
Posted on October 21, 2019
Posted October 21, 2019