By Mark Hertzberg, author of Frank Lloyd Wright's Penwern, A Summer Estate
Countless words have been written about who or what may have influenced Frank Lloyd Wright. But who or what influenced the people who have preserved, rehabilitated, and restored his works? Could it be something as seemingly mundane as selling Girl Scout cookies?
Peddling Thin Mints
For Sue Major, peddling Peanut Butter Sandwich, Shortbread, and Thin Mints cookies door to door as a young girl in Valley Forge, Pennsylvania, was the beginning of a path that led to her becoming the respected steward of Penwern, Frank Lloyd Wright's Fred B. Jones Estate on Delavan Lake, Wisconsin, with her husband, John. They knew virtually nothing about Wright when they bought the estate in 1994, and are now Patrons of the Frank Lloyd Wright Building Conservancy and the Frank Lloyd Wright Foundation. They were honored with a Wright Spirit Award from the Building Conservancy in 2006. Persistence and attention to detail are hallmarks of their stewardship.
Penwern is comprised of four buildings that Wright designed as a Chicago businessman's summer estate between 1900 – 1903: the main "cottage" (6500 sq. ft.), the boathouse, the gate lodge, and the stable.
Networking
Major, who is persistent and pays great attention to detail, says that an important part of her stewardship and her professional career has been her ability to successfully network. After a distinguished marketing career in the tech sector with such companies as Motorola, she began a career in the executive search field in 1997. She has headed her own firm since 2015. She also holds two U.S. patents.
Her stewardship of Penwern has been a challenge because she spends much of the year with John at their primary residence near San Diego.The Majors have good reason to have implicit trust in the incomparable Bill Orkild, their on-site wizard contractor.
The Girl Scouts of America
A National Board Member of the Girl Scouts of America since 2016, Major credits her time as a Scout, from first to eighth grade, for that success. "It (scouting) is in my DNA. I use it every day in my career. It gave me the confidence I have as a business leader: selling cookies, going to camp, earning badges. The whole family (she, her mother, and her daughter) has benefitted from what it gives you. The Girl Scouts motto is 'Courage, Confidence and Character.'"
In the 1990s, the Majors were looking for a weekend retreat near friends in the Delavan / Lake Geneva area, about 50 miles from their home in Barrington, Illinois, a Chicago suburb when they saw Penwern. Wright was not in their minds. Sue knew little about him except that he was a famous architect. She was not even aware of Fallingwater, at the opposite end of Pennsylvania from her childhood home near Philadelphia.
"I Just Loved The Land"
The estate presented challenges. The foundation and some walls were all that remained of the boathouse, which had burned in an arson fire in 1978. Wright's design for the main house was obscured by two unsightly additions which Jones commissioned in 1909 / 1910 after Wright had gone to Europe.
"I just loved the land. I was not sold on the house particularly. I was not going to tear it down, but I was not sure how committed I was to keeping it the same until I learned about it. Part of the fun of owning the house was understanding why it was the way it was (including) the mastery of the positioning on the property. When Terry Canty (who lived in the gate lodge) died in 2000, we had the means at that point to buy the gate house and put it back together, and I think it just grew from there."
Ron Scherubel, a former Executive Director of the Building Conservancy, and Brian Spencer, an architect and Wright scholar, were visitors who advanced Frank Lloyd Wright's concepts to the Majors. John O'Shea, from whom they had bought Penwern, gave them copies of Wright's drawings. That is when they realized that the additions were neither Wright nor original. Their first challenge in bringing Penwern back to Wright's design was the demolition of the additions. John Major remembers being chided at the supermarket by people who thought the couple was altering a Wright house.
Sue viewed the couple as "owners" rather than "stewards" of the estate until they had lived there for many years. "For the first almost 20 years I didn't realize the difference. Now I definitely do."
Life Experience
"I think probably career and education were just enablers. One of the requirements was to have some money, some savings, but I think it is more the life experiences. We love antiques and we respect making old things new and work again. We also have life experience. We are both really good networkers that take advantage of everything from the Frank Lloyd Wright organizations. We connected with people that could help, people that also love Wright, and encouraged us, and we had the confidence to do it."
Renovation List
The list of projects at Penwern has been, and always will be, endless. "John and I were patient and we were doing it for the long haul, every year doing something different. There is a list every year, upgrades, renovations. We couldn't do it all at once." In addition to removing the two additions, one of the their most significant contributions to Penwern was to have the boathouse rebuilt in 2005, using Wright's single sheet of drawings with its four views of the structure.
With Spencer's help, the couple won a protracted zoning battle after the Town of Delavan initially refused to issue a permit for the work. Spencer says he "called in every chip" he had to get dozens of letters of support for the project from architects and Wright scholars around the world. Three years ago the Majors replicated the original greenhouse, which was torn down and replaced by a carport in the 1970s.
The Majors have two adult children, Barbara and John. "I think the kids are hooked on Frank Lloyd Wright and what we are doing. Both are starting to enjoy and realize our commitment to the place and John has started volunteering for the Conservancy. They will make the choice themselves if they can keep it. I think they realize we are stewards. If they can't use it, they will pass it on to someone who will enjoy it."
Annual July 4th Party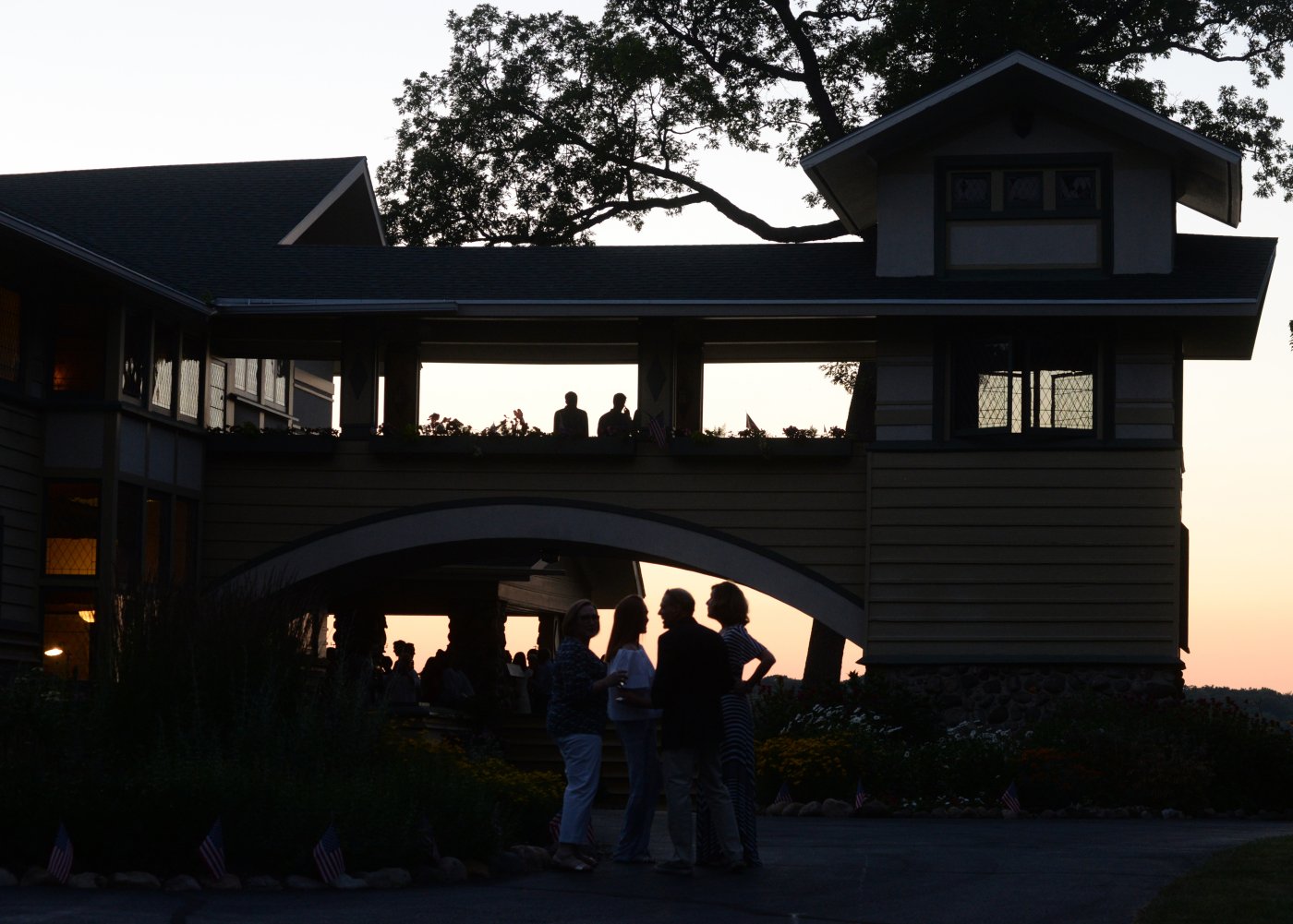 The worst moments in their stewardship, says Major, is "When I have to redo something when we have a glitch." And a favorite moment? She replies without hesitating it is the annual July 4 party they host for a hundred or more friends and neighbors on the lake. The evening is capped by the fireworks that are set off across the lake.
Penwern was built for Jones to have a glorious summer lake home at which he could entertain his many friends. The three stewards of the estate between Jones, who died in 1933, and the Majors, all enjoyed entertaining friends and business associates there. The house comes full circle, again with the Majors' annual party, back to when Jones first welcomed his friends in the summer of 1901.
But what about the Girl Scout Cookies? In case you wondered, Thin Mints are Sue's favorite. Maybe she should stock them in the rolling ice cream cart that roams the grounds at that July 4 party!
Read More Homeowner Stories
The SAVE WRIGHT: Notable Women Homeowners Project tells the stories of the remarkable women who have stewarded houses designed by Frank Lloyd Wright.
Posted June 1, 2023