By Marsha Shyer, Chair, Homeowner Committee, Frank Lloyd Wright Building Conservancy
Barbara Elsner and Margaret Howland make a great pair.
The mother and daughter represent the height of historic home stewardship for the Frank Lloyd Wright-designed Frederick C. Bogk House (1906) in Milwaukee, Wisconsin. In addition, Barbara was a force in the early days of the historic preservation movement, where she was involved in founding three important historic preservation organizations, including the Frank Lloyd Wright Building Conservancy.
Recently, in several interviews, including a joint interview with the mother and daughter pair, Barbara and Margaret reflected on their many years of living in the house.
Energetic Maintenance Continues
Margaret Howland, née Elsner, the youngest of the five children that Barbara raised in the house, moved back into the Bogk House when her mother retired to an apartment nearby. She has continued her mother's example of energetic stewardship and promotion of great causes. She also serves as President of AboveView Inc., an architectural ceiling tile company in Milwaukee, Wisconsin.
Together, Barbara and Margaret are the team that have excelled at maintaining the Bogk House, which was added to the National Register of Historic Places in 1972. For Barbara, that meant more than taking care of a house built in 1917. In a time when Frank Lloyd Wright was less well-known, and historic preservation was an emerging concept in American culture, Barbara succeeded in creating and participating in three essential organizations that not only preserved her home, but other Frank Lloyd Wright-designed buildings as well. Her work revitalized the whole neighborhood surrounding the Bogk House.
As a graduate of the University of Wisconsin, Madison, in Social Work and a young mother of two looking for the right (not Wright) home, Barbara came upon the Bogk House and bought it in 1955. She, with her husband Bob, soon filled it with more children, three more of her own, and two, for a time, from her extended family after a family tragedy.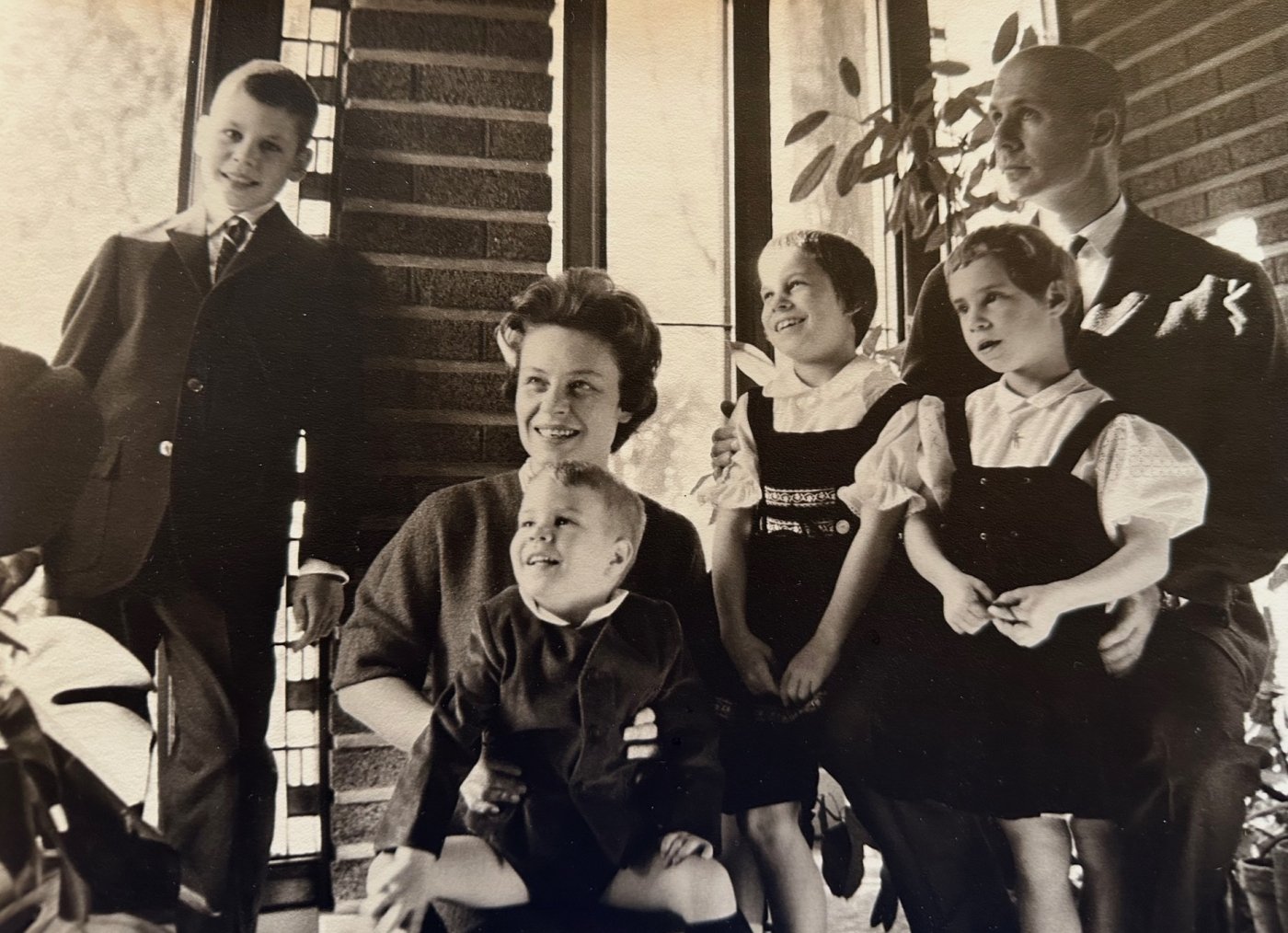 Raising her five children successfully, along with stewarding the amazing Bogk House, is an achievement in and of itself–but of course there is more. Barbara not only was a founding board member of the Frank Lloyd Wright Building Conservancy but she also created the historic district, called the Water Tower District around her house to fend off development, and helped create the still-thriving organization, Wright in Wisconsin.
Barbara Elsner, owner of the Bogk House designed by Frank Lloyd Wright, was a founding board member/creator of:

- The Frank Lloyd Wright Building Conservancy
- The Water Tower District, Milwaukee
- Wright In Wisconsin
When Barbara moved into the Bogk House, she was new to Wright's architecture and soon became enthralled with Wright.
"The details of the house are endless. That house was designed at about the same time that Wright designed the Imperial Hotel," reminisced Barbara.
Family Concerns
In fact, she remembers, that the house created something of a stir in her family. Her father advised against buying the house, initially.
"My father said you'll never be able to furnish that house."
While the house may have seemed empty to Barbara's father, because the original furniture designed for the house was no longer there, it still contained the spectacular Wright-designed built-ins with carved ornamentation and lots of space to place what the growing family needed, as well as seating. Barbara was sold.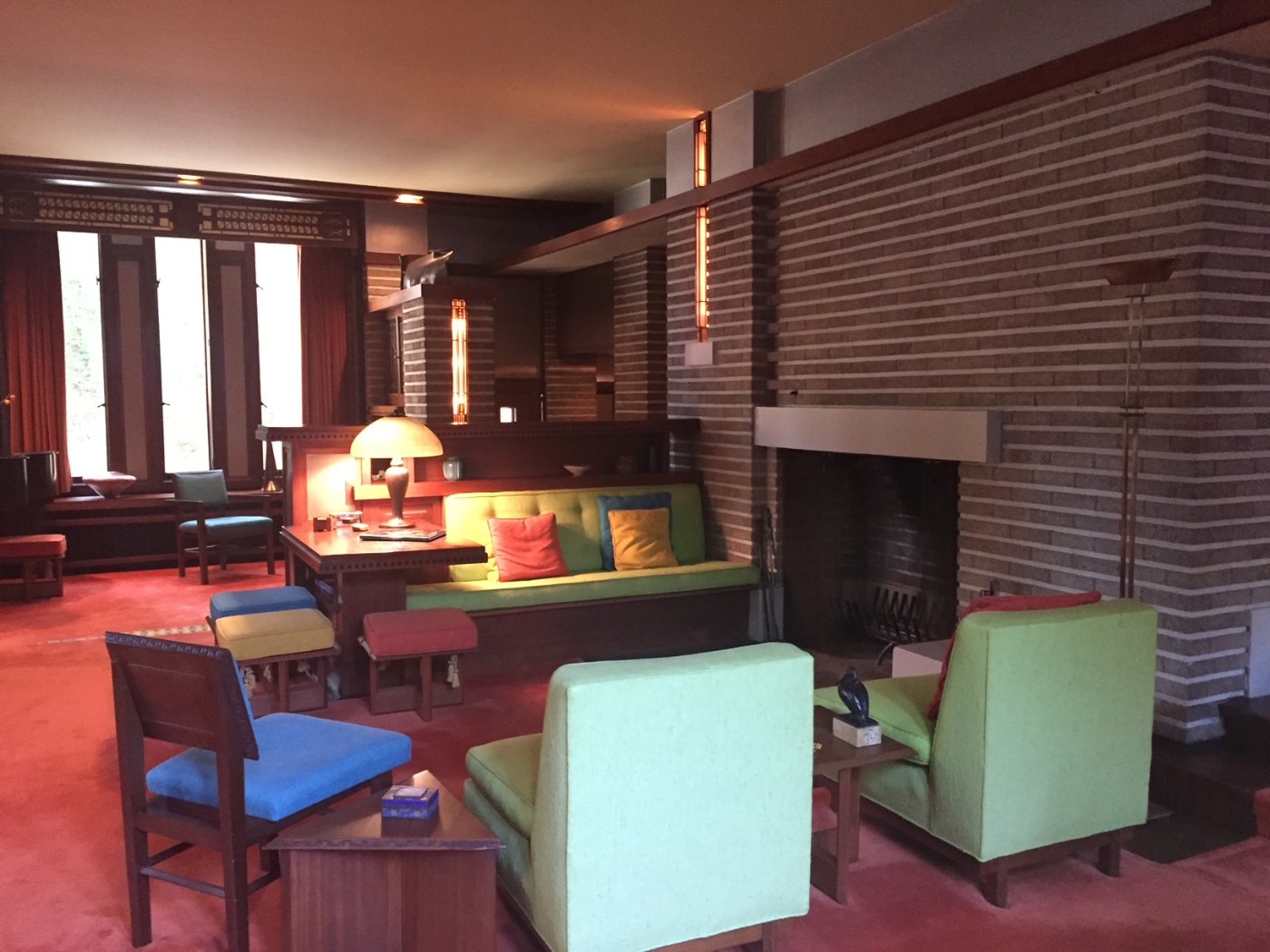 "Living in that house was such beauty," Barbara reflected.
"The children would make the dining room into a theater and I'd sit in the living room and watch the play," she reminisced.
Margaret added, "I remember jumping over the fountain, and using the house almost as a jungle gym, climbing all the way around it without touching the ground."
Barbara chuckled and remarked that she had almost forgotten that wonderful memory. "They had so much fun," Barbara remarked.
Furniture also played a part in Barbara's memories of her and her husband Bob's interactions with Frank Lloyd Wright, and their 20-year relationship with Dorothy Bolles, the daughter of Frederick Bogk.
Asking For Help from Frank Lloyd Wright
Barbara continued, "We wrote a letter to Frank Lloyd Wright asking about landscape plans. He sent a letter back congratulating us on purchasing such a great house, and saying that the Bogks were great clients, then recommending his (then) new line of furniture." The landscape was not mentioned.
For much of the time that Barbara raised her children, the Bogk House did not have the original dining room table. But it is there now.
"That was a long effort – I think 20 years. We were vacationing in Florida, and we managed to convince Dorothy to see us. And there was the table. But she did not want to sell. So, we kept in touch. We just said that when she was ready, to think of us, not someone else! 20 years later, she was sick and in the hospital. She heard that the prices on Frank Lloyd Wright furniture were going way up. She called and named an extremely high price, which is not what we paid. But we were finally able to buy it back, along with eight dining room chairs and two side table chairs."
Current Restoration
Margaret was staring out at a port-a-potty during the interview for this article. A simple project to move an outdoor planter back to its original placement had become more complex and taken much longer than anticipated. The concrete front face of the planter had gradually moved over the years. Once work started, Margaret discovered the foundation of the planter was extremely deep, necessitating a wider restoration effort, more time, money and the port-a-potty.
But she maintains a positive attitude. "I feel lucky working on these projects. They are fascinating, really, and I get to work with such intelligent people, like John Waters, of the Frank Lloyd Wright Building Conservancy, when we run into challenges."
Margaret is considering additional restorations for the house. She is not shying away from it. She credits growing up in the house for much of the visual design sense that led her to rise through the ranks from a Director of Sales and Marketing position to her current position as President:
"I think that living in the house developed my design sensibility and (still) helps me relate to the human scale."
Margaret remembered attending many interesting parties and gatherings at the Bogk House as she grew up.
"It's a wonderful house for parties and my mother was a founder of the Conservancy, so we hosted many important guests and architects, including architect Raku Endo, the son of architect Arato Endo (who worked with Frank Lloyd Wright on the Imperial Hotel). "I remember that tears started rolling down Raku's face when he entered the house because it was so familiar to him," said Margaret.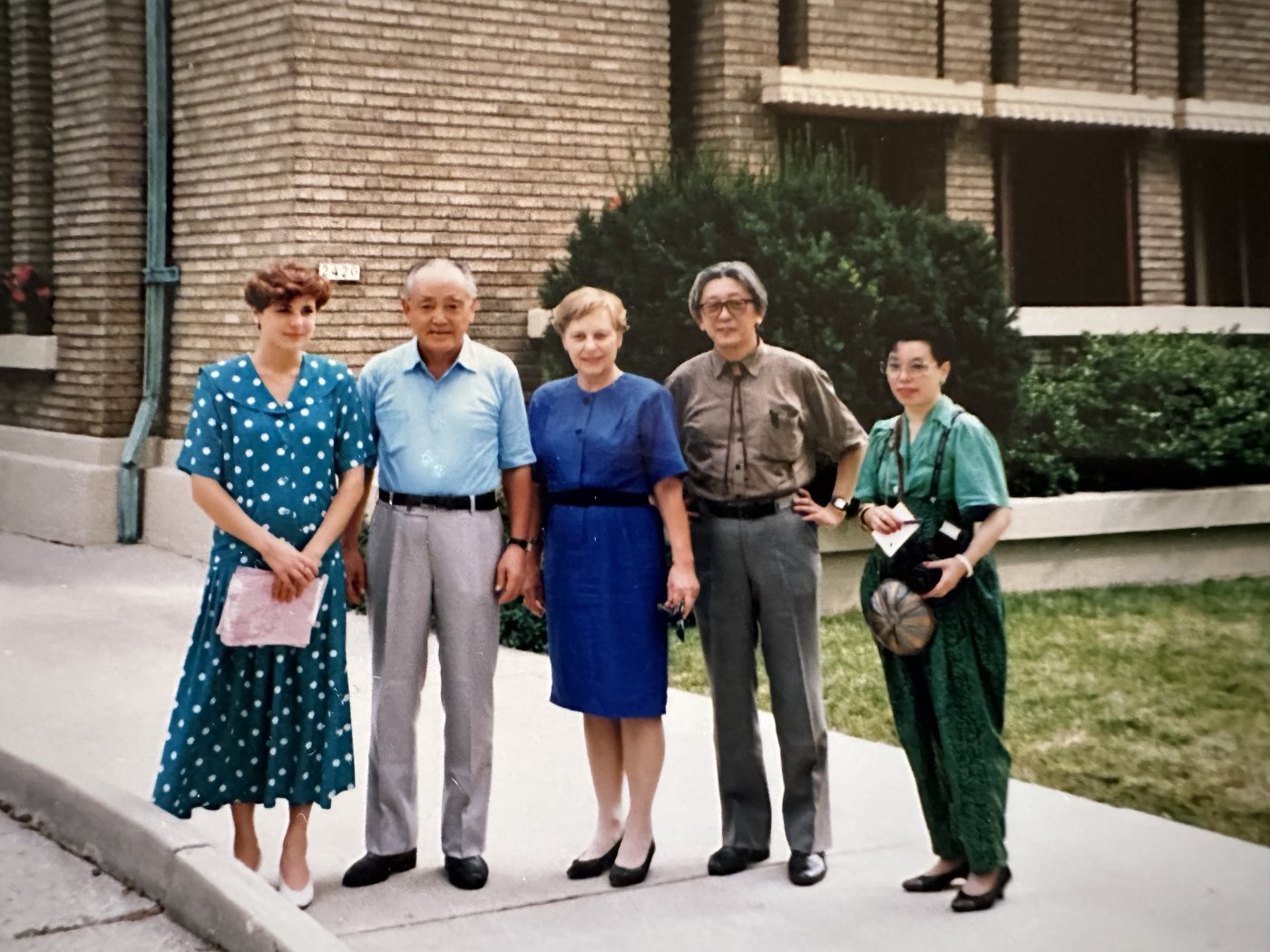 Margaret has other amazing memories of growing up Wright. There was the time that she, with her mother, had dinner at Taliesin in Spring Green, Wisconsin and met Olgivanna Lloyd Wright. The dinner was a bit of the 'old' Taliesin.
"I was young, but I remember that there was a string quartet, hors d'oeuvres passed by the apprentices, lovely flowers from the surrounding area on the table. Olgivanna was sitting and receiving. We went and met her in a formal sort of way. I felt like I was meeting modern royalty."
Margaret and her mother Barbara have been generous in opening the house to others.
"It's a great party house, and although small groups are better, so that we can speak to them, we have had large parties, as well as busloads."
Margaret, who credits her lifelong interest in dance and dancing to the open space in the house, recently held a large fundraiser for a dance group there.
Barbara, Margaret and the family have led and funded many causes throughout the years and are considered leaders in the Wisconsin philanthropic community.
Barbara's trail-blazing work has been followed by the steady hand of her daughter Margaret, who has benefited and continued in her mother's steps of advocacy and stewardship. Together they make an exciting team that are the exemplars of SAVEWRIGHT: Notable Women Homeowners Project.
Read More Homeowner Stories
The SAVE WRIGHT: Notable Women Homeowners Project tells the stories of the remarkable women who have stewarded houses designed by Frank Lloyd Wright.
Posted June 1, 2023