Recent conservation work at the Pope-Leighey House, built for Loren and Charlotte Pope in 1939 and now owned by the National Trust for Historic Preservation, has focused on the house's cypress cladding. Tidewater cypress was a favorite material of Wright's and it was specified for many of his Usonian houses. Tidewater cypress is a particularly durable species and has stood up well on these houses, which range from nearly 60 to more than 80 years of age.
In a project headed by Ashley Robbins Wilson AIA, the Graham Gund Architect of the National Trust for Historic Preservation, Pamela Kirschner / Fine Art Conservation was asked to perform a pilot treatment on the Pope-Leighey House. Pamela, a wooden artifacts conservator, in collaboration with architectural conservator Andrew Fearon of Materials Conservation along with the University of Pennsylvania, performed historic materials research, scientific analysis, field testing and pilot treatment of exterior clear coatings.
The chosen clear coating has been applied to the exterior of the Pope-Leighey House. Further evaluation and monitoring of this six-year endeavor, along with further preservative testing at Penn for insect resistance, will continue in 2017.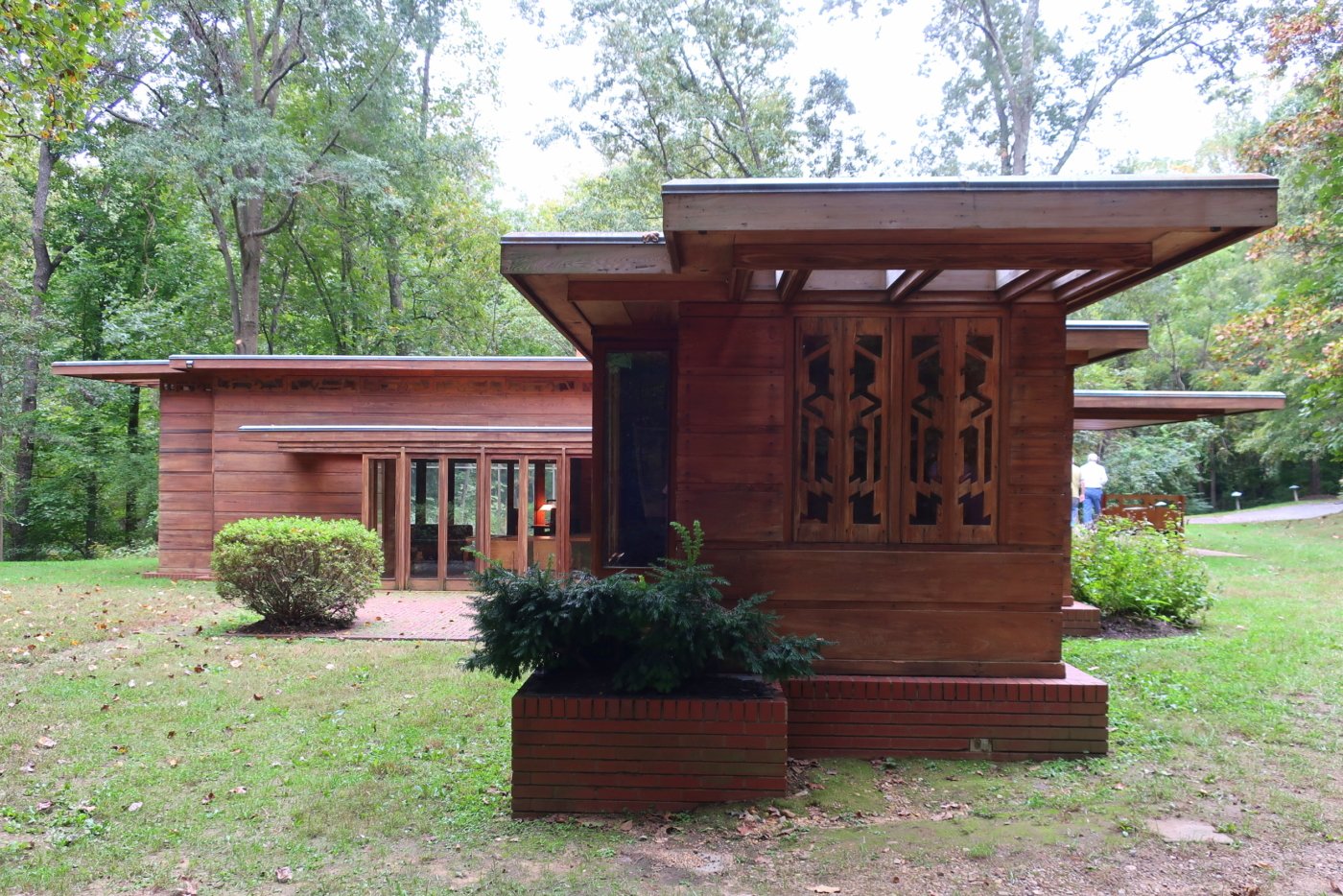 At the Pope-Leighey House, Amteco TWP 1530 was used to protect the exterior surface of the house's cypress cladding. Amteco TWP 1530 "Natural Tone" has pigments in it that provide UV protection. As is typical of Amteco applications, when the coating was first applied it looked a bit red. After the evaporation of its solvents its appearance changed to a honey color. The surface was prepared per the TWP specifications.
Kirschner suggests that surfaces similar to Pope-Leighey's exterior may be prepared using D/2. D/2 removes biological material (mold or algae) and cleans off some of the previous coatings. A layer of Tim-bor to prevent mold growth can be applied before the Amteco TWP 1530.
These products are all applied using soft brushes. Sanding is not required. This allows preservation of the original wood. Following the manufacturer's directions for each product is always recommended as well as consultation with a professional to create a work plan along with specifications. This type of project should be planned during moderate temperature when no rain is expected.
Both Pamela Kirschner and Andrew Fearon are available for consultation.
Pamela Kirschner
Fine Art Conservation
5315 Connecticut Avenue, NW 410
Washington, DC 20015
Email Pamela
Andrew Fearon
Materials Conservation CO, LLC
1625 North Howard Street
Philadelphia, PA 19122
Email Andrew
Pamela G. Kirschner is a wooden artifacts conservator with a private practice. She received a master of science degree in art conservation from the University of Delaware/Winterthur Museum's Art Conservation Program in 1998. She specializes in the preservation and conservation of furniture and wooden artifacts from the 20th century and has researched and treated Wright's Usonian exterior wood and Frank Lloyd Wright furnishings extensively as a Kress Fellow and through funding from the National Trust for Historic Preservation, Heritage Preservation, the National Endowment for the Humanities and the National Endowment for the Arts. She is a former Frank Lloyd Wright Building Conservancy board member and currently serves as a consultant on the architectural advisory committee.
---
Posted on March 3, 2017
Posted March 3, 2017