By Marsha Shyer, Chair, Homeowner Committee, Frank Lloyd Wright Building Conservancy; Co-owner, Brandes House
A Natural Environment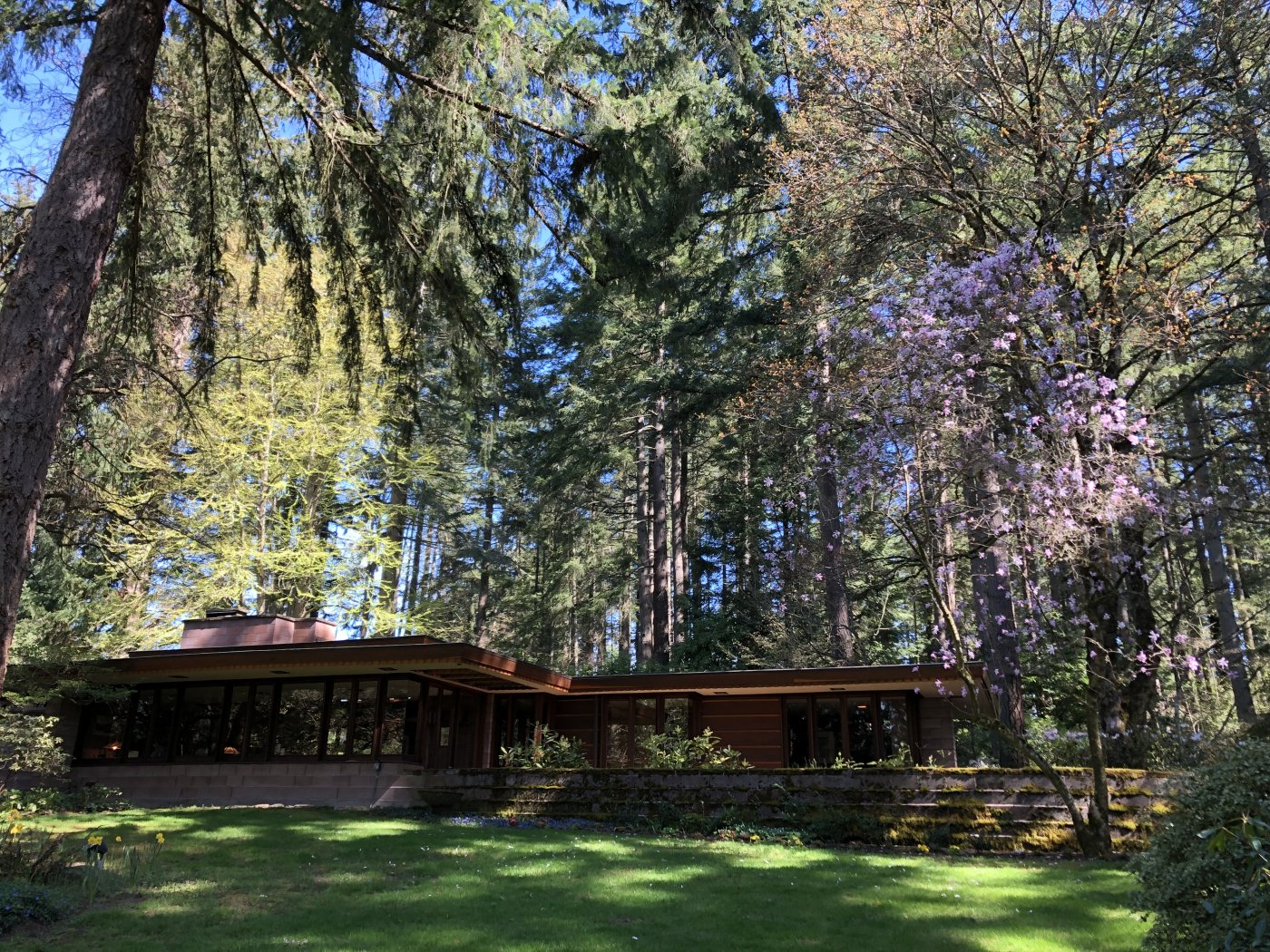 It was not only the house, although of course that was a major part of the story. When my husband John and I first encountered Brandes House a little over 10 years ago, we were encountering a house in an amazing natural environment.
Designed by Frank Lloyd Wright in 1952 and completed in 1953, Brandes House is in Sammamish, Washington in the Pacific Northwest. Despite the rapid deforestation of the surrounding area, which has gone from semi-rural to urban zoning, Brandes House remains in its own small paradise, a microclimate, and, according to DEZEEN magazine, one of the country's 11 most influential buildings.
Wright, by convention, called the house the "Mr. and Mrs. Ray Brandes House" on the blueprints. However, Ray Brandes credited Mimi with the couple's initial interest in building the house, due to her reading of Wright's biography, according to the United States Department of Interior Nomination Form for the National Register submitted to the Department April 8, 1984 and approved October 12, 1984.
The Nomination went on to quote a letter to Frank Lloyd Wright:
On September 10, 1951, Ray Brandes wrote Frank Lloyd Wright at the Taliesin Fellowship in Spring Green, Wisconsin. "My wife and I have long been intensely interested in your simple Usonian houses, and hope that we are nearing our goal to own one." A typically concise response dated only five days later stated "Mr. Wright would like to help you and asked me to send you the enclosed term sheet. Before he could proceed he, of course, would need a survey of your property and photographs of the site." Mr. Wright's secretary signed the note.

In December of that year, Brandes wrote to provide the required information, an aerial photograph of the site and an outline of his and his first wife, Mimi's plans and dreams for the future.
The environment surrounding Brandes House is a combination of the natural wonders of the Northwest, Frank Lloyd Wright's vision, and the invisible hand of original owner Mimi Brandes, a master gardener who was keenly in tune with natural Wrightian landscape design. Mimi's initial landscape notes were included in the Taliesin archives. Beyond that original shared vision, the land itself tells the tale of her continued expansion of the acres surrounding Brandes House.
The legacy of Frank Lloyd Wright is told through the stories of his buildings; the legacy of Mimi Brandes is told through the historic gardens at Brandes House. She is without doubt, a Notable Woman Homeowner. As the new caretaker of the house and garden, I became curious about Mimi, and in my search for her, I found that she ultimately guided me to become a better steward of Brandes House and its environs. That is why I now call her my friend.
Then and Now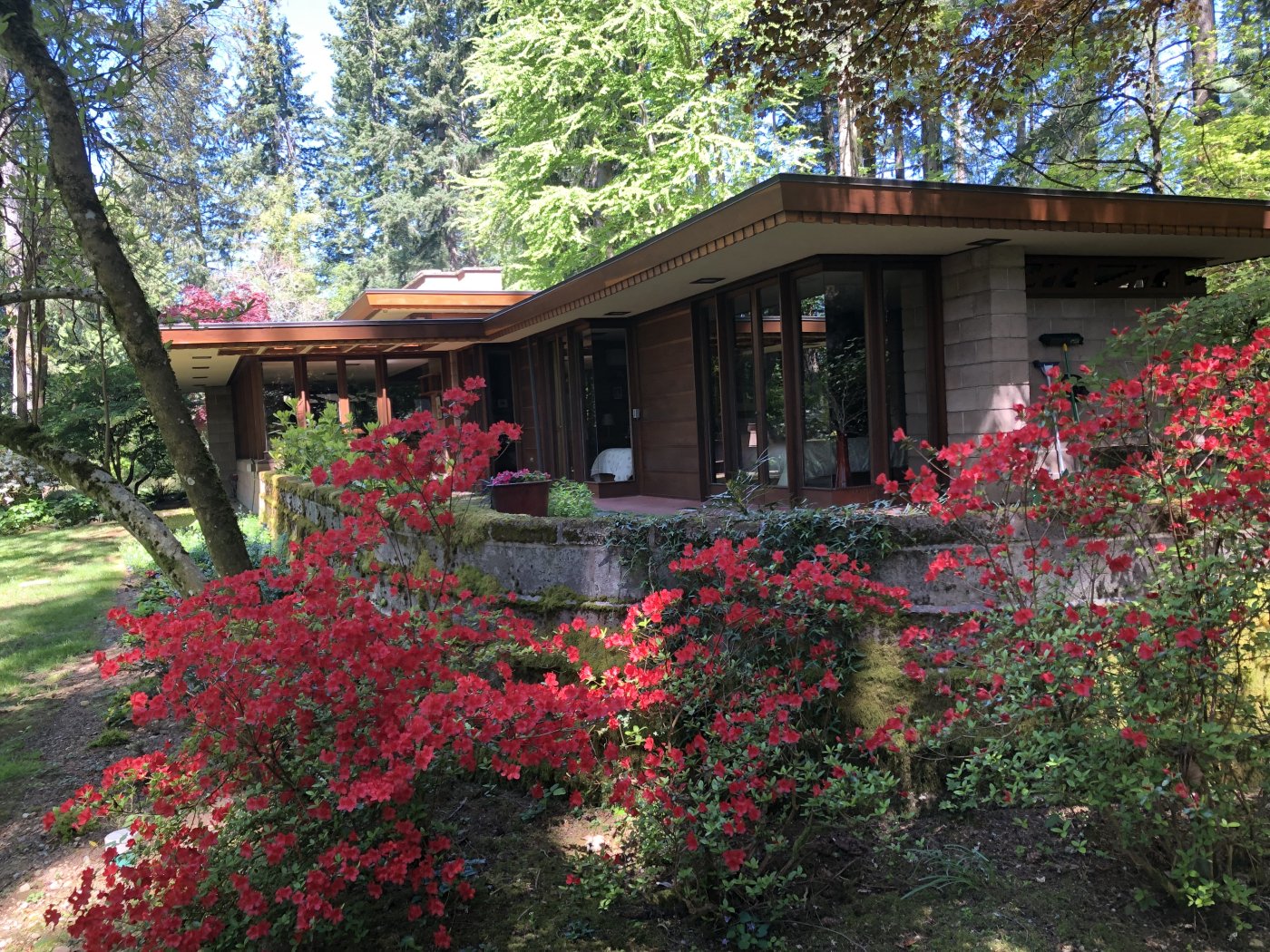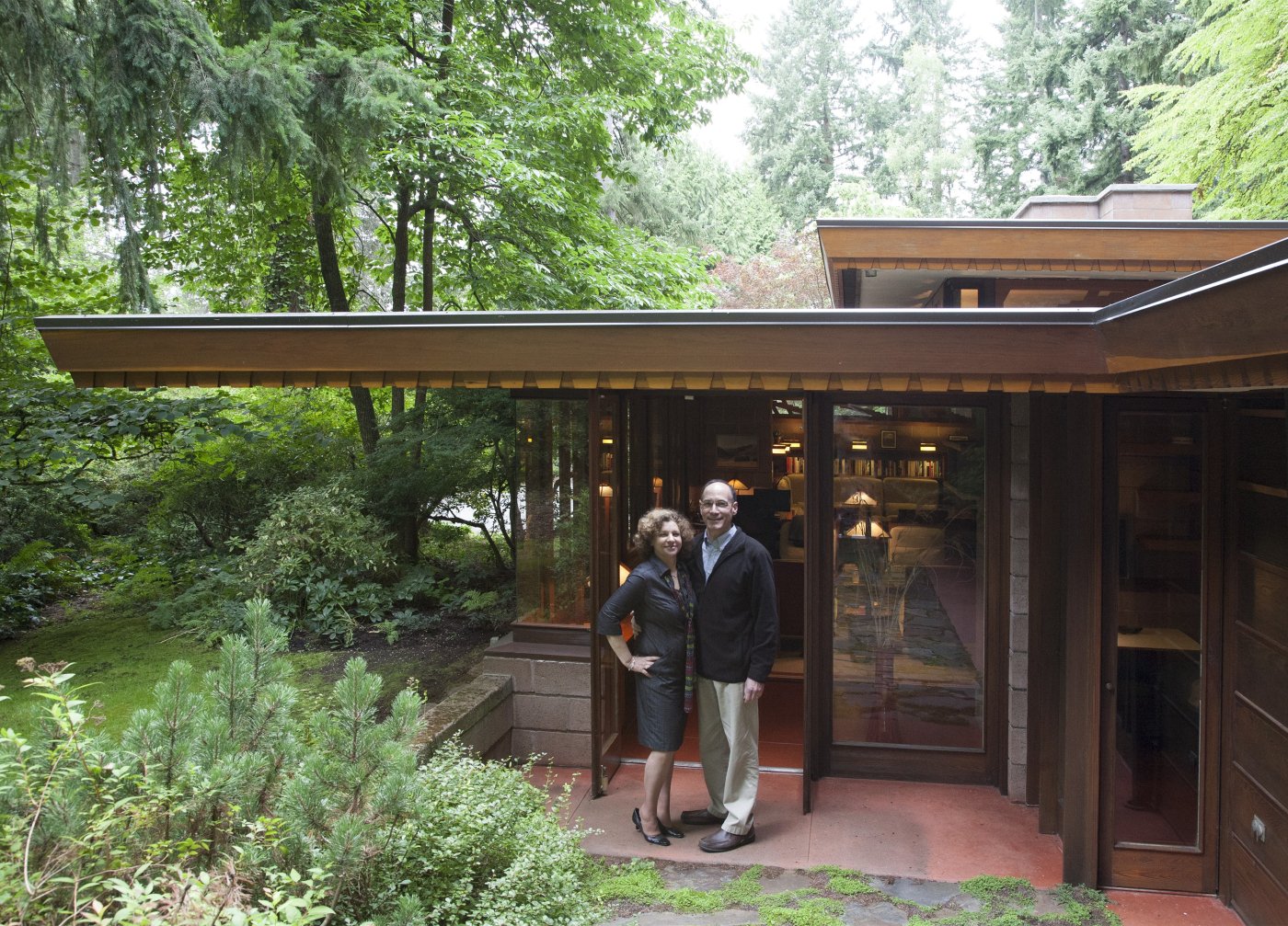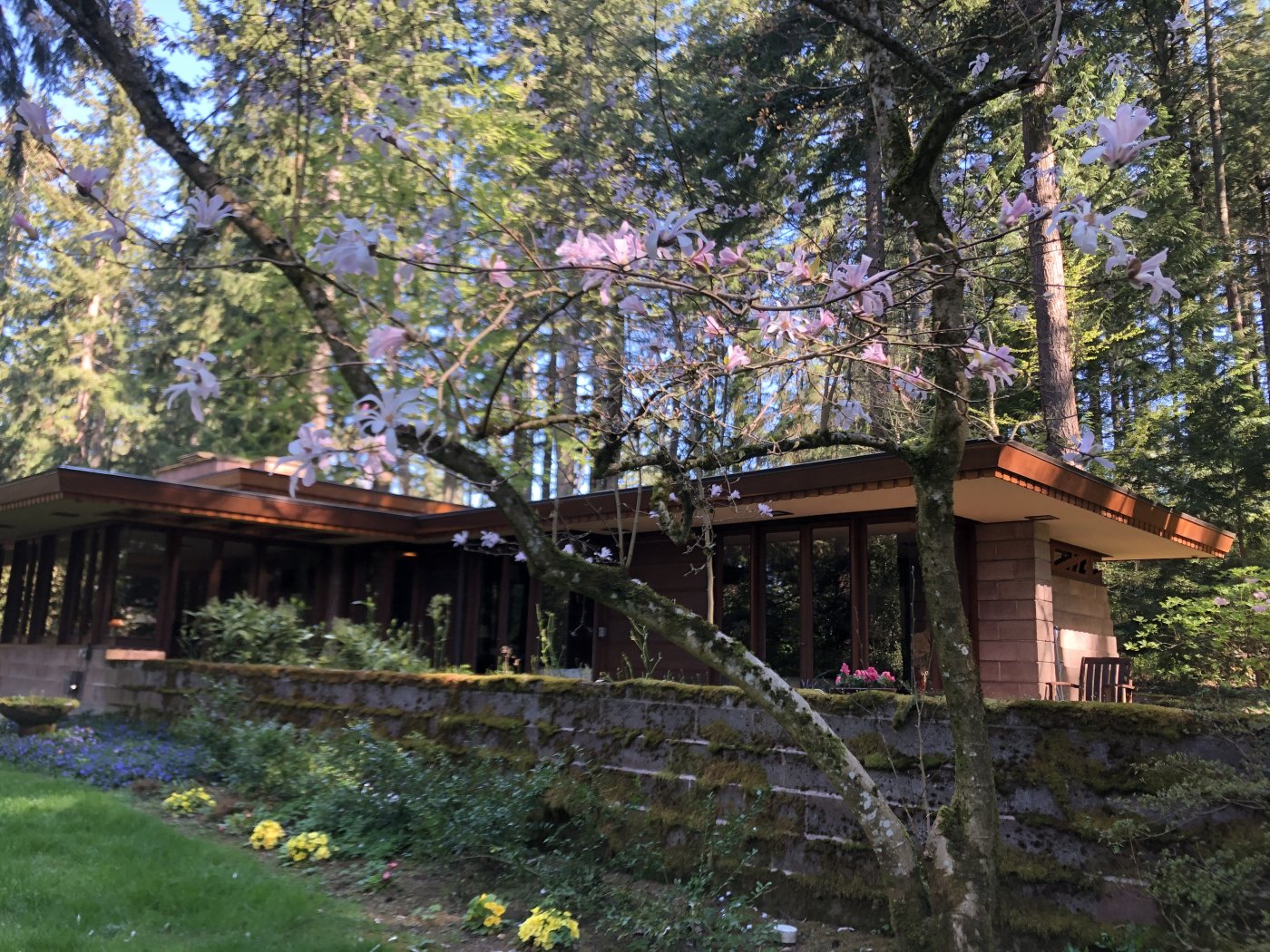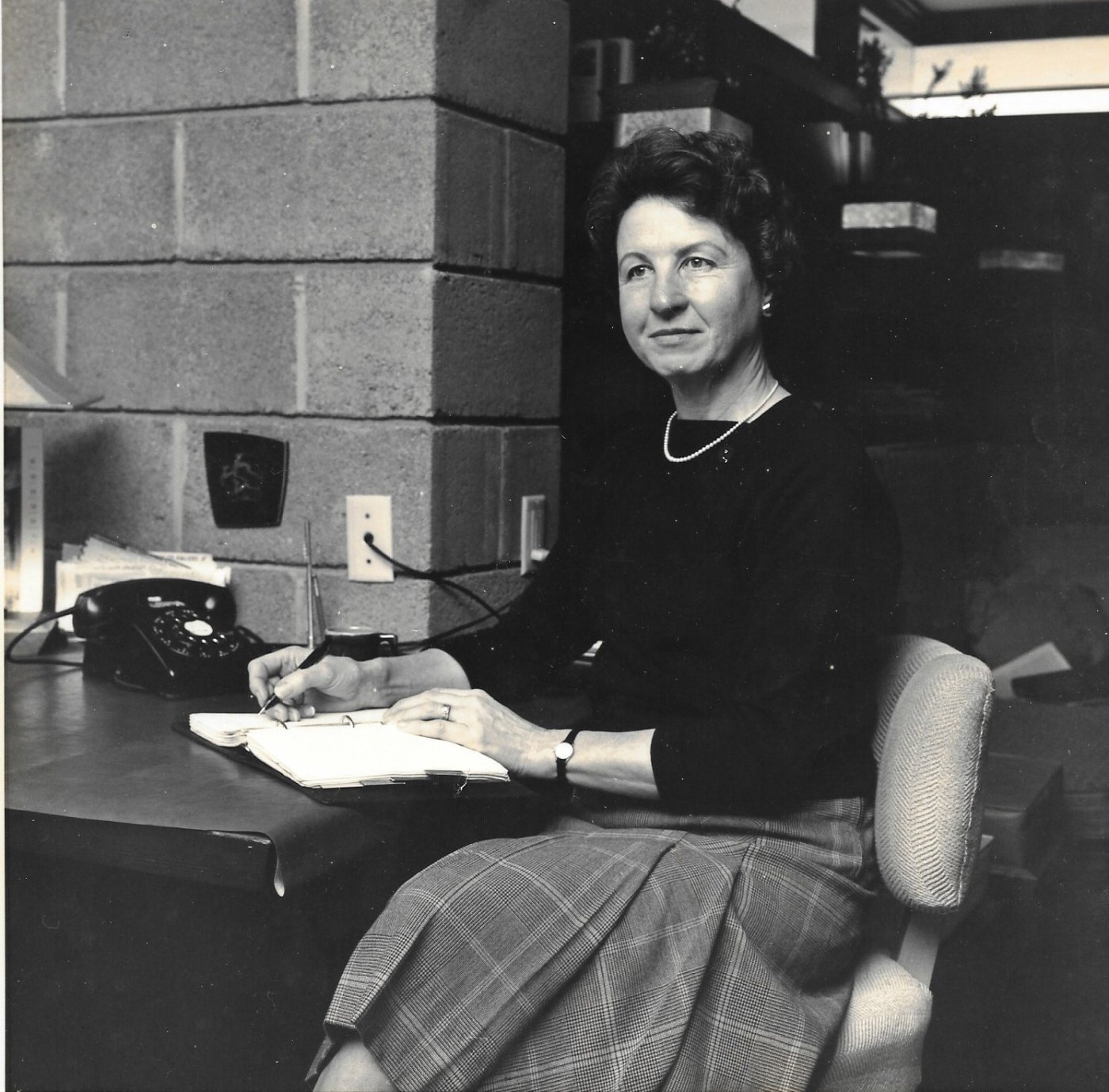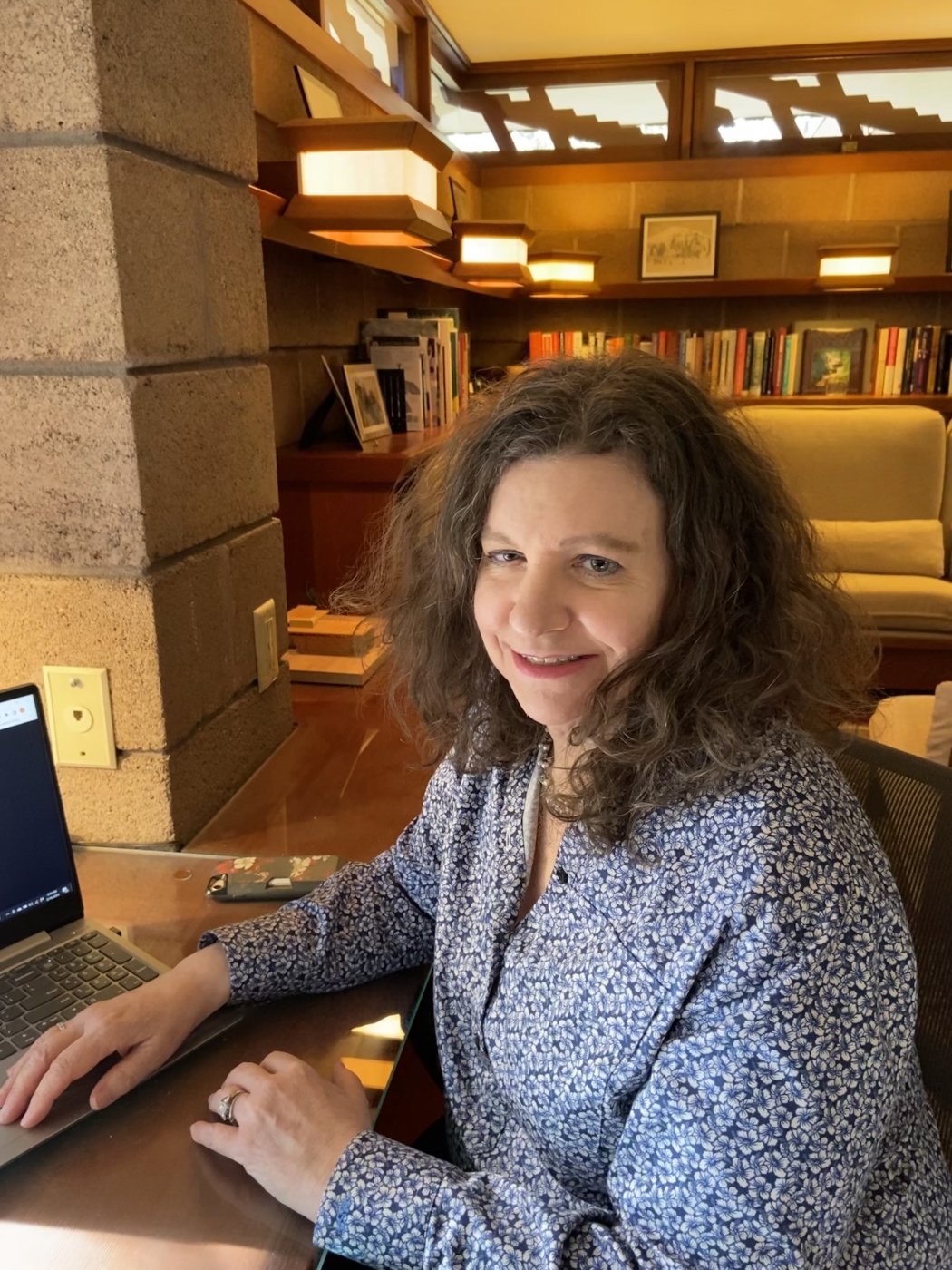 The enhancement of the natural environment surrounding Brandes House also served to emphasize the clear relationship to nature.
I of course did not know about this enhancement the first time that I encountered the property. I had never been to Washington State before. The beauty of the state often overwhelms first time visitors and it certainly had that effect on me. What I had previously thought of as trees seemed like bushes as I stared in awe at the towering Douglas firs, with many conifers the height of the apartment towers of New York City where we had raised our family. The colors of green were deeper, and more varied, the nature packed together more densely. Arriving in late March, it was a shock, in what an easterner like me thought of as early spring, to see that winter was long gone. Contrary to our expectations, it was a sunny weekend (we would find out later that it does in fact rain in Washington). The natural setting was overwhelming. Then there was the house.
Under a thick canopy of varied trees, Brandes House extends horizontally. Originally, it was positioned on 20 acres of land (now it is on a little over three). Because of this, the house is a structure of mostly windows. The privacy walls that are typically on an entire side of many Wright houses, to shield owners from prying eyes, are almost entirely absent. The house seems to float within its surroundings. It absorbs whatever sun there is through these many windows. There is a subtle bit of wall that acts almost like a Japanese screen in the large bedroom, just large enough to tuck the bed behind (a nod to privacy), and since the house is, as it should be, of the hill, the bedrooms open onto a grassy patio with a retaining wall. This offers another visual boundary (for the faint at heart). Only where the house and the carport meet, which is at the inglenook, did Wright see the need to create an area with high walls and high windows, a truly private area of refuge in an otherwise bright and open house.
The effect is stunning. There is glass all around, and nature, outside and in. When I entered for the first time 10 years ago, I was a goner and so was my husband.
It wasn't until we were settled in and could observe the house and its interaction with the natural world that I began to understand the role that Mimi Brandes played in shaping our experience of the house.
I have gathered these scraps of knowledge about Mimi (properly, Wilhelmine) Brandes.
While we thought that Mimi's plans for the garden were lost to history, we eventually found them. Although not cataloged, they had been maintained at Taliesin along with the other plans for the house, now at the Frank Lloyd Wright Archives in Avery Library, Columbia University.
She died approximately 10 years after the house was built
She was born in Vienna and maintained a correspondence with her sisters who still lived there
She was a master gardener
She was described as a writer of articles about the garden, possibly for Sunset magazine
She was planning, with Ray, to adopt children and raise them in Brandes House (this did not happen)
As it happens, the first projects we focused on when we purchased the property were outside the main structure of the house. I had not yet gotten to know Mimi, or the land (which I am still, and will forever be learning). But unlike many other renovation accounts, our story centers more on a landscape in need than a house in need.
The house had been for many years under the stewardship of local architect Larry Woodin (now deceased), former president of the Frank Lloyd Wright Building Conservancy. Larry's interest in Wright's work commenced in his teens. He had maintained the house through the ownership of Ray Brandes' stepson (from Ray's second wife, Helen) and the next set of owners, who had sold it to us. Larry had made sure that the house was impeccably maintained, and had also told us the lore of the house, including the stories of past owners. It was from him that we learned about Mimi and her writing.
However, the grounds were a mess, a beautiful morass of what to me (coming from a 10th floor apartment in New York City), looked like a lot of green stuff. It was a bit of a shock. But the first steps became obvious fairly quickly – cleanup and saving trees. Those Douglas firs, apparently, were being suffocated by ivy.
Here is a list of some of the very first projects we undertook at Brandes House:
Grounds clean-up, including removal of 6 large truckloads of invasive blackberry vines
Removal of ivy from 99 Douglas firs from the woods behind the house (we paid by the tree!)
Refurbishing of the water feature, including lining with slate (it had not previously been lined, just painted)
Resetting of original stone patio
Creation of raised kitchen herb garden (from a failing flat garden bed) on stone patio
Removal of collapsed (non-Wright) shed and replacement with a shed designed to fit in with the surroundings
Restoration and replanting of three front beds that had little left in them
Creation of the "shed garden" –a woodland shaded by mature Douglas firs, recovered from an area that had been overtaken by blackberries and other unwanted invaders
Here is a partial list of projects we have done since:
Restoration of the retaining wall that surrounds more than half the house, including securing newly manufactured CMU caps to match the original blush color of the wall
Creation of a "meadow" out of an abandoned 1 acre mud lot
Erection of a fenced vegetable garden
Addition of a "water garden" on the lower lawn
Replacement of the gate and added surrounding plantings
Restoration and replanting of several smaller garden areas that were bare or overgrown
Addition of landscape lighting and Wi-Fi-controllable irrigation throughout the 3 acre garden and moss paths
Establishment of yearly tree service, using certified arborists to maintain the hundreds of varied trees throughout the grounds
Once we had gotten the grounds to the point where we could see and enjoy them, we encountered a few surprises. There were so many discoveries. Here is a partial list of unusual features of the Brandes House gardens:
A moss garden
Moss paths through the woods
A tree and shrub floricycle
Hidden paths through both the front and back gardens
An allée of Western red cedars
Many unusual and old species and hybrid rhododendrons
Uncommon trees, such as a grove of Japanese katsura and a tanoak tree
Listing features does not do these unusual gardens justice. Walking and observing, days and weeks and months and seasons, is how I ultimately got to know both the gardens and Mimi.
Seasons at Brandes House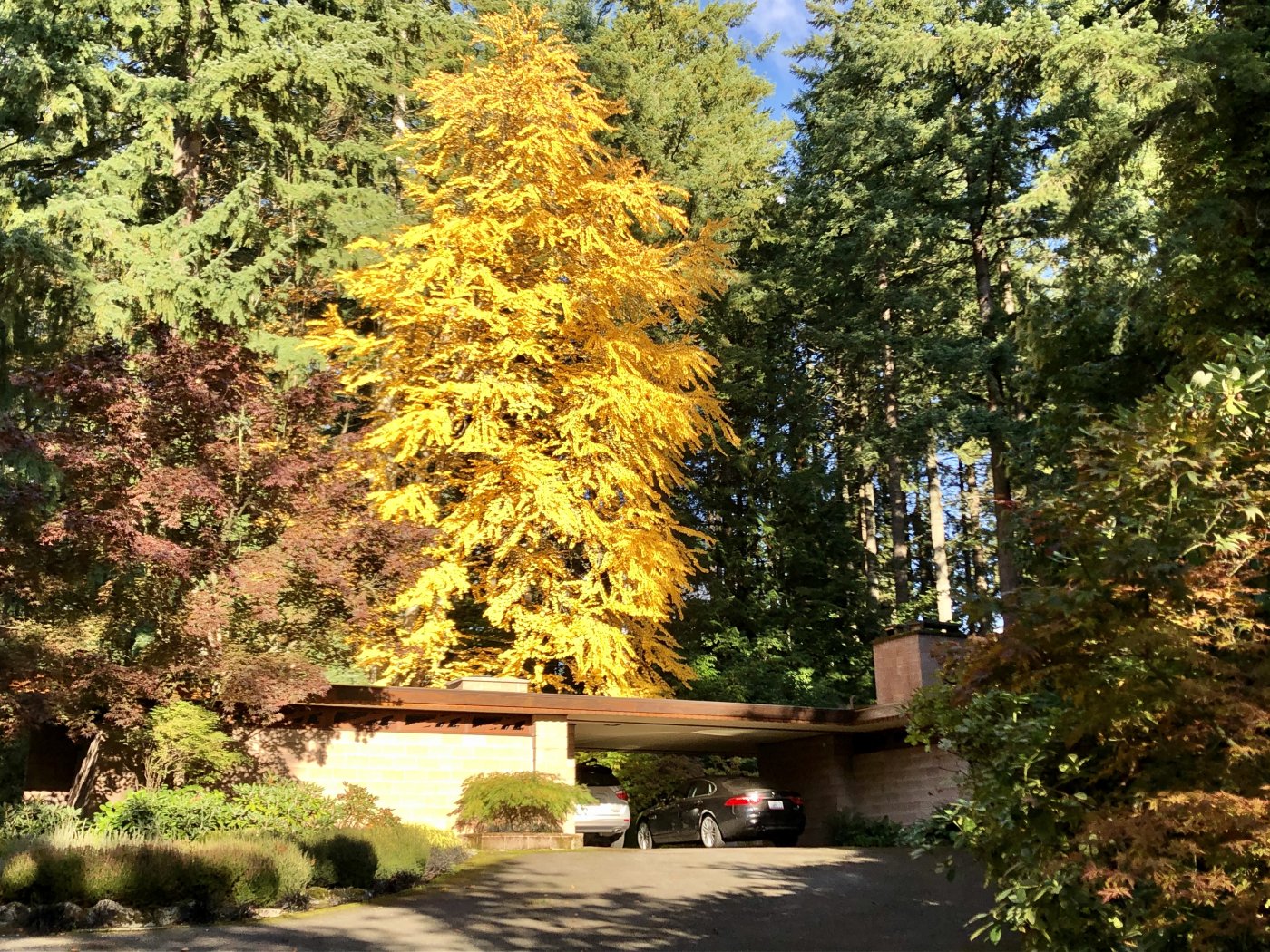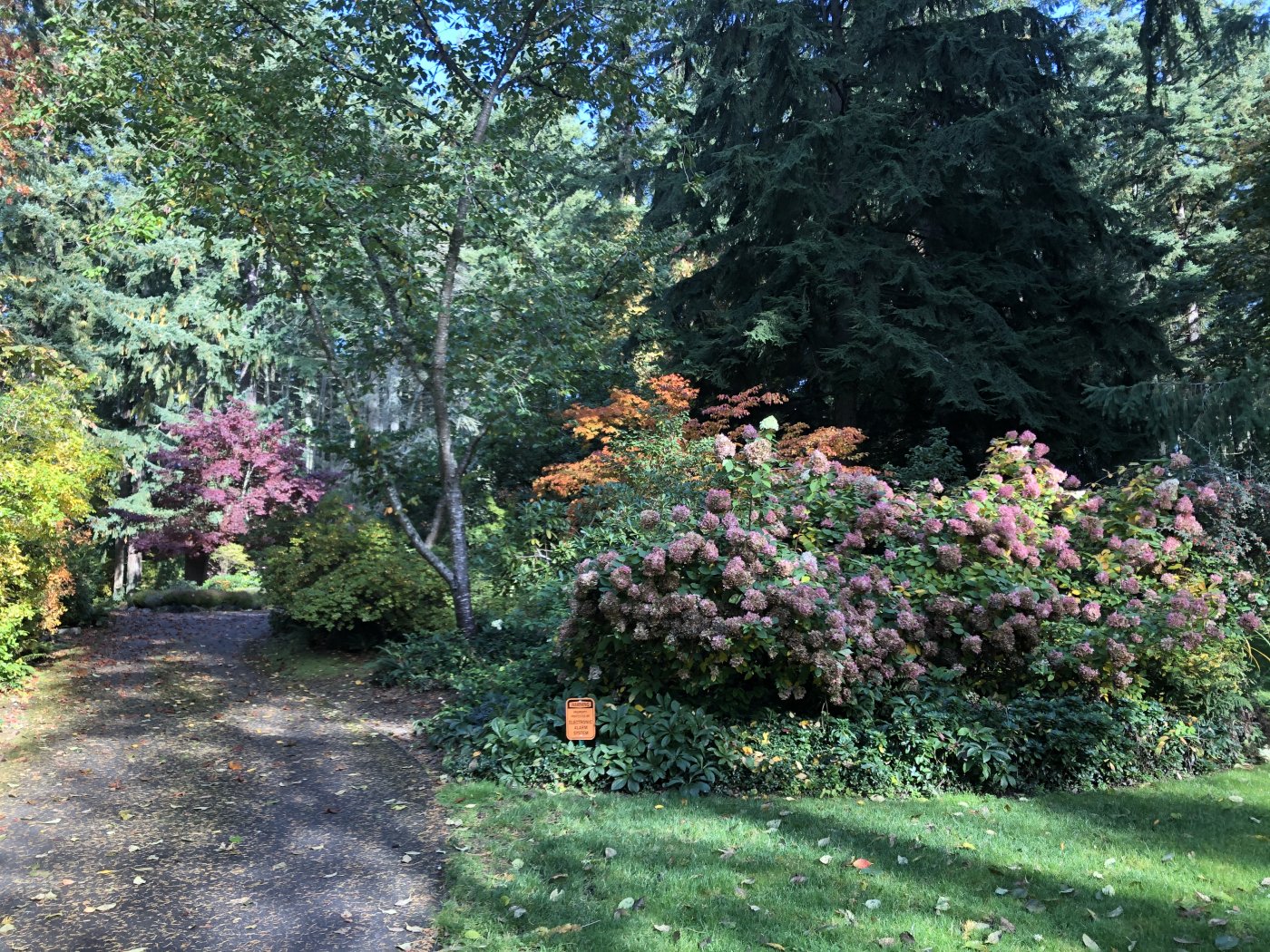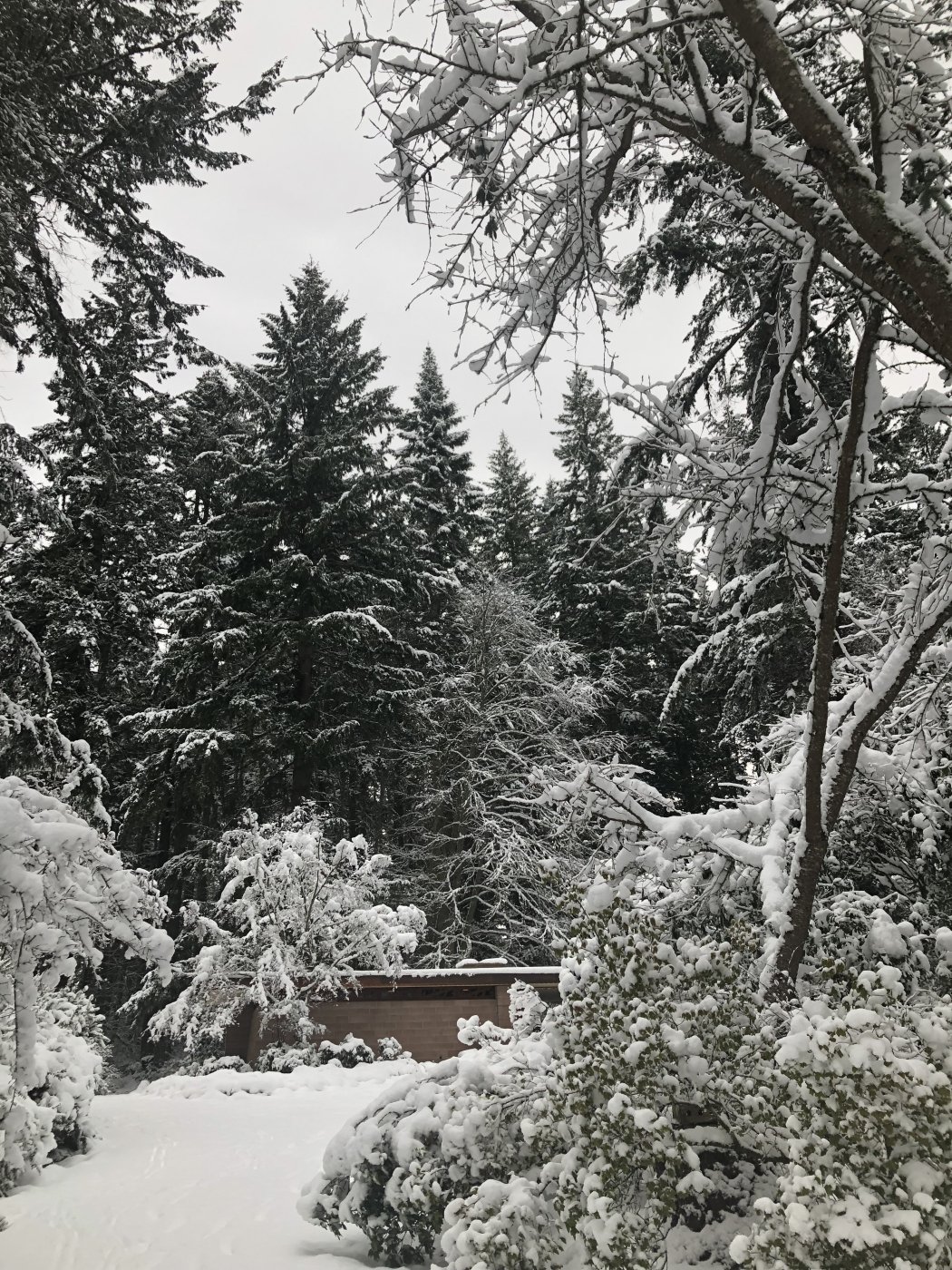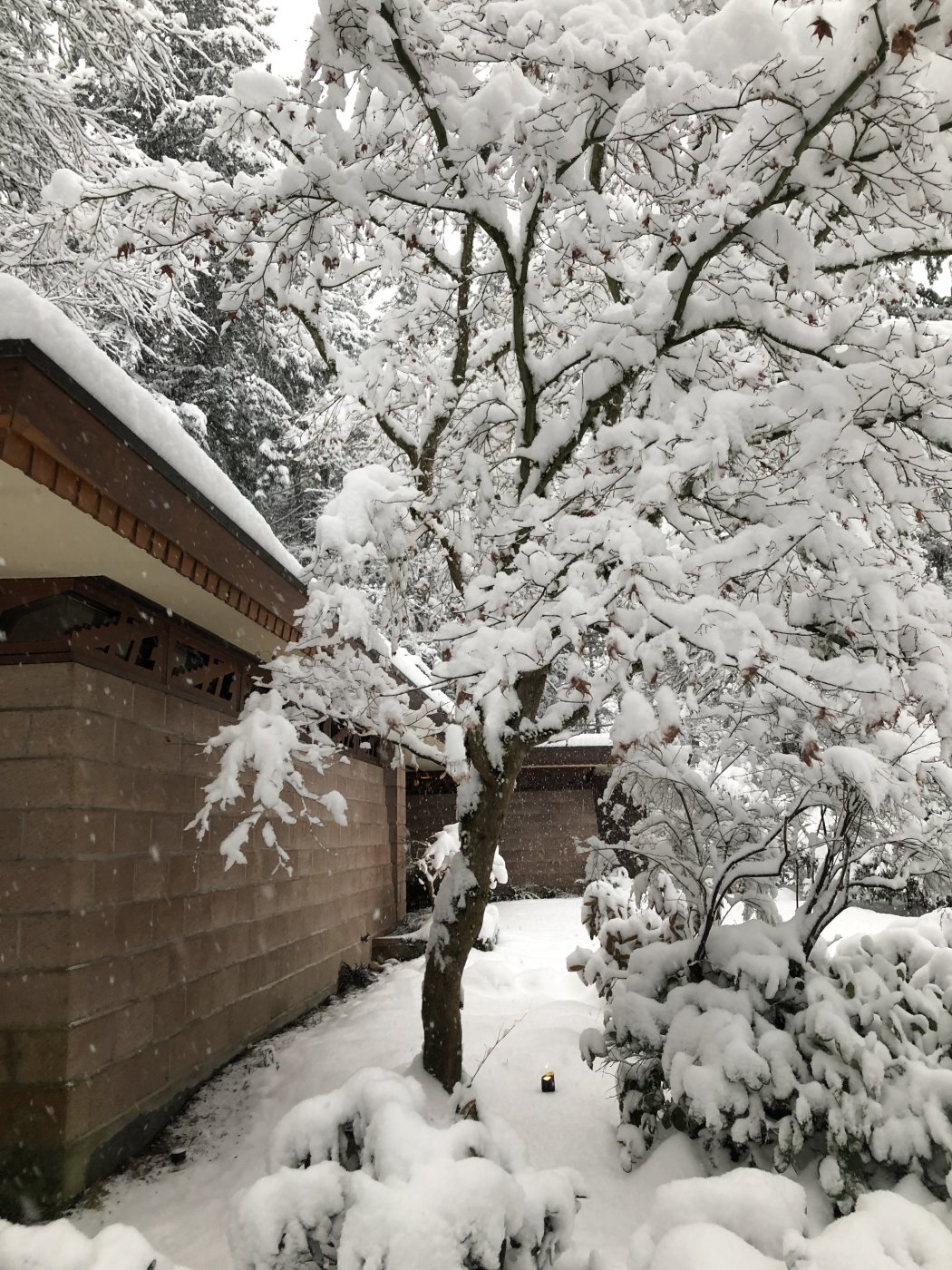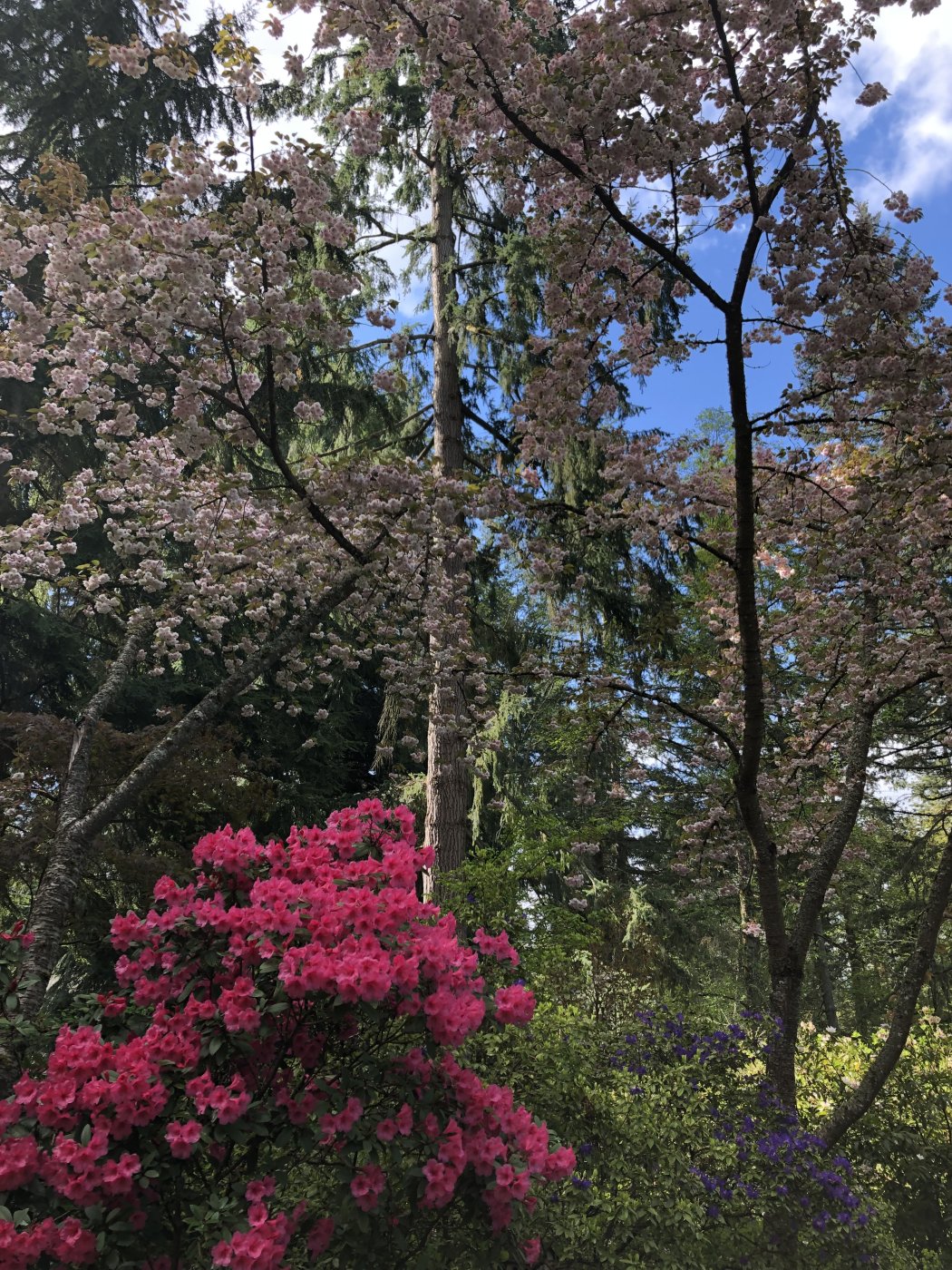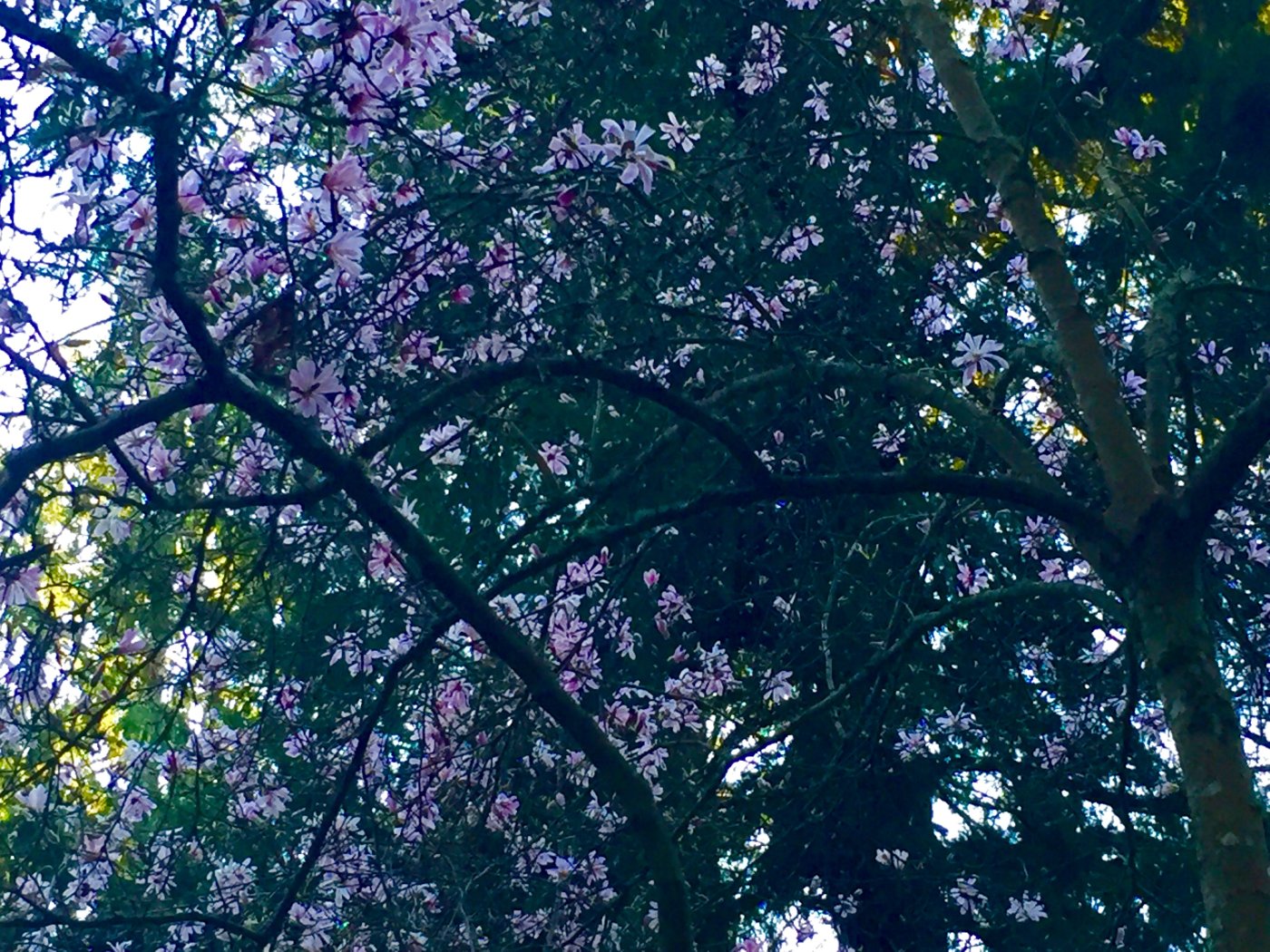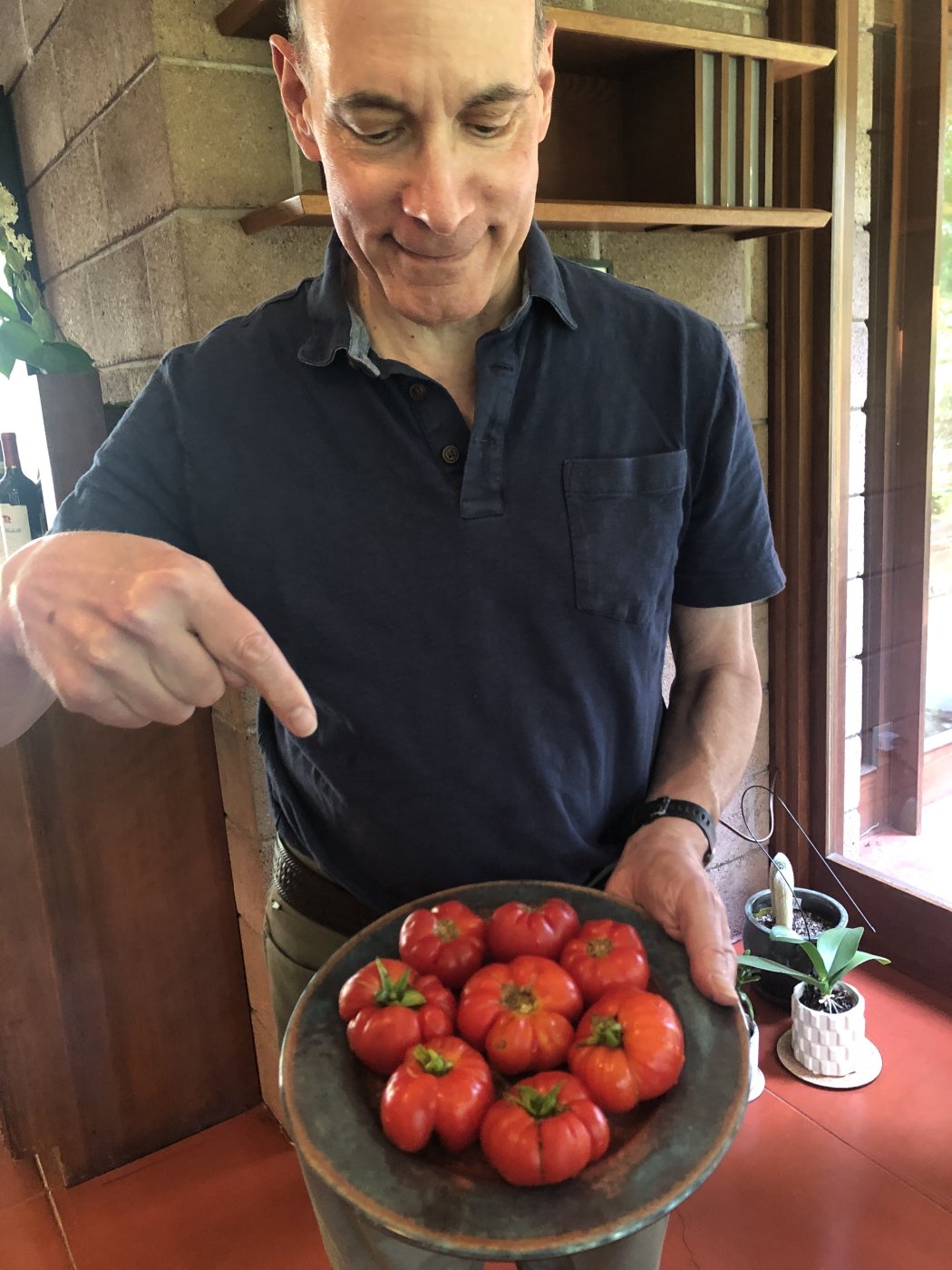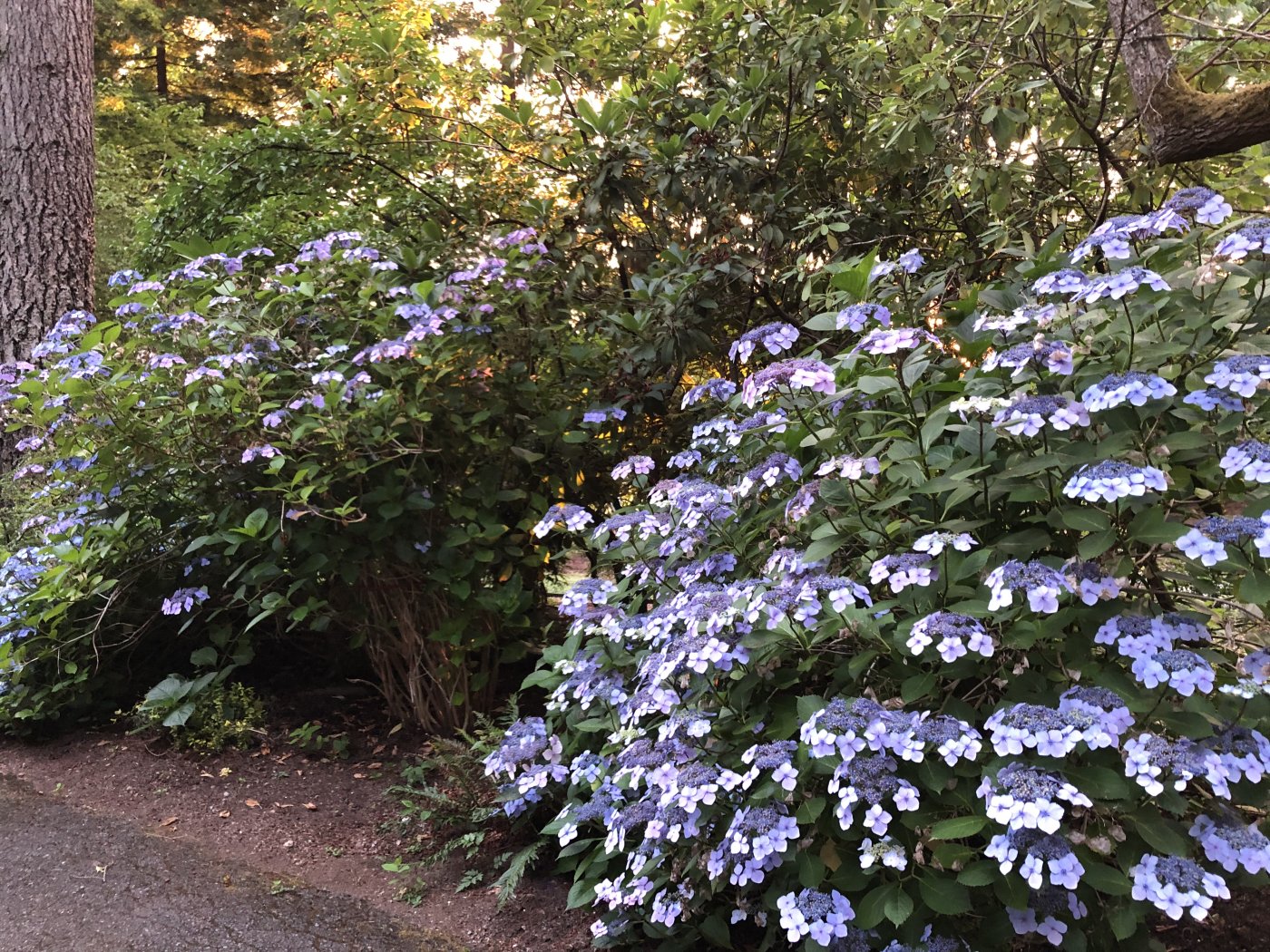 There are pleasures and delights in each season at Brandes House.
Gardens, like children, take years to shape and mature. In the case of Brandes House, the towering majesty of the katsura tree grove is one of Mimi's legacies. The trees' heart-shaped light-green leaves turn overnight to bright yellow in the fall and give off a delightful burnt sugar odor.
As I learned about the gardens, I learned about Mimi. As I made discoveries in the garden, I felt her mastery guiding me. She became my friend. Sitting on an old bench in the front yard, completely hidden within the mature shrubs and cool on the hottest summer day, I think about how attractive the garden is to children. Although she and Ray could not bring children to the house, Mimi's garden seems to beg for them–a child to sit beside me on the bench, to read to in the summer, while the afternoon breeze wafts by.
A Visit to the Library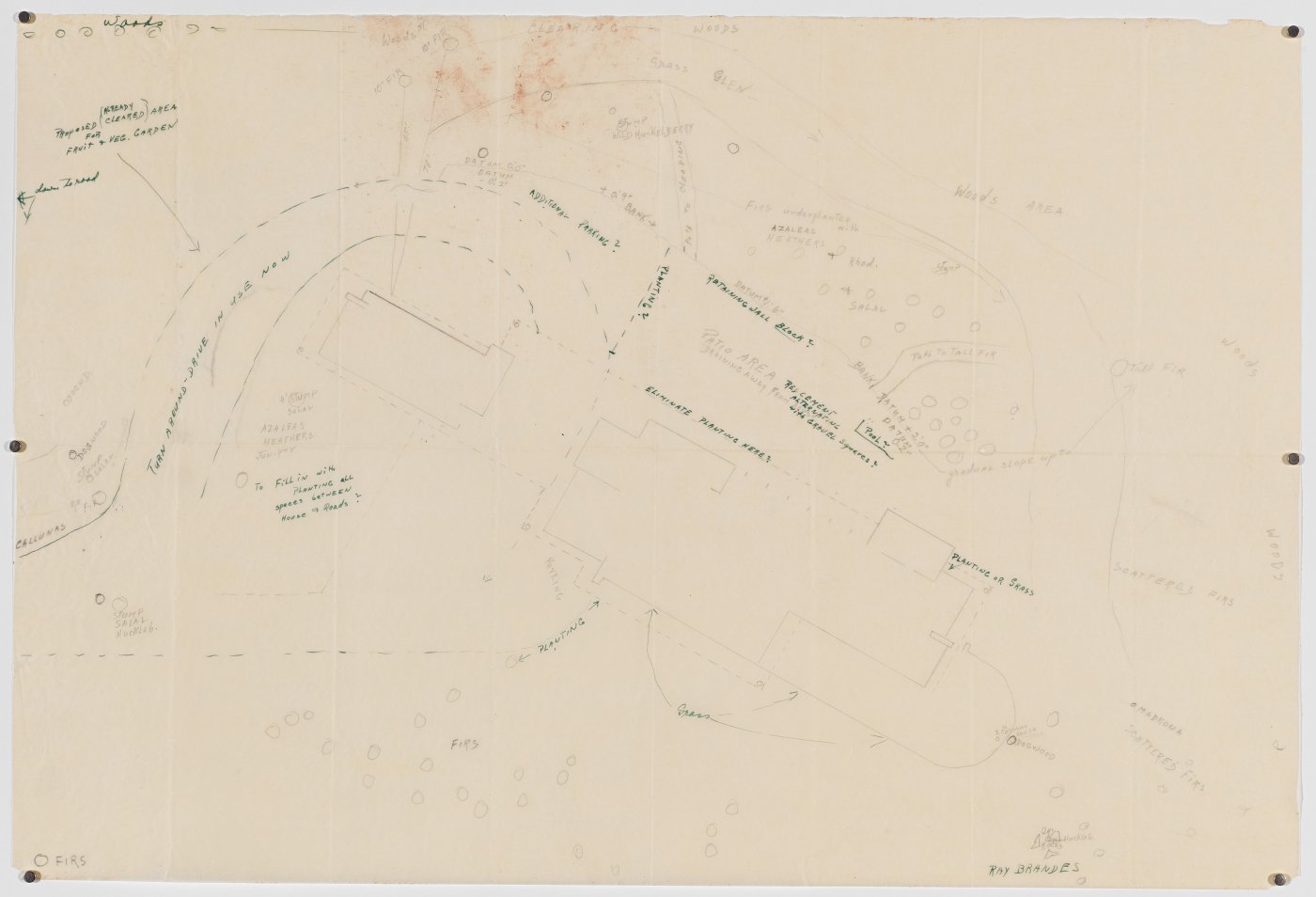 We discovered Mimi's role in designing the garden with Frank Lloyd Wright when we visited the Frank Lloyd Wright archives housed at Columbia University's Avery Library. In the folder for Brandes House, John and I uncovered two drawings that had never been cataloged. One was an elevation by an apprentice showing a different roofline (never approved by Frank Lloyd Wright). The second was a landscape plan which appears to bear Mimi's hand, sent to Frank Lloyd Wright. This suggests that Frank Lloyd Wright knew of, and accepted Mimi's initial garden plans for the house.
Tree Floricycle
At the Darwin D. Martin House in Buffalo, New York, Wright, with others, devised, named and executed the concept of a floricycle–a hemicycle (half circle) of plants that bloom in order. After years of observation, I became aware that we had a floricycle of our own. The flowering trees Mimi planted bloomed in a cyclic order around the house. The Martin House floricycle was originally scheduled to flower from March to November. The Brandes House floricycle has a different rhythm, due to the environment of the Northwest. It starts in December, when the dormant winter garden is beginning to revive (January, for the first 7 years of our residence) and continues into early summer.
Global warming has made plants bloom earlier in the year, but the order remains the same – the glorious witch hazel forms a beautiful late winter distraction of small orange-yellow buds, right in front of our main room. This is soon followed by a magnificent pink star magnolia which we see outside our bedroom window, then a towering crimson maple opens its small but incredibly bright buds, and finally, as summer beckons, a truly enormous white flowering dogwood beside the moss garden completes the half circle and beckons into the cool of the deep woods behind the house.
There is some evidence within the many plants still existing on the grounds that Mimi may have planted a more extensive floricycle. The hemicycle encompasses a portion of her winter garden, including various hellebores, a number of miniature winter-blooming rhododendron and verbena, which along with unknown species lost in the 60 years since her passing, may have supported the flowering tree floricycle.
Finding Mimi
I first saw a photo of Mimi when I was clearing out the contents of the old shed. Not designed by Frank Lloyd Wright, the shed had been thrown up by Ray Brandes on the bare earth, and had partially collapsed by the time of our purchase. It was full of old stuff. Since we could not keep a partially collapsed structure on the property, arranging for its demolition was one of our first major projects. Among the countless, uncatalogued items in the shed, I found original building materials for the house, and many old photos. Ray Brandes had been an amateur photographer and he left behind a cabinet full of photos.
In that cabinet, there was Mimi. Staring at the photo, I immediately saw my mother-in-law, long deceased. It was something in the way Mimi sat there, with the straight bearing and thoughtful demeanor that drew me to her. Sitting in that oh-so-straight way at her desk, the kind of posture that can only be seen in people raised in Europe of a certain era. A bit, but not too much of a smile, and the confidence of her intelligence. I could not get the association out of my head.
I had found a photo, and immediately connected with it, but what else did I know?
The first hints about her had come from her correspondence with Frank Lloyd Wright. From those, I first learned that she was from Austria, and that she was in love with the house and the concepts of American liberty that were evoked within its Usonian architecture:
Dear Mr. Wright;

This is the third wonderful Christmas in our new home. You have given us everything I hoped for and so much more.

Here I, a native of Vienna, can feel for the first time completely at home. Here is the warm simplicity and quiet elegance of Vienna with its love for nature and beauty. And yet it is all America, as I wanted it to be. Here we have freedom, of movement, of space, of expression. Here is beauty of line and composition, where ever I look and delightful shadow patterns. Even the music is more beautiful or the storms outside.

Mr. Wright I have thanked you in my heart a thousand times for all this beauty and contentment you have given us and it is a feeling that is growing with every year…
In the shed, I discovered a little more about what she left behind when she emigrated. A note from her sister was friendly, and showed that Mimi still had a loving family.
Mimi's Published Work
From Larry Woodin we heard that Mimi had been a landscape writer/editor for Sunset magazine. In my search for Mimi, I decided to try to prove or disprove this lore. This proved more difficult than I expected.
Sunset magazine, which has been published since 1898, is based in California, but has also at times had Northwestern editions. The main branch of the San Francisco Public Library maintains an archive and index of the magazine.
The pandemic delayed my quest for two years. The first time I scheduled a trip to the library, I got Covid, and had to cancel. When I finally made it to San Francisco, I set aside a week for research. The helpful librarians at the main branch set aside a carrel for the review and happily delivered carts of dusty old bound volumes of Sunset, starting in the WWII era and continuing through the 1950's.
As it turns out, only one day was necessary for the project.
With the assistance of my husband, we reviewed 15 years' worth of Sunset magazines looking for, among other things:
Mimi on a masthead as a Northwest editor or contributor
Brandes House within the magazine
Articles about features like floricycles, moss gardens, etc., that might have reflected Mimi's authorship
Sadly, Sunset magazine did not then publish author bylines. Moreover, the magazine printed only a tiny masthead, listing only the leading editors in each section. It thus became clear that I would not be able to prove (or disprove) Mimi's role at Sunset magazine by reference to only the published issues. Even though the research was unavailing, I derived a certain satisfaction just from finally completing the project.
Identifying the Plants
There are a dizzying array of flowers that bloom all year, and in all sizes in the gardens surrounding Brandes House.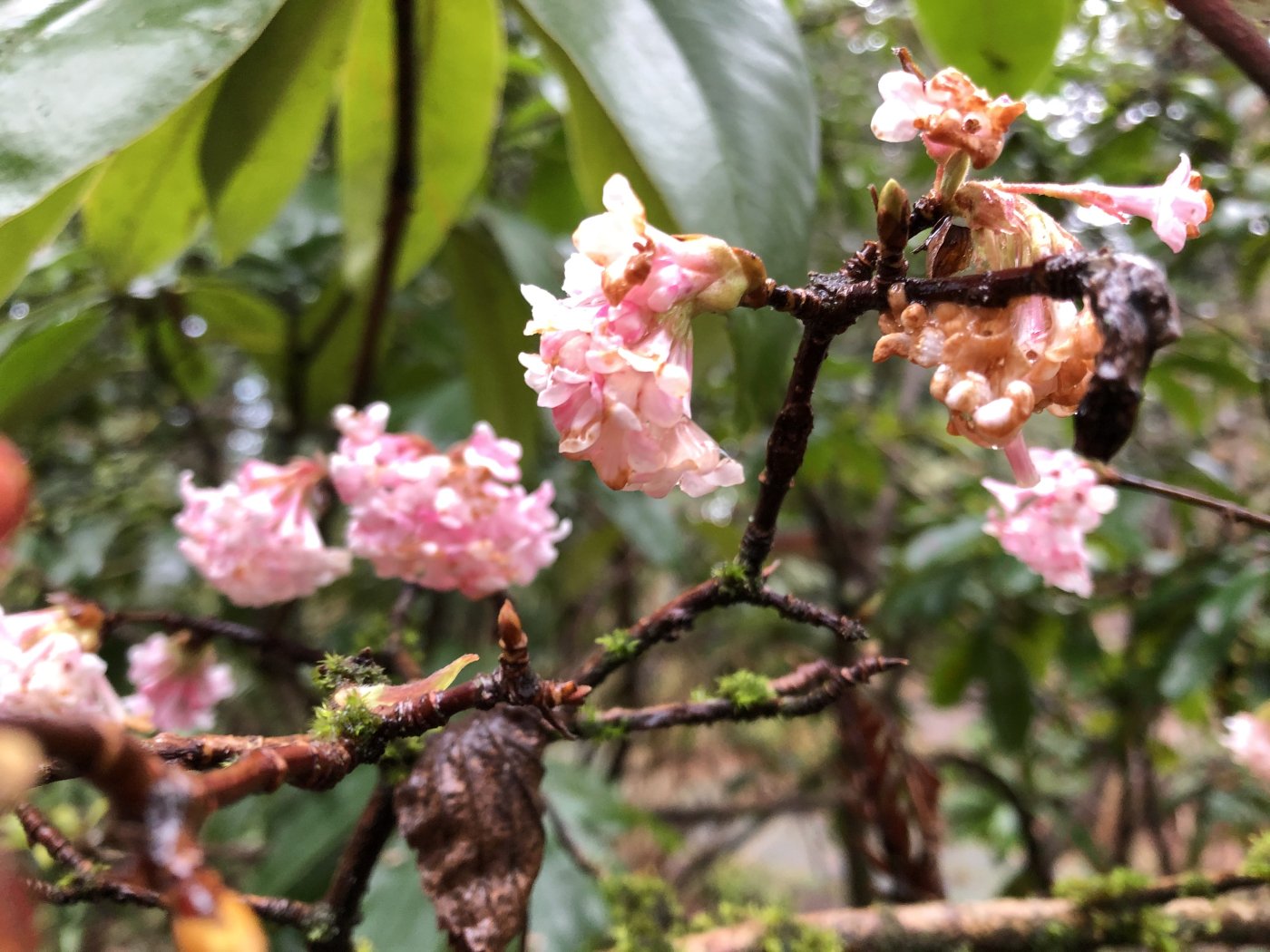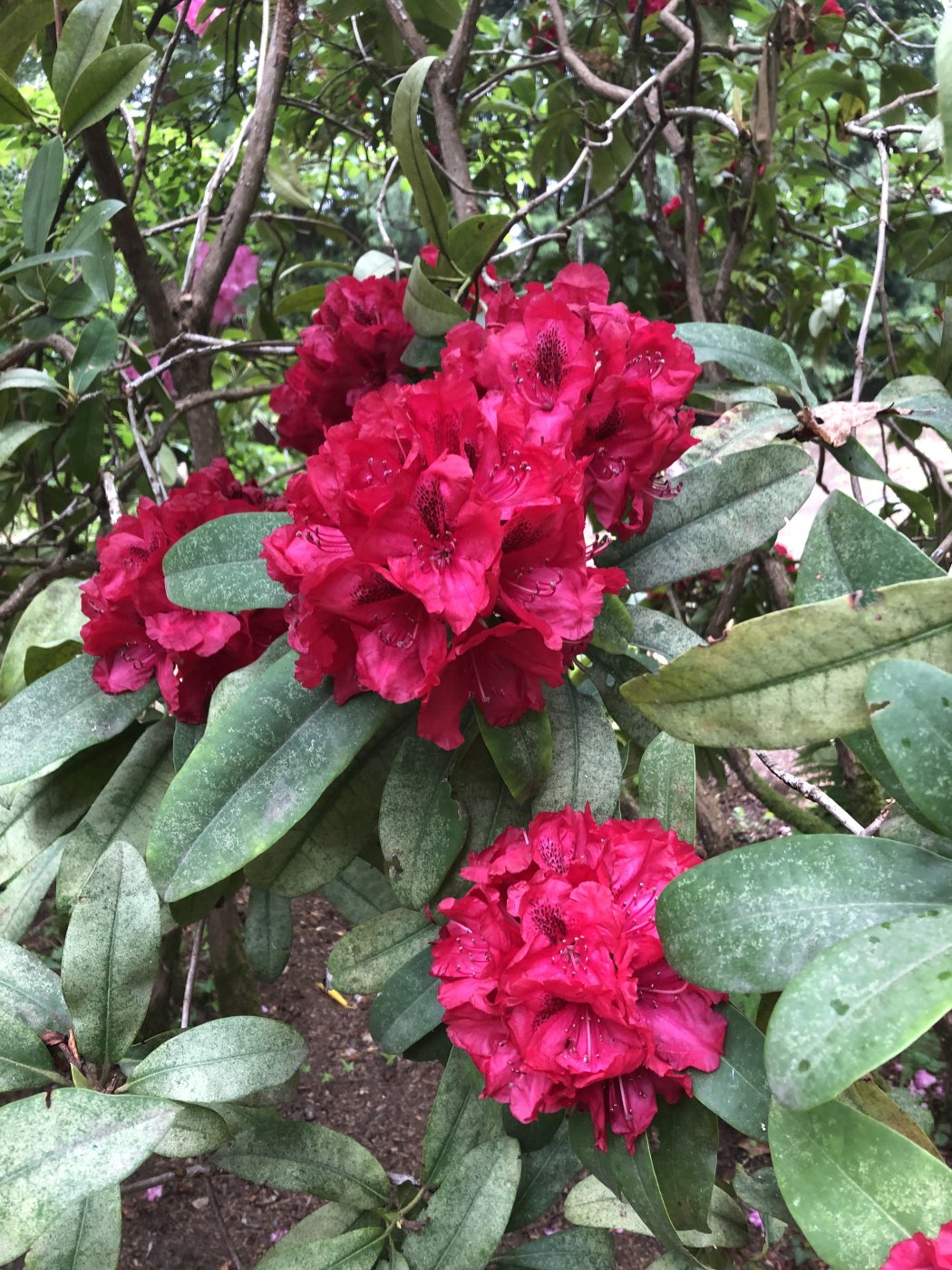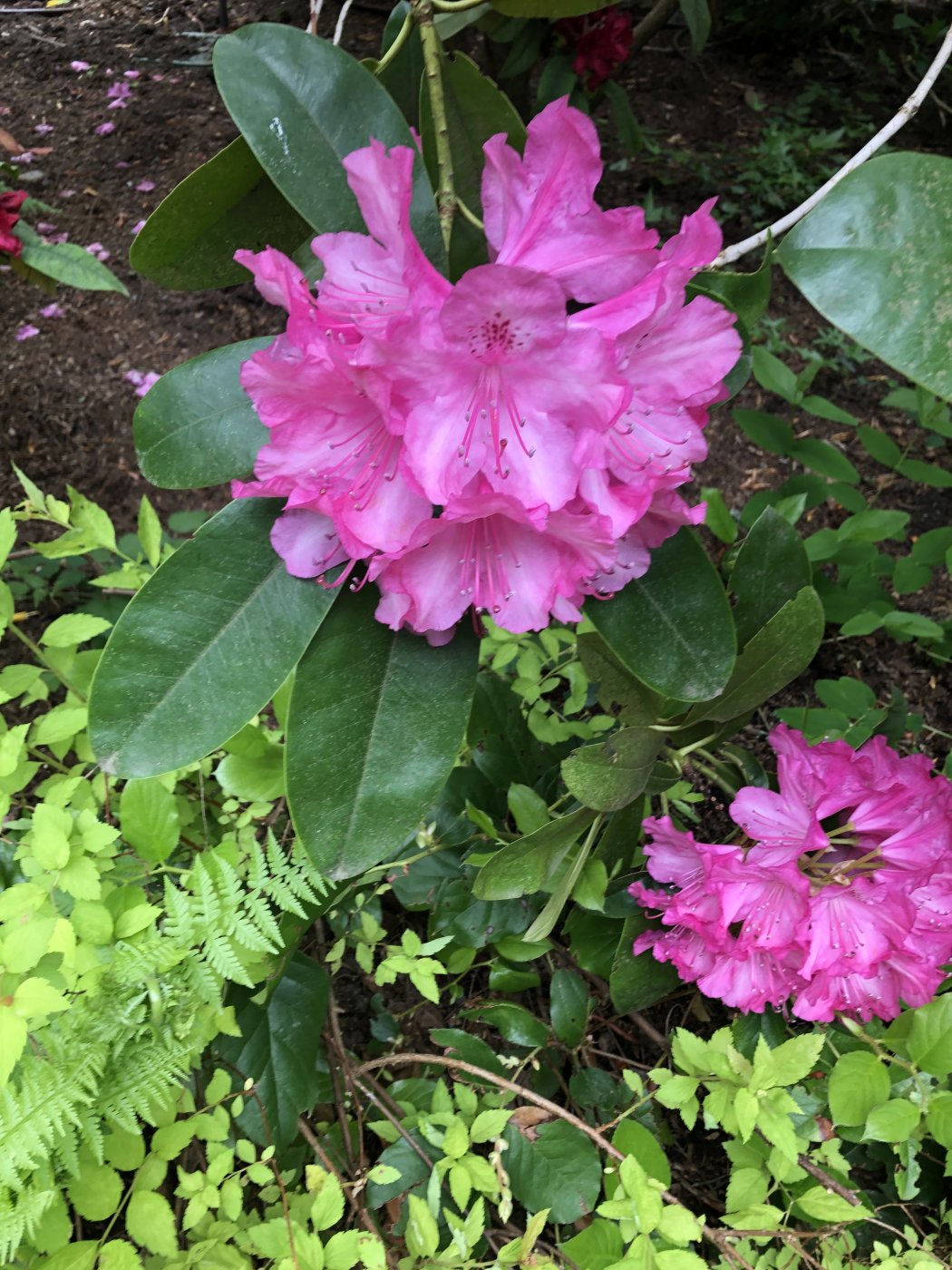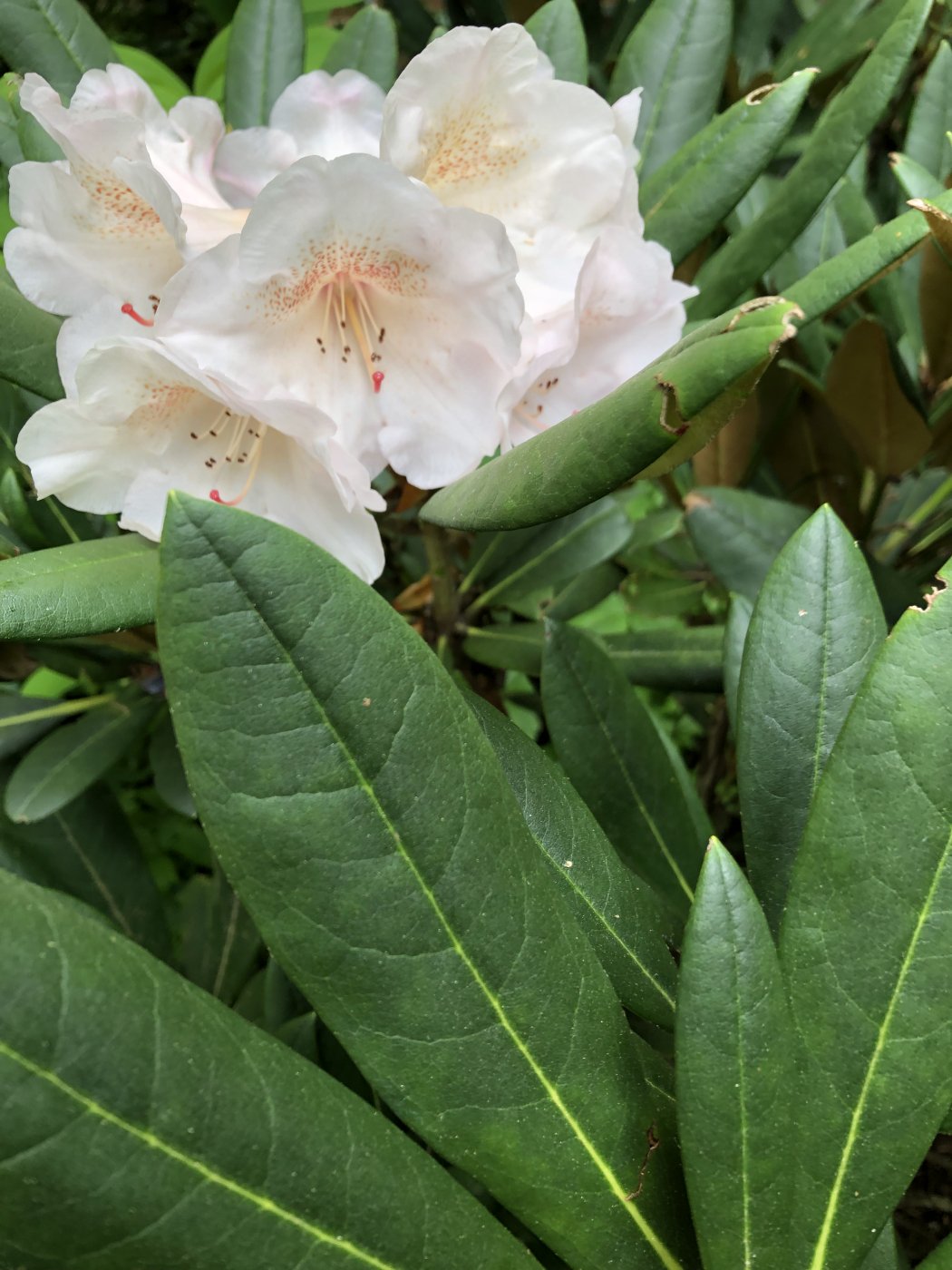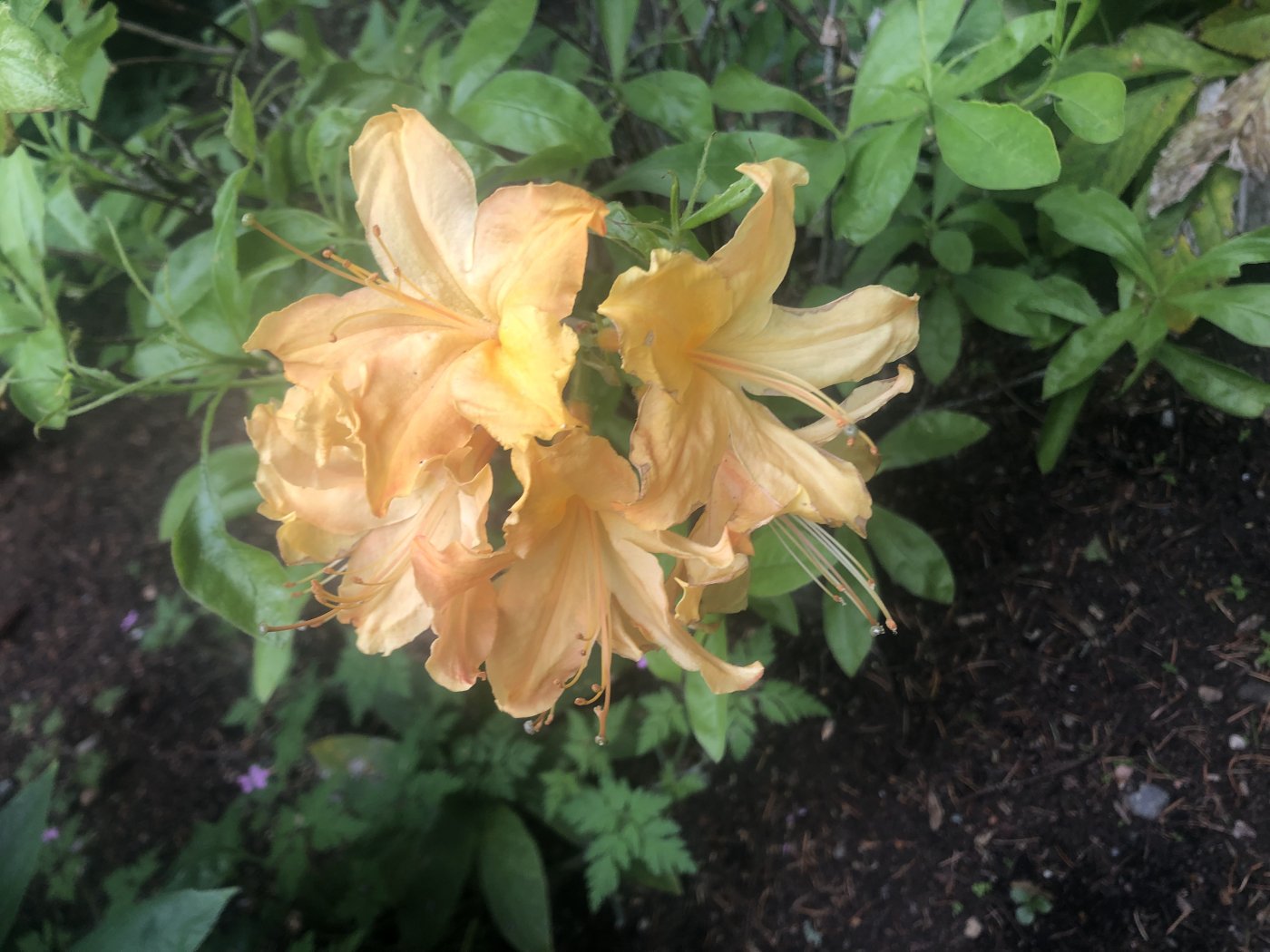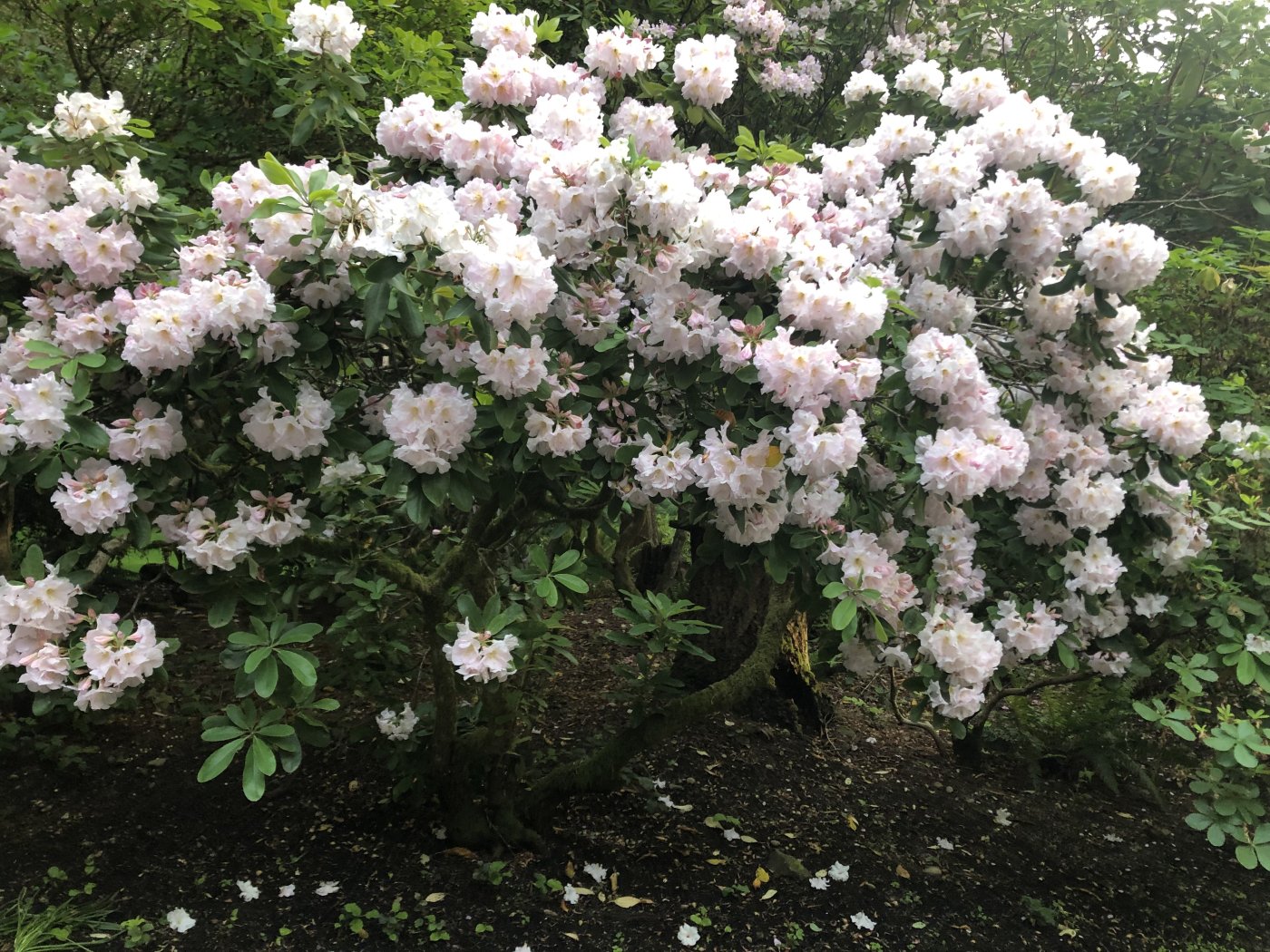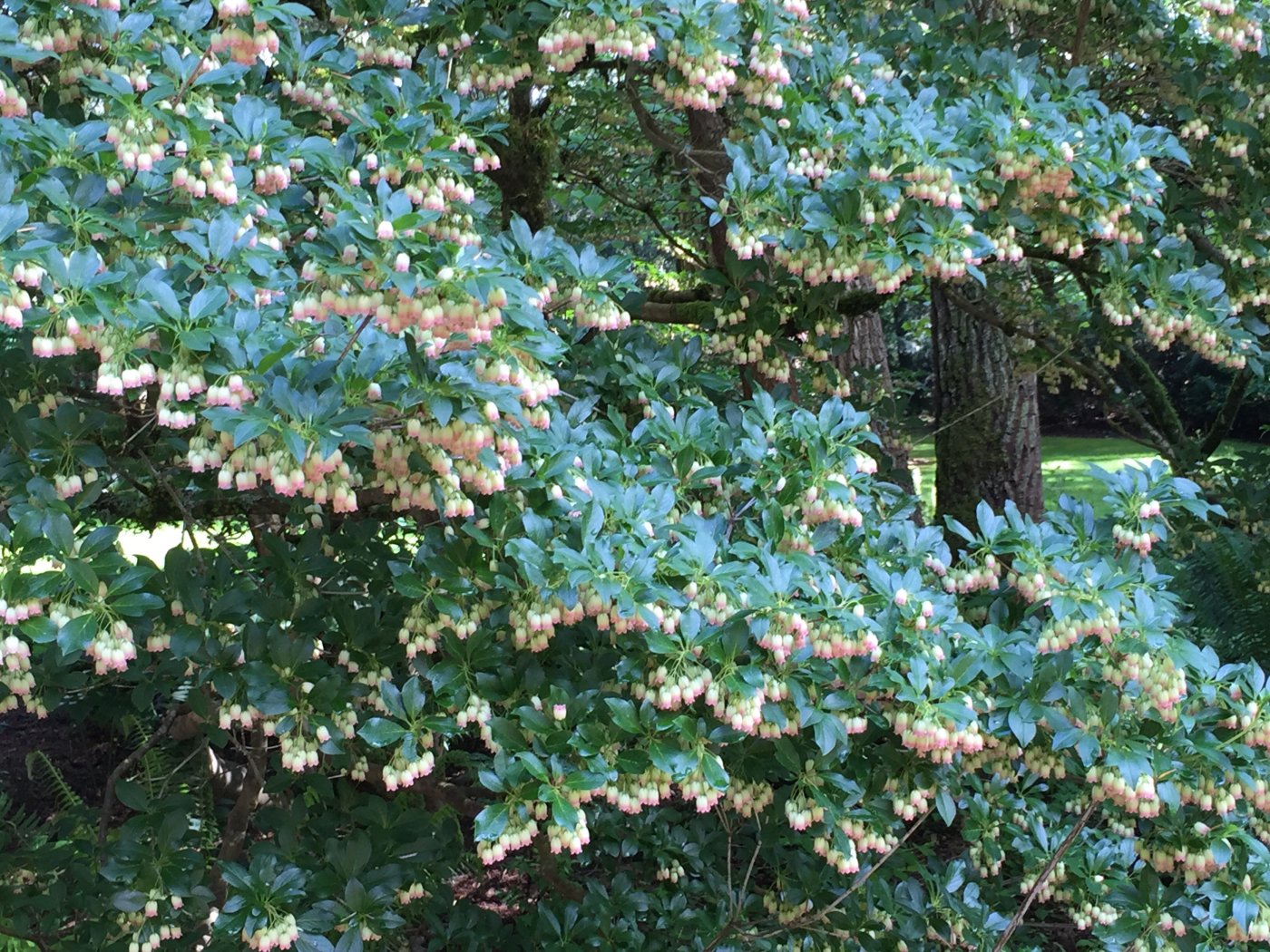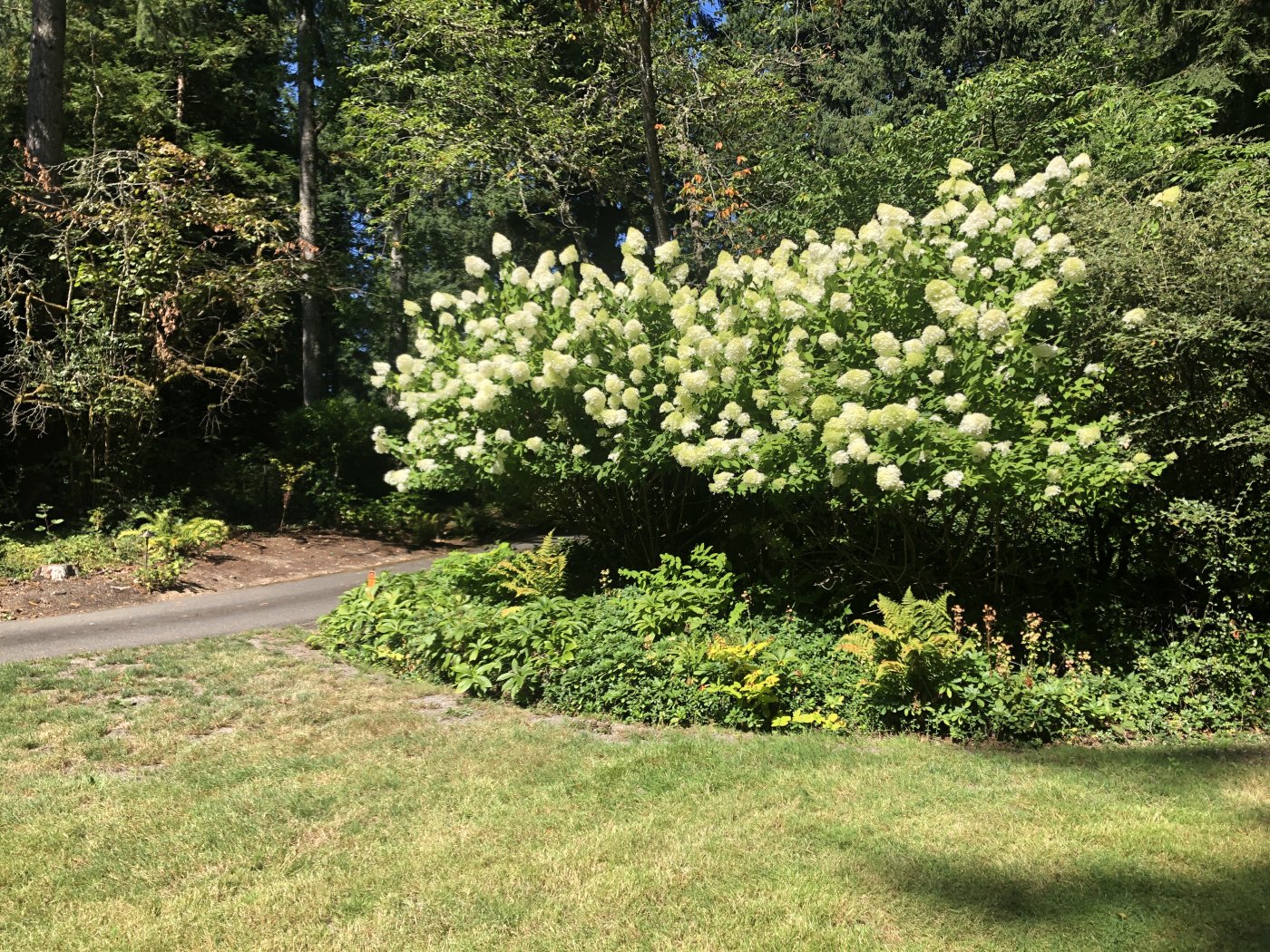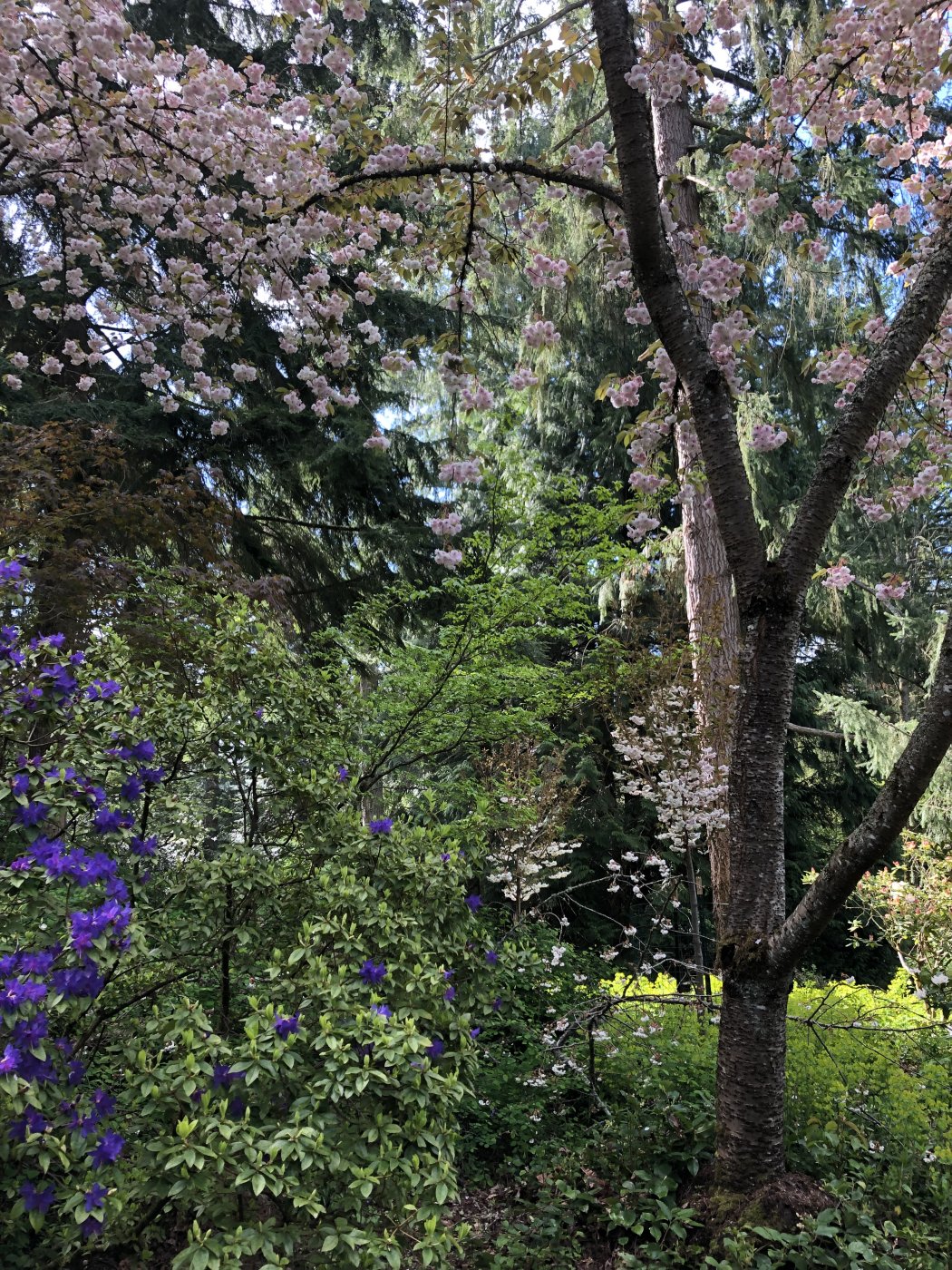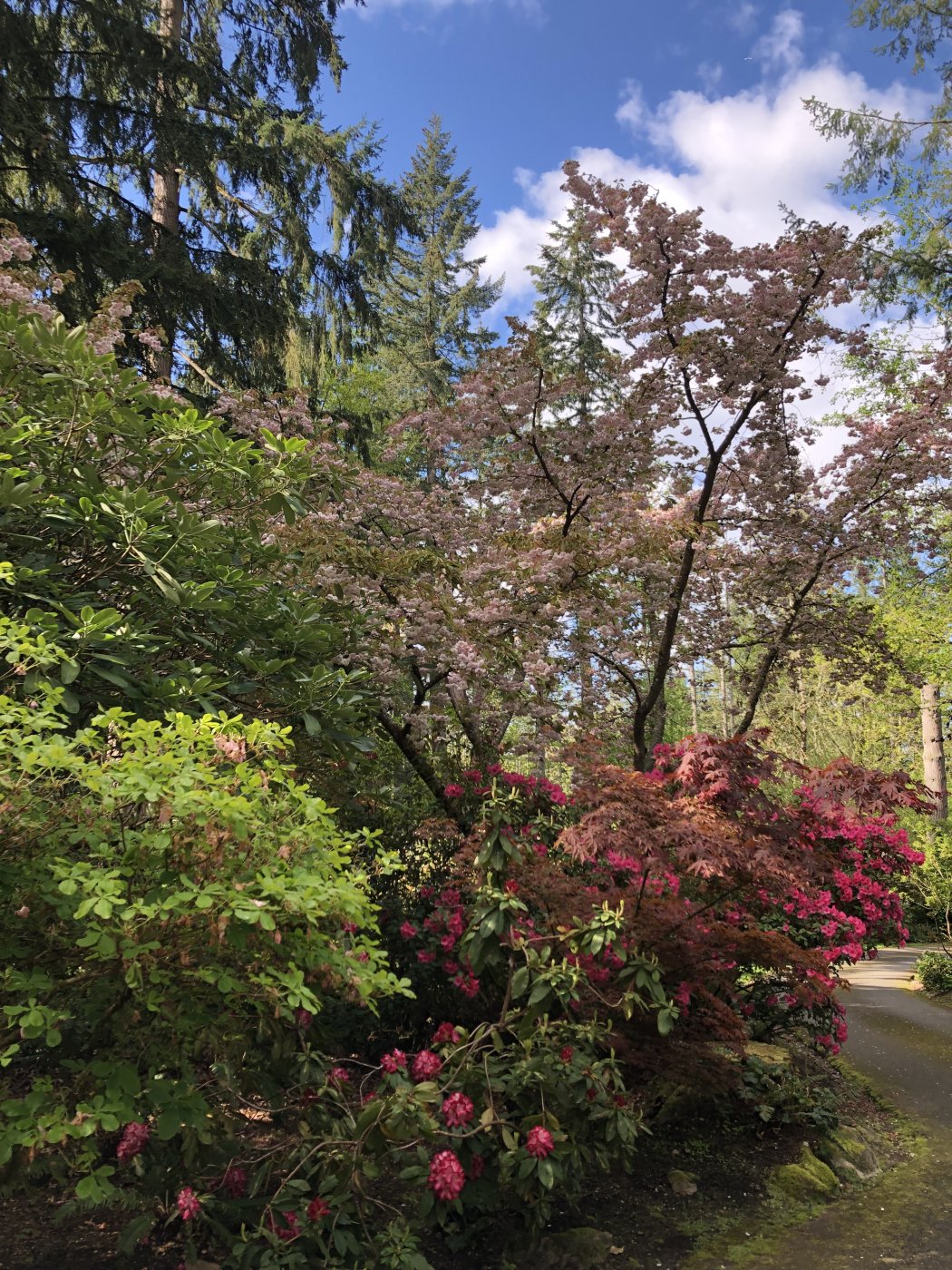 It did not take long to discover that we had a special garden. In a way, my naivety was a blessing. Not understanding that such a unique environment presented additional challenges, I approached it in an unflustered manner. The lore told us that all of the rhododendrons on the grounds were species rhododendrons. So, I started planting only species rhododendrons in bare spots. Later we discovered that this was not true. While there were some species rhododendrons, others were hybrids. But, whether  species or not, we learned that many of the plants and trees on the property are very special. My planting, then, of special rhododendrons, was on target.
I started with the rhododendrons because I thought they would be easy. After all, there is a Rhododendron Species Botanical Garden in Federal Way, Washington. Washington's state flower is the Pacific rhododendron. When I went to the Rhododendron Garden with my photos of blooms in hand, I was in for a shock. There are innumerable rhododendron species, at least 10,000. And innumerable hybrids. And rhododendrons and azaleas are, from a layman's point of view, virtually the same. I left with hundreds of dollars' worth of books, all claiming, but failing, to help me with identification.
However, we needed to have a couple of our trees more specifically identified. The two lovely Japanese ornamental cherries along the driveway were reaching the end of their lifespan, and even the University of Washington's Plant Identification Service was unable to identify them. I wanted to plant more of the same variety to allow the new trees to mature before the older ones died. The University was also unable to identify the magnolia tree so important to the floricycle beyond being a "pink" magnolia. We received a recommendation for a specialist to identify the trees.
Although I had only asked him to identify a handful of trees, the specialist proceeded to identify everything, including the rhododendrons, whether blooming or not, and he did so without needing any reference guides. An unusual fellow, this specialist seemed to know every plant in the gardens, in the Latin. He was quite surprised when, once he had named a species in one spot, I could not summon that name (7-9 syllables long) of the same plant in another location, 20 minutes later, after about 20 other identifications. "Have we actually seen this plant before?" I would say, which would cause him to roll his eyes in frustration.
When finished, he turned and, without looking at the house (in which he seemed to have no interest), asked if we had considered the legacy for this historic garden; his belief was that it should become a botanical garden open to the public. 
Upon departing, he left me with a long list of plant names, solely in Latin, recorded in the order in which he had walked through the property.
While this enabled me to accomplish the main goal, which was to identify and purchase two additional Japanese shirofugen cherry trees, it took me four years (during the flowering season) to decipher the Latin names and connect them to the plants. Since then, I have labeled, where possible the plants and trees, based on his list.
His discussion of the opening of the gardens to the public led us to establish a self-guided walking tour, which is a two-sided hand-out that we distribute when we open the house.
My Friend Mimi
When I enjoy the garden on a summer day, or as the snow falls softly on the fragile yellow buds of the witch hazel, or as I watch from my desk the birds emerge to feast from Douglas fir seeds that fall during a storm, I feel that I am hand-in-hand with Mimi.
Is she helping me in my quest to become a good steward of this house and land? I feel that she is. This is her legacy, she has led me through it, taught me about gardening and made our world a better place. Mimi will always be here in the Brandes House garden.
---
Read More Homeowner Stories
The SAVEWRIGHT: Notable Women Homeowners Project tells the stories of the remarkable women who have stewarded houses designed by Frank Lloyd Wright.
Posted August 28, 2023