By Ted Muntz, Owner of the Lovness Estate
Frank Lloyd Wright Building Conservancy note: As a part of the Building Conservancy's 2023 conference  in Minneapolis, attendees will be touring the Lovness Estate. To give an understanding of work done to preserve, restore and renovate Wright's 1955 "Studio" at the estate, owner Ted Muntz has provided the following narrative.
Introduction
It took five years and a chance encounter with a sympathetic architect for my wife, Debi, and me to recognize how our work on Frank Lloyd Wright's Lovness House should be described.  Was it preservation?  Webster defines preservation as "to keep or maintain intact".
We didn't do that.
Our introduction to the Wright community was with personal experiences of Wright's architectural style as children, exploring Prairie-influenced buildings in Eagle Point Park, a promontory overlooking the Mississippi River, in our hometown of Dubuque, Iowa.  The park contains no less than eight Prairie style buildings, pavilions and extensive rock gardens built during the 1930s with Works Project Administration money and under the careful direction of Alfred Caldwell, its park superintendent and Wright acolyte.  As we matured and traveled, we visited many genuine Wright examples.  We incorporated Wrightian elements into our homes to remind us of these familiar places. And in 2013, by some wonderful set of circumstances, we acquired the Wright-designed Don and Virginia Lovness Estate in Stillwater, Minnesota, from Virginia Lovness, the property's original client (Don had passed in 2000).
Prior to our purchase, we explained our vision to Virginia Lovness and she became an enthusiastic supporter. The Studio, as the main house was called, had served as a residence for sixty years and had suffered from deferred maintenance. We promised that it would exist in that capacity for another sixty years by making it desirable for twenty-first century inhabitants: us, and those who would follow.
We couldn't exactly call our work preservation, renovation, reconstruction, or rehabilitation (all prime elements of the Secretary of the Interior's Standards for the Treatment of Historic Properties), even though we employed each of these approaches during our work to different parts of the process. Our concern about the definition was due to the perception of some in the Wright community which we had just joined. We had experienced group touring of other Wright houses and overheard the criticisms accordingly. "Oh, that's not Wright" or "That's not original", or "Wright would never have done that" or some such comments. While we understood what the criticisms were about, we thought, who were these people to criticize when they had contributed no advice or committed no funds? We felt Wright homeowners should be granted more understanding and respect for their informed choices, even if they differ from the conventional wisdom of the historical purists in our community.
Consequently, we resolved to expect that half the people who would see our results would love it and the other half would hate it. We also believed that visitors should become acquainted, whenever possible, with the point of view of homeowners. Most houses are, just simply, family homes.
So, what did we really do?  The answer came from a YouTube encounter with Ken Dahlin of Genesis Architects in Racine, Wisconsin:
"You have renewed the Beauty".
As he observed: "What remains of Beauty after sixty years of wear and tear?  We still view the harmony of the Wright-designed aesthetic, but it is diminished by the condition of the materials." Who hasn't toured a Wright house and been enamored by the composition, but disappointed by the ageing details – those things we would not prefer to experience in our own homes.
Wright, himself, was not silent on this subject. In his 'Future of Architecture' (1953), he writes: "The future of architecture is changing with astonishing rapidity, but its center remains unchanged. The center of architecture remains unchanged because… beauty is no less the true purpose of rational modern architectural endeavor than ever, just as beauty remains the essential characteristic of architecture itself."
William Allin Storrer recounts in his 'Frank Lloyd Wright Companion' – "Choose the most beautiful brick, stone, metal, whatever you can afford was a prime dictum from Wright to client. This actually grants the client great freedom. Form and function are one, but beauty is the first principle and is the impactful element."
Wright's original clients, particularly Usonian clients, chose materials they could afford. But in view of the suggestion above, it is doubtful that Wright would deny subsequent stewards the ability to enhance his designs with superior materials. After all, did he not only incorporate advanced building technology and materials into his own houses, but also into subsequent client designs?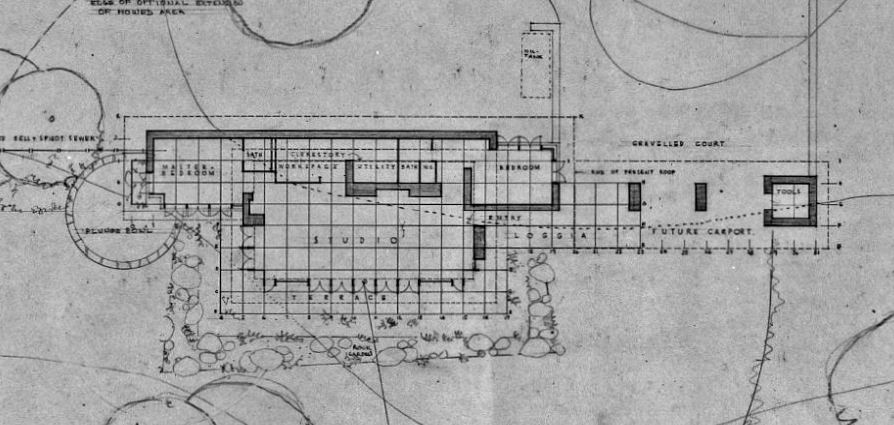 Forging Ahead
Instead of following the Guidelines, we hired an eminent Minneapolis-based architect team, both of whom had personal histories and attachments to the property (our consultants are listed at the end of the article*). These architects recommended a landscape architect and an interior designer who were in sync with the essence of the architecture to meld the design elements into a cohesive whole. The contractor we selected had been employed by us for a major new project on the property that was completed successfully. We explained to all of them that our intention was to provide comfort and utility for 21st century inhabitants while maintaining Wright's design elements. Each was provided with copies of Wright's original working drawings as well as the new working plans. We would not change the footprint of the house, but we would make subtle changes in the kitchen and bathrooms to gain precious inches and improve the functionality of these spaces. We would change any material features of the house that would not be expected to be serviceable for the next sixty years – an aspiration. And we would incorporate as many modern technologies as could be logically accommodated. We would replace all mechanical, plumbing, electrical and security systems.
Our main concern was that Don and Virginia had built the house themselves – with no previous experience! Add to that the common observations that Wright's Usonian designs (like those of many avant-garde twentieth-century architects) were ahead of their time and often experienced leaky roofs, failed radiant heating systems and other structural issues because the materials and methods of the day were unproven.
Therefore, we decided, at the outset, that our 'preservation activity' was to be total. We were not going to face these real and imagined problems one at a time and have them consume our lives. To begin, the chimney came down, the roof came off, the glass came out and the interior was entirely gutted. Only the limestone walls and the well-preserved Douglas fir ceiling and wall mullions remained. After demolition, the house appeared as a stone ruin. To facilitate the new work in 2016, a superstructure was built to enclose the entire house – it was enough material to build a modern rambler but looked like a circus tent.
With work underway some major decisions were required, informed by the now exposed structural features – chimney, foundation and roof.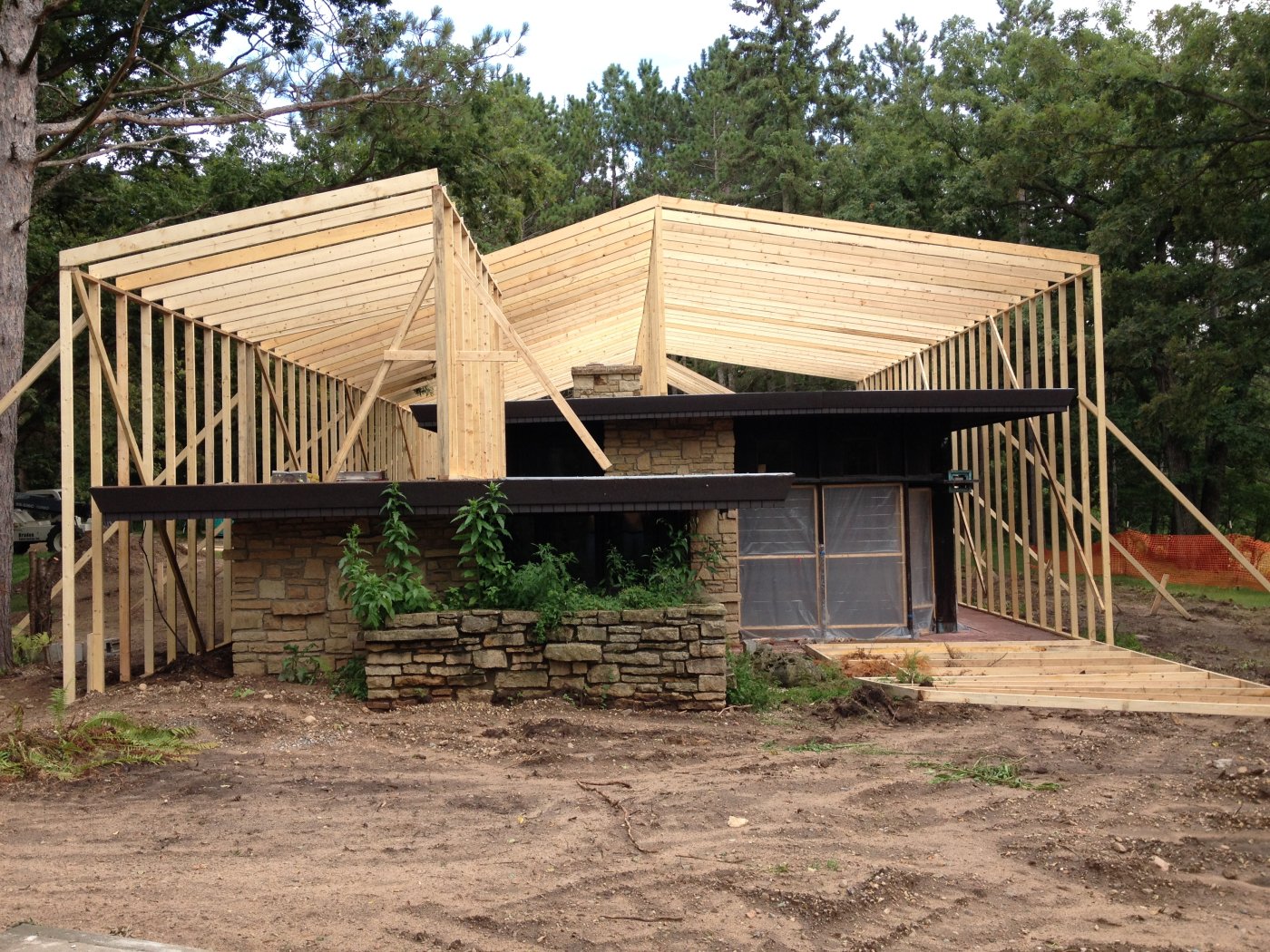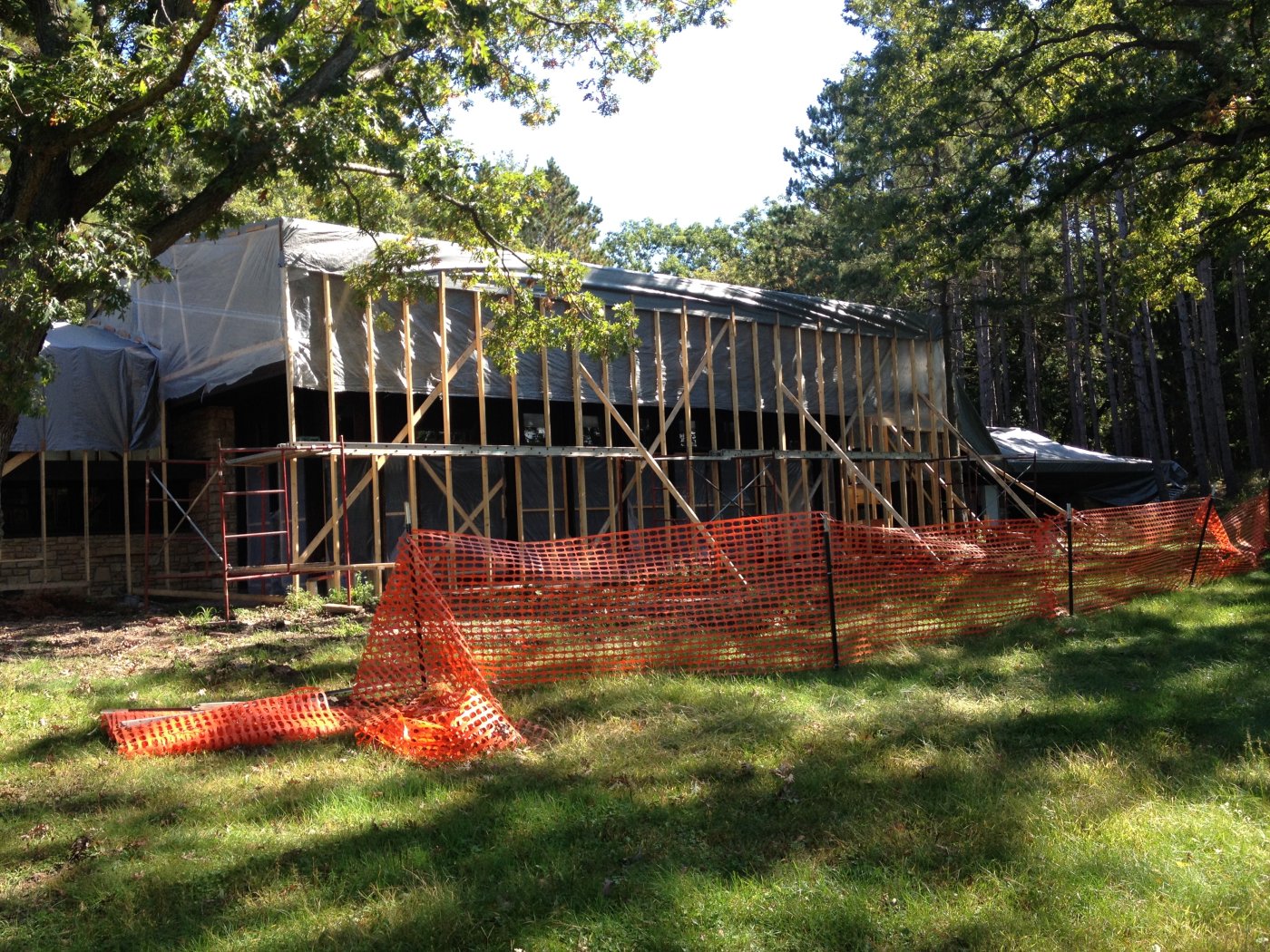 Chimney
Our concern about the original builders was born out by the discovery that the chimney's deterioration was the result of incorrect construction methods. No block walls had been constructed above the roof line. Instead, a stone perimeter was established and the chimney walls were laid up accordingly. As the walls went up, stone rubble, collected by the Lovness children, was tossed in to fill the space between the chimney wall and the fireplace flue and other utilities. Over the years, temperature changes caused condensation, freeze-thaw cycling, followed by expansion and the resultant spalling of the chimney wall stones. With photographs taken and the stones numbered for repositioning, the chimney was de-constructed. A block wall was properly constructed, insulated and faced with the original stones in their original places but augmented by new stones of the same size and color for those too deteriorated for re-use. A copper cap replacing a repaired concrete cap completed the process. The work was awarded the 2017 Excellence in Masonry Design and Restoration by the Minnesota Concrete and Masonry Contractors Association.
With this first problem solved, we steeled ourselves for the next inspection-nightmare discovery. But to our surprise there were no more serious problems related to construction. Whatever skills Don and Virginia lacked at the outset, they learned quickly.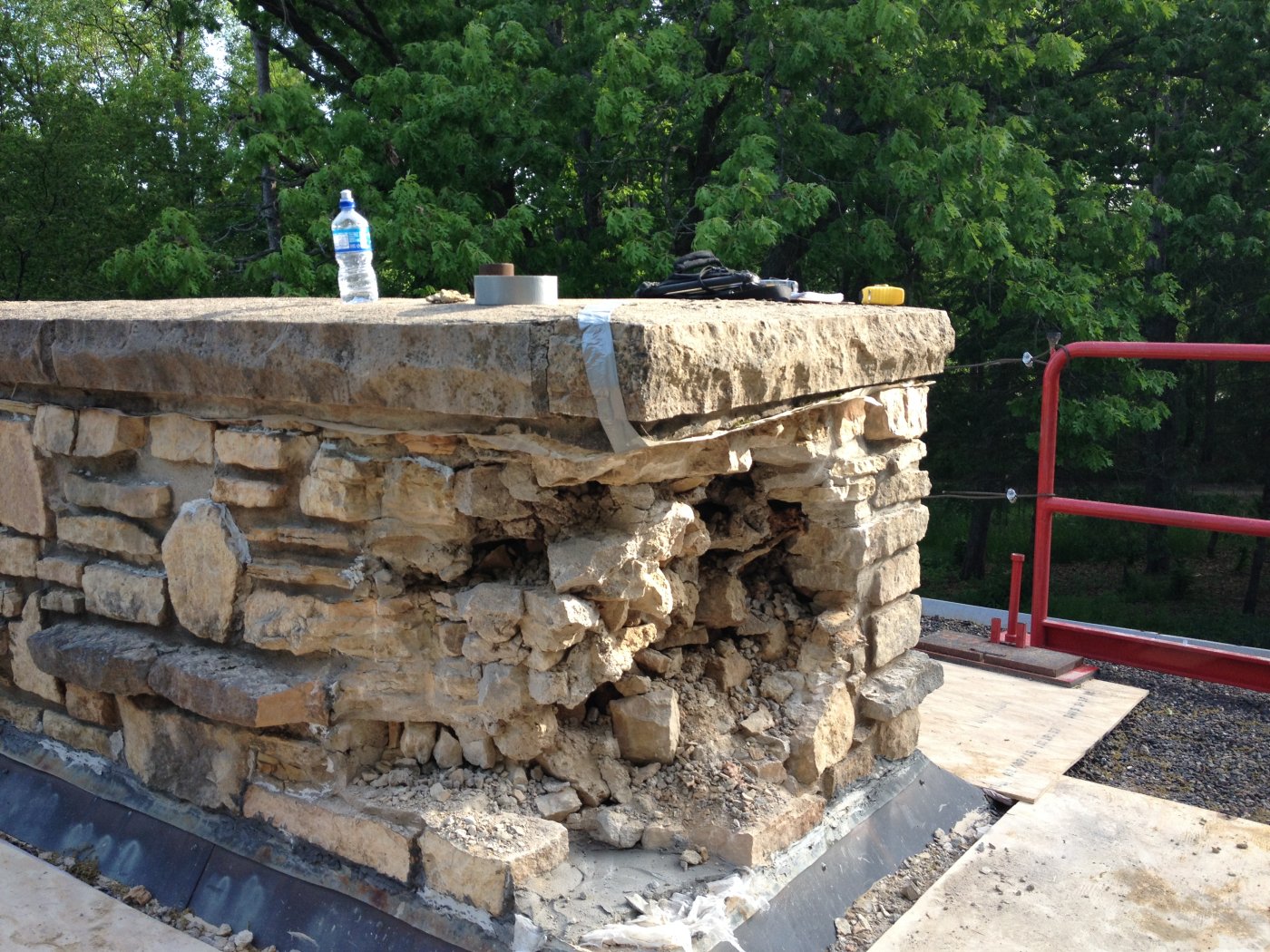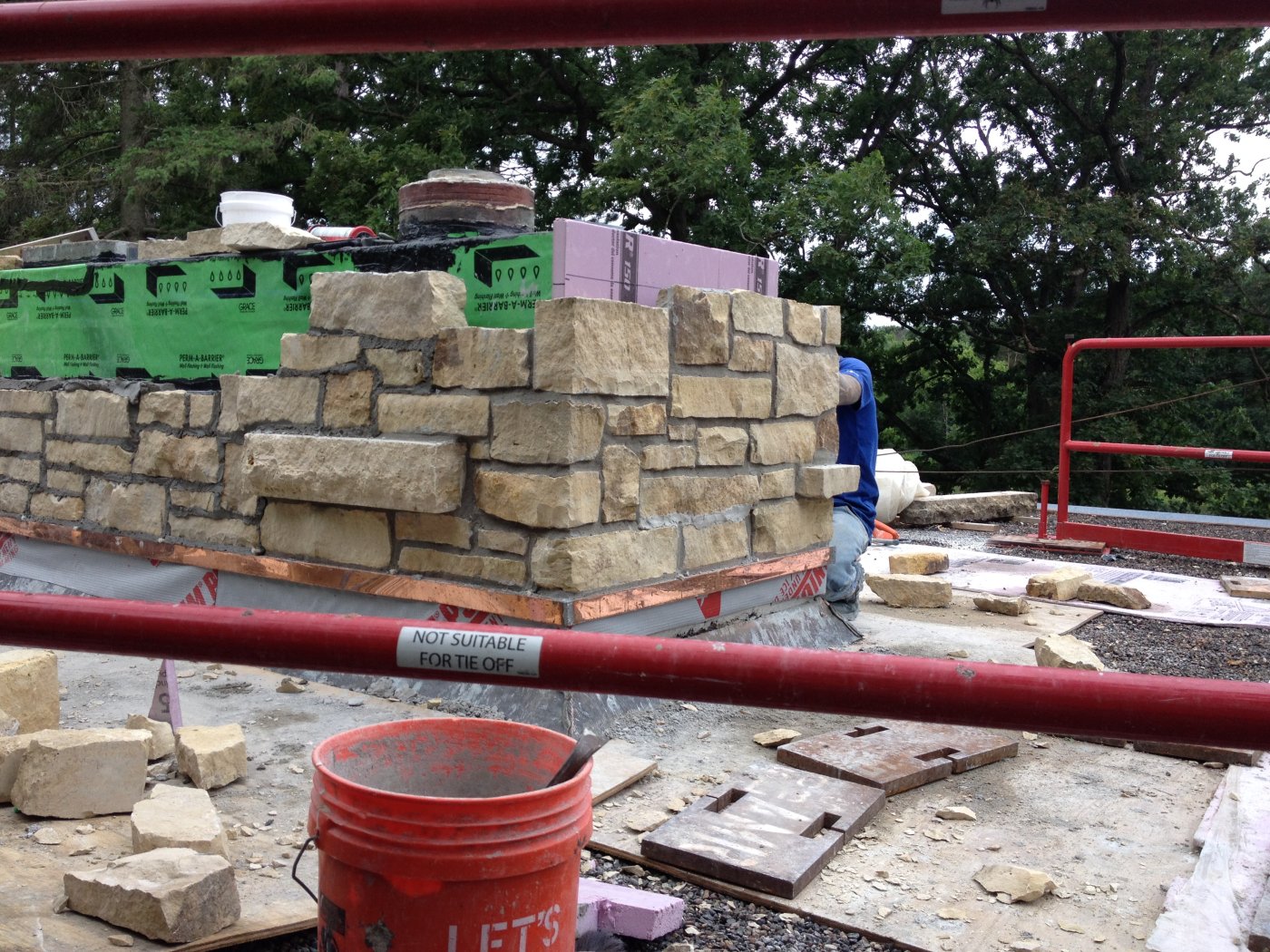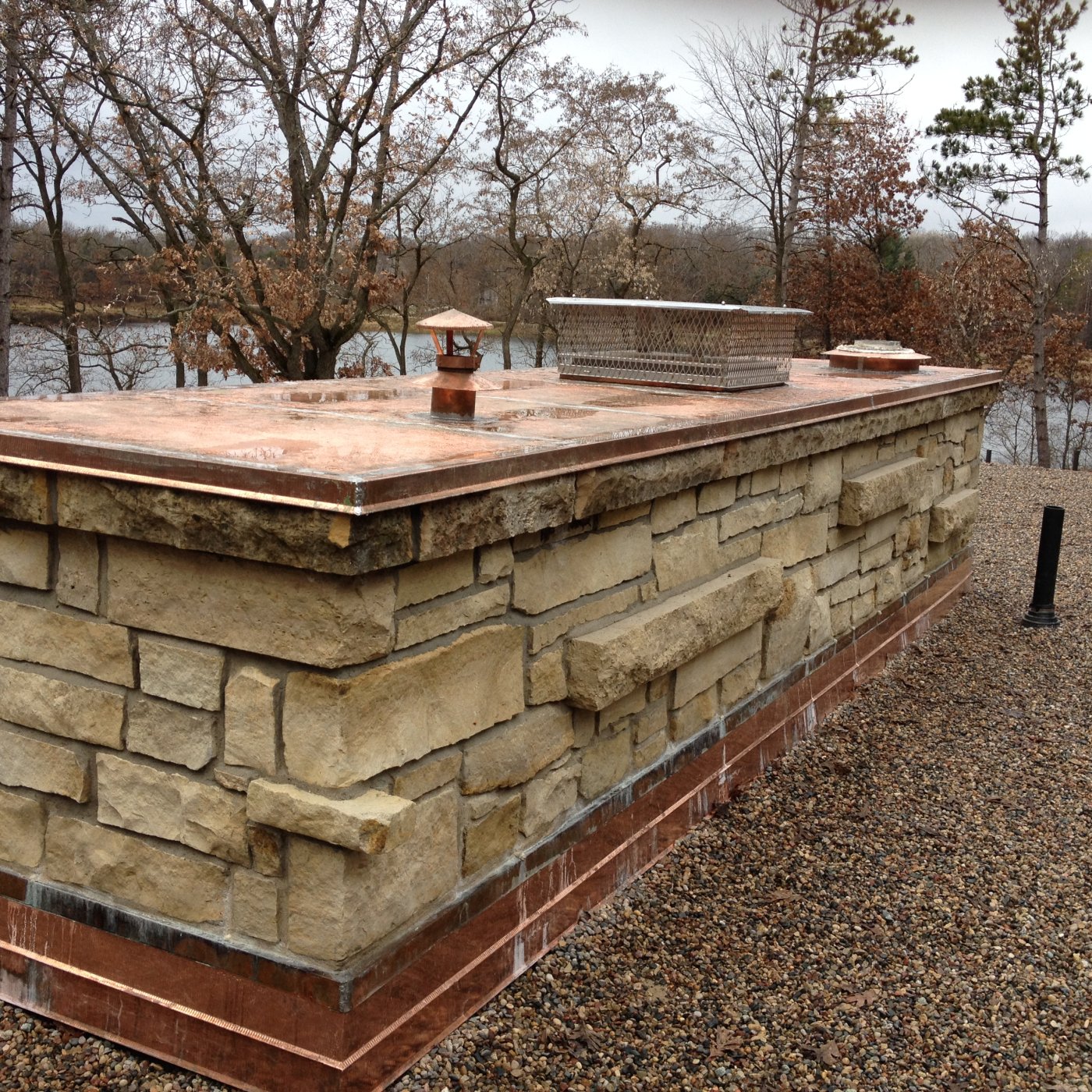 Foundation
Next, the foundation was excavated. In Minnesota, basement foundations and utility bury depths are eight to ten feet to prevent frost heave. Exterior wall and post foundations are four to five feet deep for the same reason. Imagine, then, our amazement at learning our foundation was no more than eighteen inches deep, and as little as twelve inches deep in several locations. Like most Usonians, ours had no basement – just a concrete slab. However, our obvious concern was mitigated by the fact that the structure had been nestled into that firm ground for sixty years. Our architects and engineers concluded that it would stay that way for another sixty and so we installed drain tile around the perimeter, backfilled accordingly and turned our attention to the next structural issue – roof load.
Roof Load/Windows
An evaluation of Wright's initial design drawings revealed shortcomings which had resulted in sagging cantilevers on the clerestory level and insufficient load-carrying capacity of the lower roof structure.
To correct the sagging clerestory level roof, we added laminated-beams in the interior roof structure and much longer steel channels at the corners.
The Studio is an in-line design without the customary gallery to bedrooms. Our two bedrooms are located on both north and south ends. The roofs of each do not have a clerestory level, unlike the central part of the house. These lower-level roof loads bear partially on the limestone walls, but also on the bands of window mullions. We had initially decided to repair and restore the original custom bedroom casements as part of our decision to use all the other original Douglas fir components. While they still looked pretty good, these windows had suffered not only from sixty years of operational wear, but also from deformation. This rendered the friction-fitting screens entirely useless.
The excessive loading of the roof on these window mullions likely caused the above deformation. It may also have resulted in the deflection of the cantilevered roof to the extent that there was insufficient clearance to fully open one set of casements and minimal clearance on some others. Our structural engineer recommended steel members be incorporated into the mullions to provide support. Break-ins during periods of winter absence had severely damaged two sets of casements, rendering them inoperable. In addition, there we no locking mechanisms on the originals.
All of these elements caused us to reconsider our decision for restoration of these windows. As we searched for alternatives, we found that Marvin Windows offered a replacement series that replicated the exterior profile of the custom Wright design and within which we could incorporate the necessary steel support. In the end we did not believe that restoration was a solution that would achieve the long-term serviceability and the security we required. Our informed decision was a common-sense solution that maintained the architectural integrity of the design. We defy visitors to conclude that the windows 'appear' to be replacements, or for that matter, to find the corrective steel supports hidden in plain sight.
With the initial priority issues settled, we turned our attentions to the various other subjects at hand – all under the Big Top.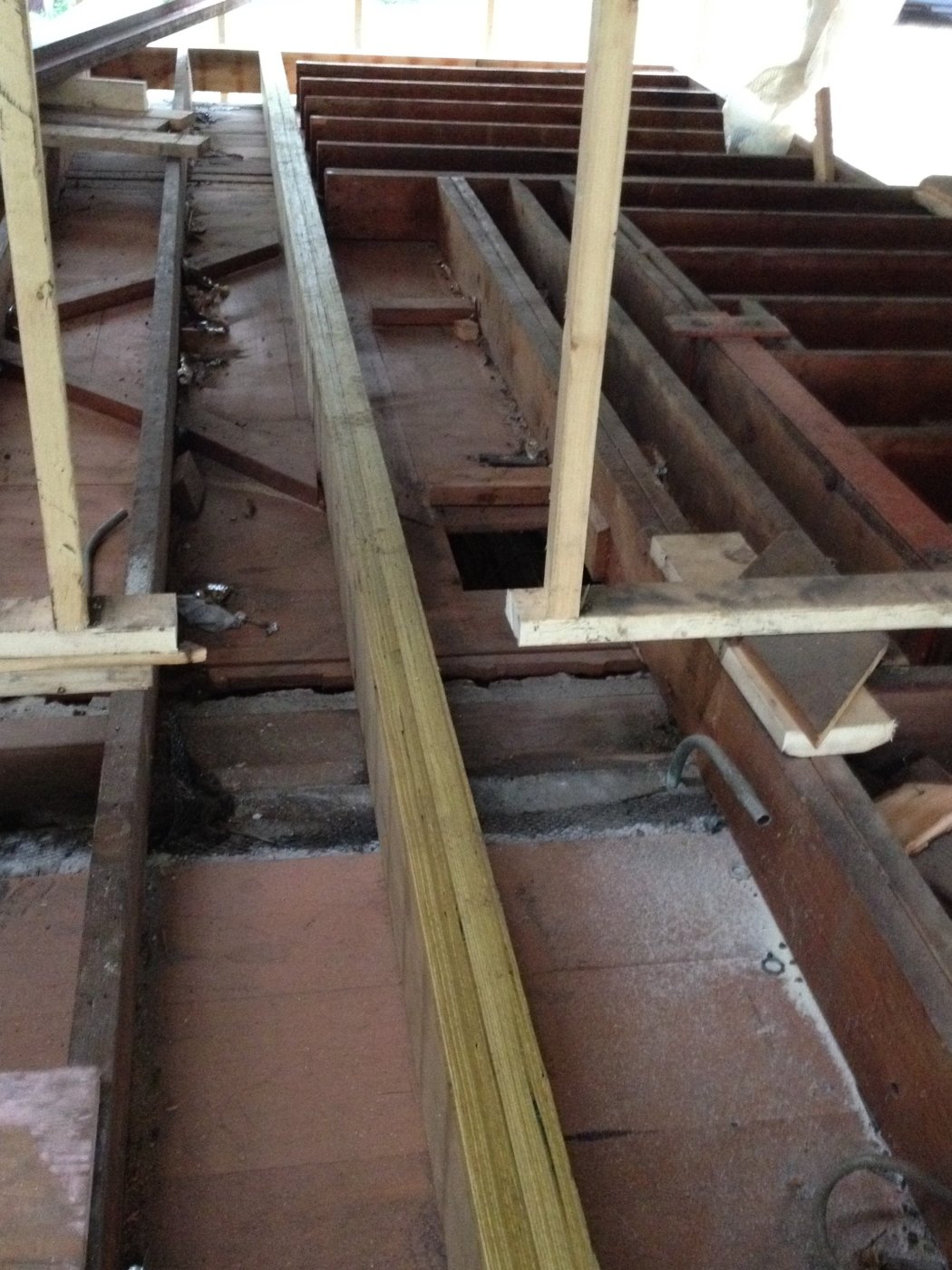 Exterior Woodwork
The Douglas fir in the doors, windows, mullions, soffits and facia had been meticulously cared for. Frequent applications of creosote had done the trick. Creosote's properties of protection and insect control were suggested by Don Lovness, a chemical engineer, and approved by Wright. The dark brown color of the creosote was attractive, but our concern for safety (creosote is a known carcinogen) suggested we investigate alternatives. Also, window washing was an adventure, since creosote is somewhat water soluble. The rinse cycle leaves a slight green residue on the glass – not ideal.
Our painting contractor offered a solution based on current advances in painting technology.  Sansin SDF* is a penetrating one-coat finish that provides tough, effective protection for wood siding. SDF's specially formulated oils and resins penetrate into the wood, providing outstanding weather and UV protection in a wide range of natural, semi-transparent and even solid colors.  It possesses a unique water-borne technology. And it has proven to be highly water-repellant to the outside surface while also allowing the inside of the wood to "breathe". Prior to application, the creosote surface is prepared with a fine wire brush to even out the blotchy finish that worn creosote exhibits. One coat of the Sansin SDF will suffice but we applied a second to achieve a richer finish. A maintenance coat of 25% of the mix formula is applied to areas exposed to intense, direct sunlight periodically.
This advancement preserves both exterior and interior wood and is amazingly not water-soluble during window washing. The application of Sansin SDF has sealed the effectiveness of the old creosote into the wood, so that tedious and expensive removal of the creosote is unnecessary. After six years of service, we couldn't be more pleased with the result.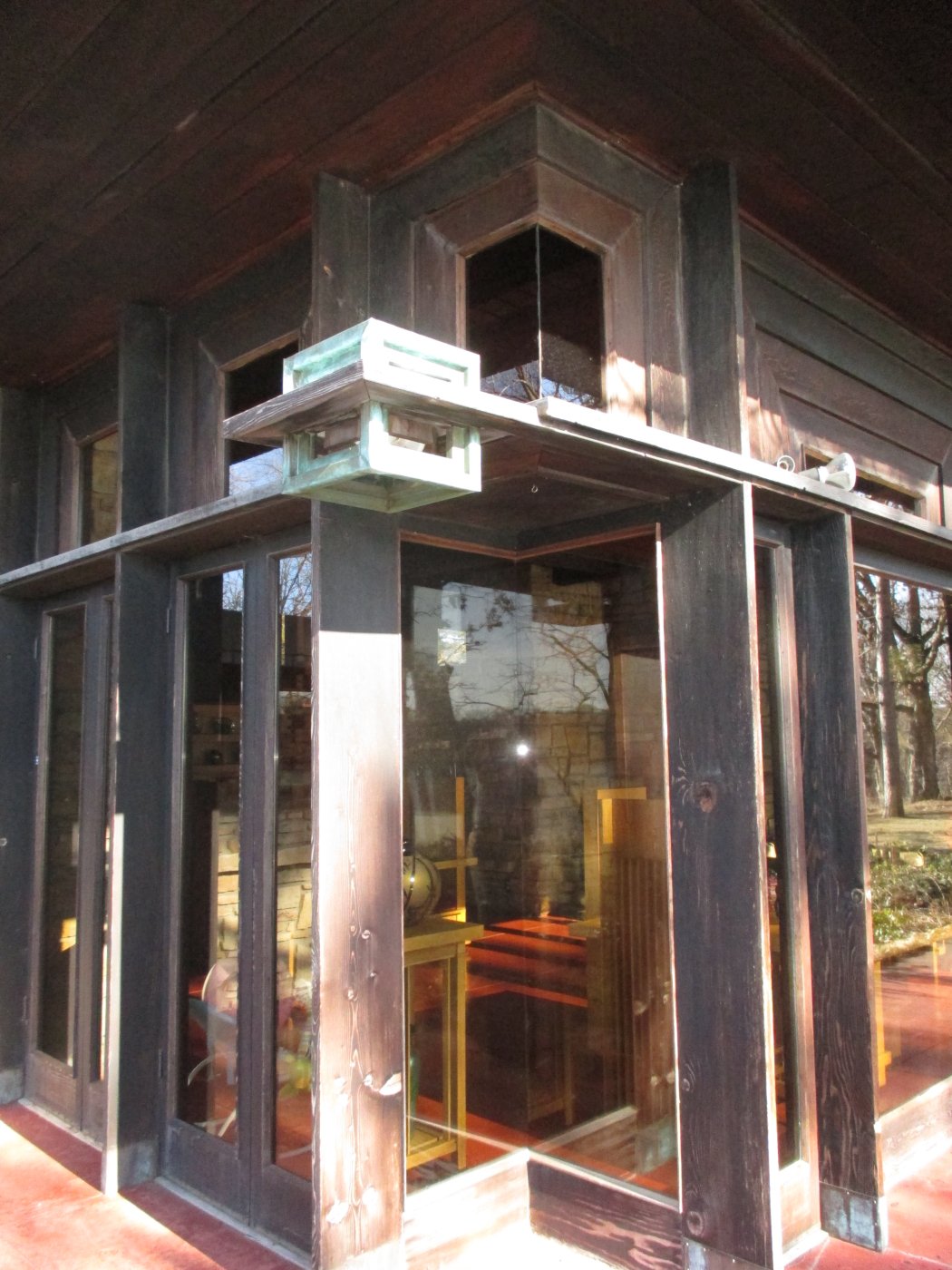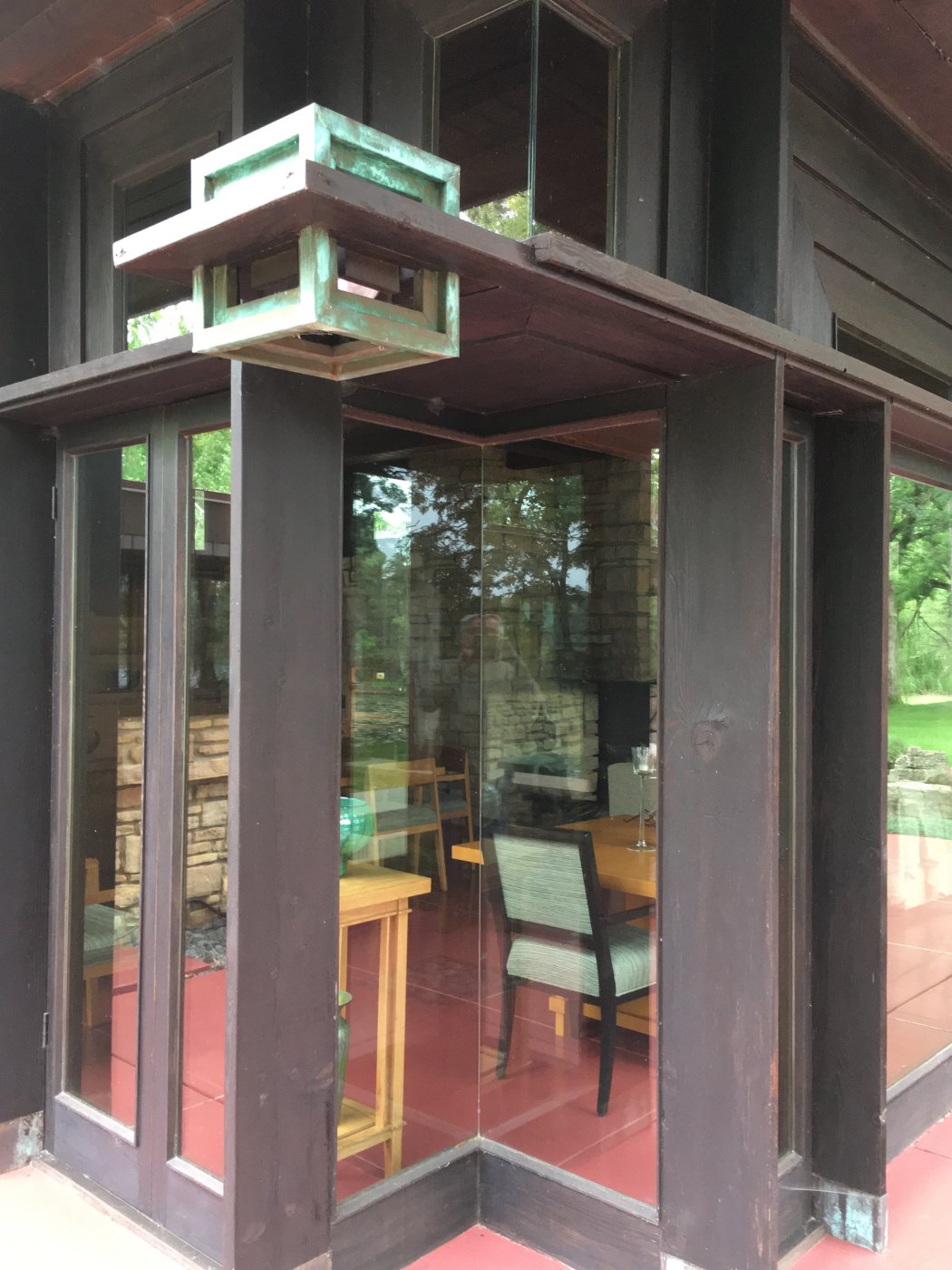 Interior Woodwork
As with many of Wright's Usonians, plywood or rotary-cut oak was specified to keep the cost affordable. The originals were honey colored, a very nice counterpoint to the dark Douglas fir mullions and doors.   At some point in the past, however, the kitchen had been remodeled with new oak cabinets, countertops and appliances. A wall unit separating the galley kitchen from the dining area was also replaced, raised and moved off grid, probably to accommodate a larger and taller refrigerator.
Because the kitchen woodwork had been completely replaced and few other, actual built-in cabinets existed, we felt no obligation to restore them and chose ultimately to replace all the rotary cut oak cabinetry with designs similar to the original details but organized in a manner to facilitate our lifestyle and incorporate all the conveniences modern homeowners demand. In addition, having had some experience with rift cut oak and being mindful that Wright had specified this material for other Usonian clients that were not constrained by costs, we elected to upgrade. We lived in the house for a year before our work began and can confirm that soft-close door and drawer hardware, not available in 1955, make all the difference in day-to-day living.
Except for those in the kitchen, original cabinets were constructed as free standing and simply pushed against the wall.  Replacements are not only secured to the walls, but each is scribed into the limestone interior walls – a feature not conceived of in the original construction and an interesting story in its own right. A battery of laser beams, sorted out in a computer, created a program to cut a precise pattern into the wood.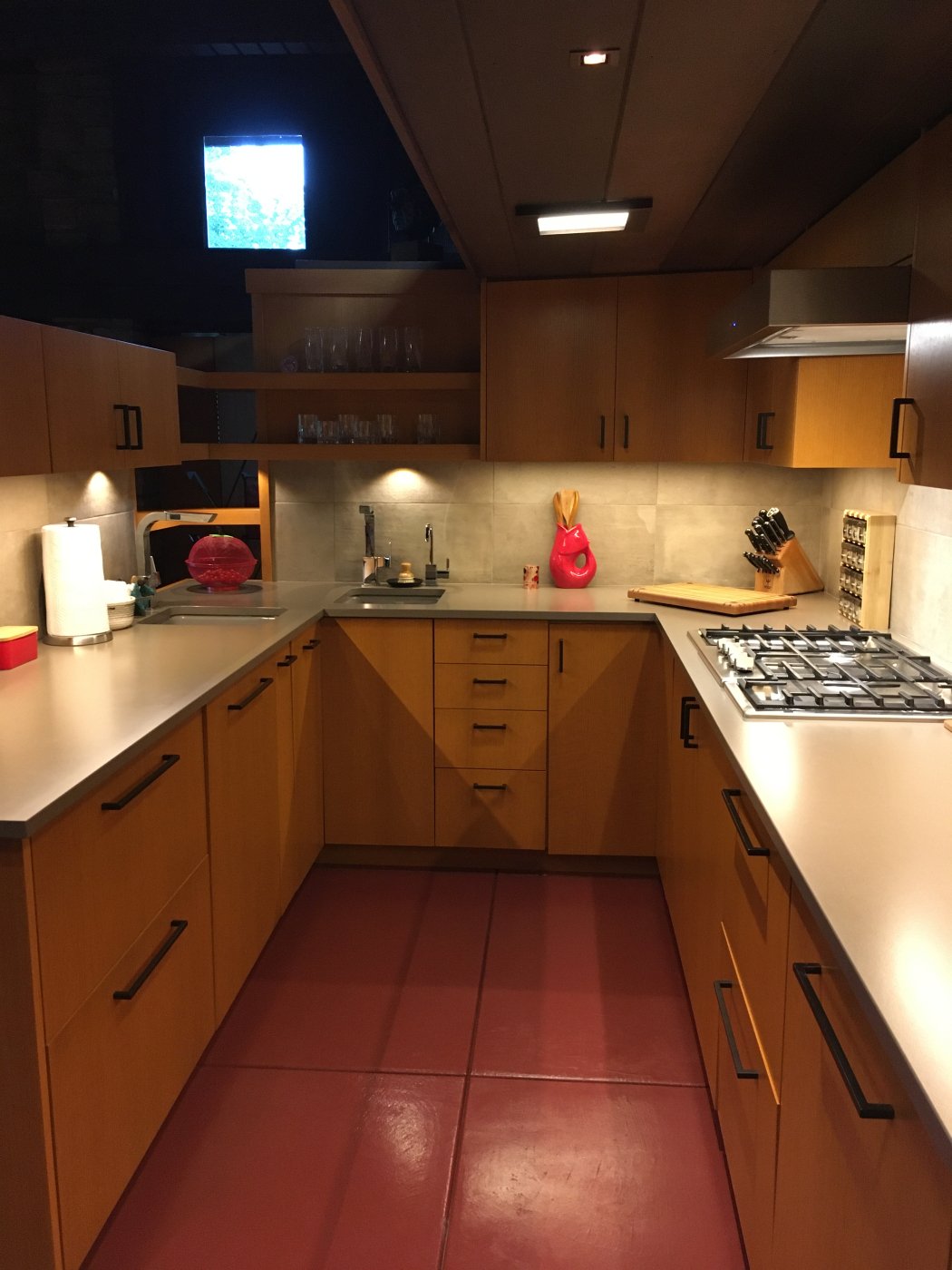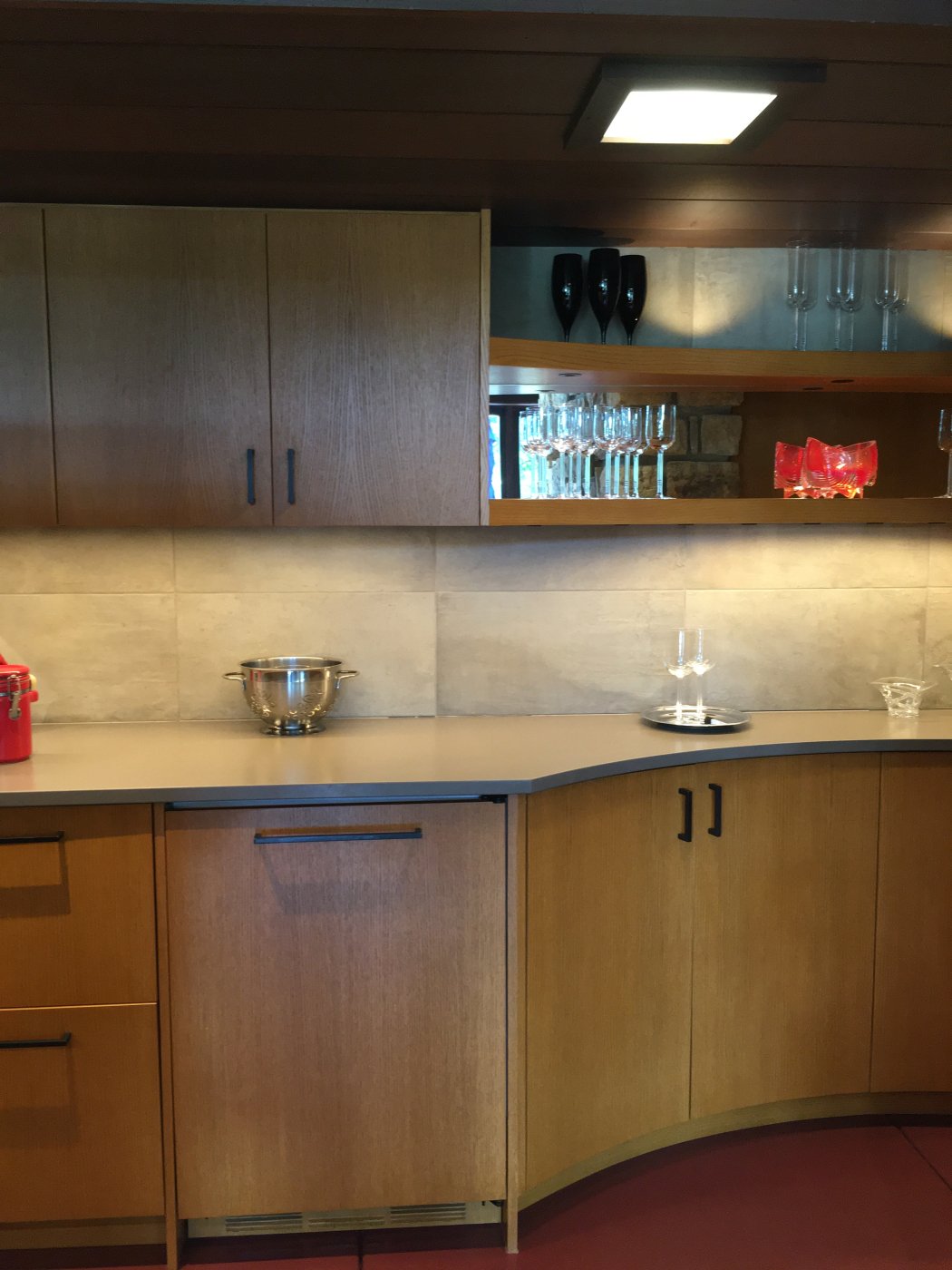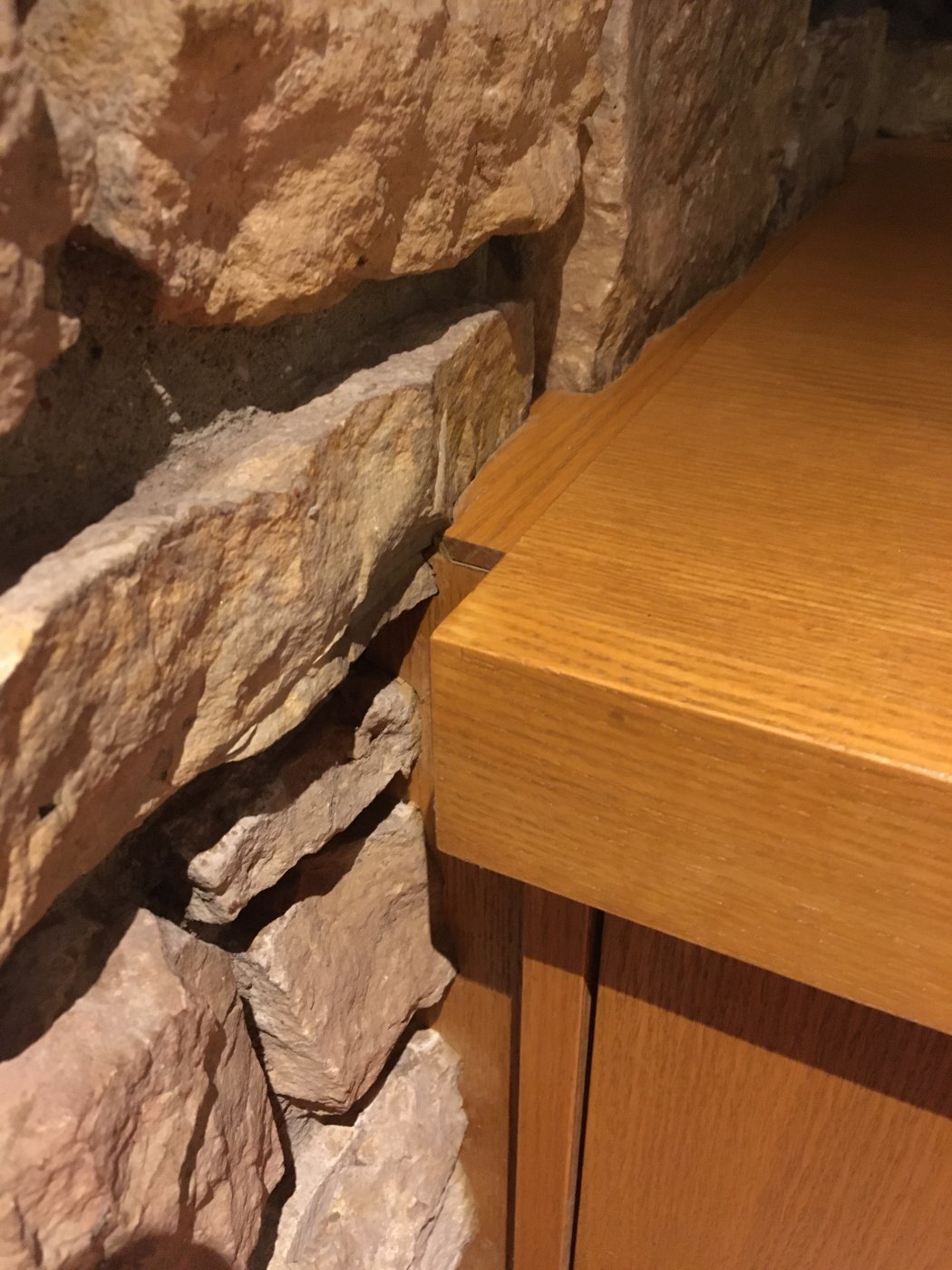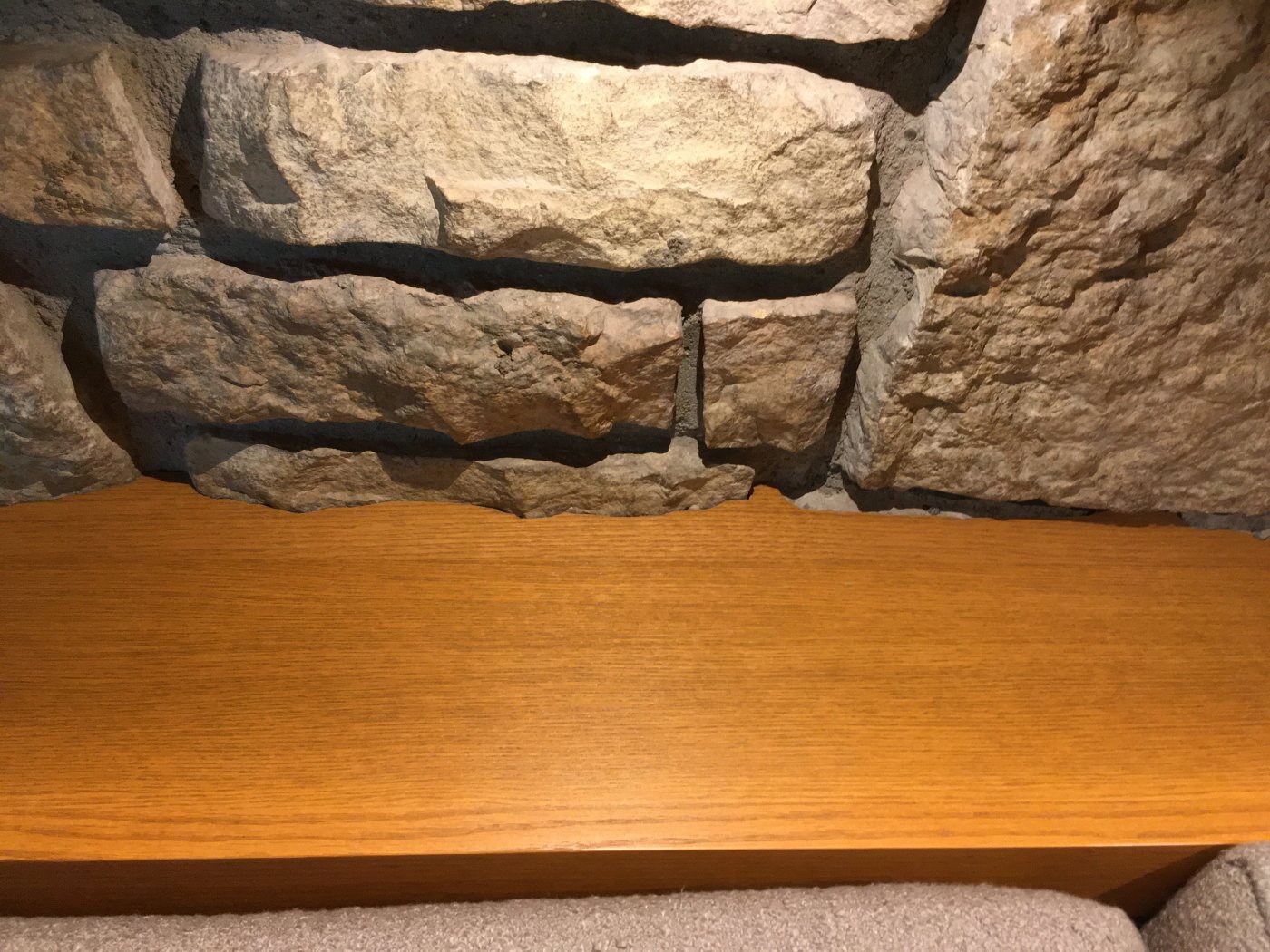 Mechanicals
The original mechanical room behind the fireplace measured a tiny 84" long x 32" deep and was stuffed full of all the original mechanical appurtenances – tanks, pipes, boiler, water conditioning, plumbing and electrical equipment. We scrapped it all. However, through precise planning with our contractor and his sub-contractors, we were able to accommodate this small space to our needs. Modern, more efficient equipment is smaller and more versatile, affording us the space to add new technology and its corresponding equipment to achieve our goals. It is still a daunting sight for service technicians when they visit.
Custom wood doors now conceal the utilitarian mechanical room and make it a more finished extension of the kitchen.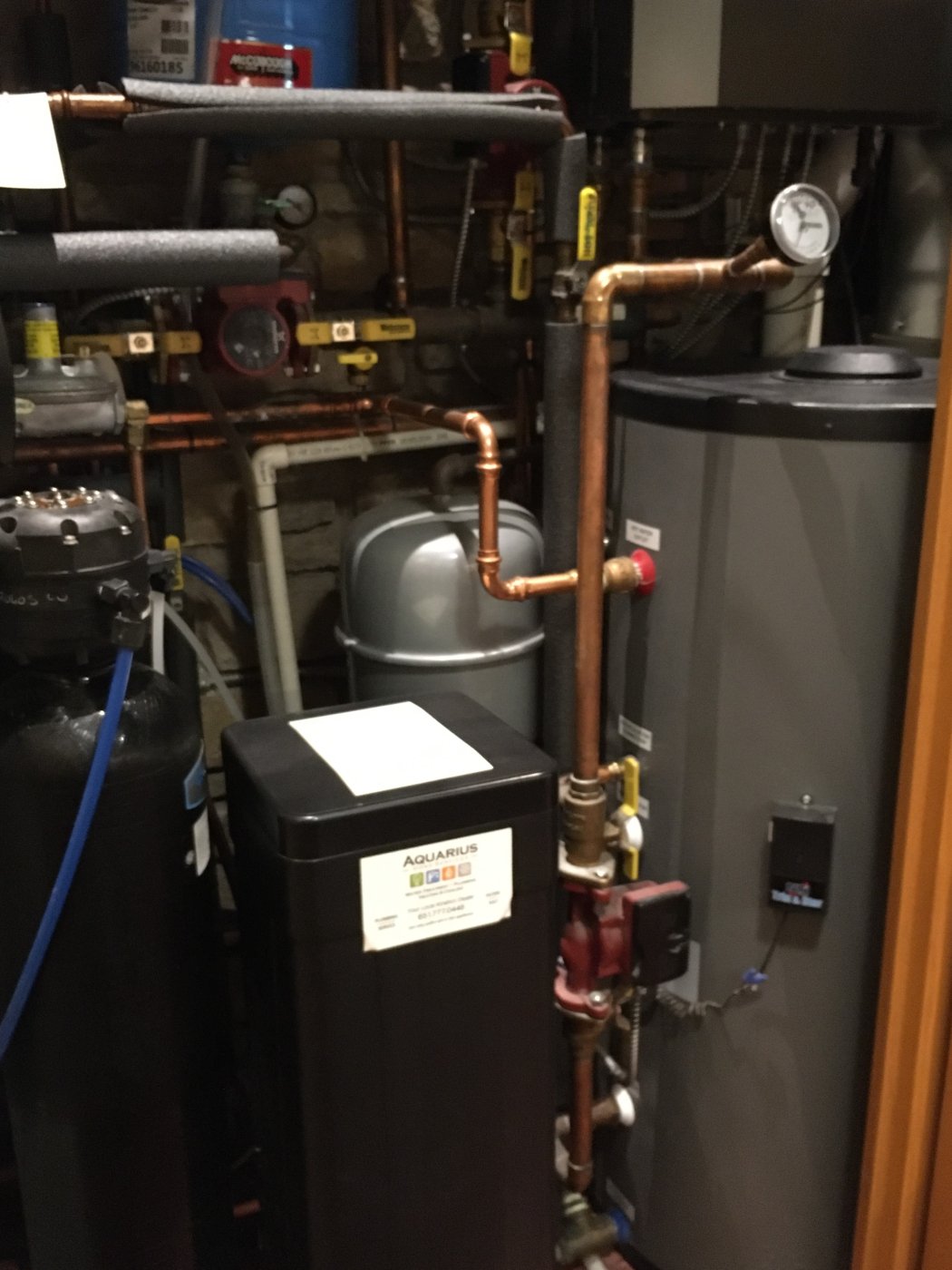 Radiant Heat/Concrete
All the above decisions were rendered to either address deficiencies or to accommodate our comfort and lifestyle desires. However, the most significant decision we reached was the one generally proven to be 'a bridge too far' by most Usonian homeowners.
The Studio presented us with a fully functioning, original, radiant heating system that had never failed. We loved the warmth of the floor in winter [and agreed that we would never again live in a house without it], but the floors sweat in summer, indicating a lack of below-grade insulation. This condition also suggested an inequity in heating efficiency as well. The existing boiler and controls were also from a bygone era and terribly inefficient.
Wright's radiant heating plan called for one and one half- inch wrought iron pipe with welded fitting joints laid in broken stone fill just below the floor slab so that the top of the pipe is in contact with the floor slab. As built, two-inch pipe was substituted and the piping runs were re-configured from the drawings accordingly.
Considering the extent of the foregoing work, mindful of the age of the radiant system and fearful that that its failure was predictable, we opted to tear out the entire floor and replace it. But fear was not our only motivation. Removal afforded us opportunities for many substantial improvements:
Installed a more efficient Pex-radiant heating system.
A new, more efficient, gas-fired boiler of a compact wall-mounted design freed up a substantial amount of floor space in our cramped mechanical room, providing valuable space for new appliances supporting added mechanical and communication systems.
Insulated the floor and foundation with two-inch thick Owens-Corning R10 insulation board and a vapor barrier below to improve heating efficiency and eliminate the summer sweat.
Created the opportunity for in-floor electrical races and outlets to meet current code.
Repaired and provided plumbing and drainage upgrades.
Provided the opportunity to add air conditioning. Ten-inch supply and return piping in insulated chases was laid around the perimeter and connected to the blower and condenser.
Afforded the ability to change the original, inconsistent floor surface and color to a uniform red. TK Products Bright Kure & Seal, a 100% blend of methyl/methacrylate acrylic polymer, made here in the Minneapolis area, was applied to the concrete.  Our concrete contractor had initially experimented with a syloxane dye per the architect's specifications, but could not control the color result, so we switched to the Kure & Seal. The color came from PPG's "FLW Natural Organic Colors." PPG 1302 (Fallingwater) was chosen. When cured, Betco "Hard as Nails" Floor Finish was applied to the surface and a varied amount of H&C Sharkgrip was mixed into the sealer to make the surface slip-resistant.
All of the above were secondary but significant achievements that made the choice to replace the floor a big-picture amenity success. Our primary interest was to secure the radiant heating feature for the foreseeable future, because, too often, have we witnessed or toured houses with failed and abandoned in-floor systems and found the alternatives distracting, if not disturbing. They may have seemed less costly and more expedient at the time, but the change is fraught with unintended consequences:
What happens when a shallow, Usonian foundation is no longer heated? Did Wright calculate frost heave when he subtracted foundation depth?
Wright made no space available for alternate, particularly forced air, systems.Isn't the tradeoff for this an invasion of space that Wright intended for another aesthetic purpose?
Do such alternatives require or invite other compromises to the design?
Don't they seem a poor substitute for your cold feet on winter days?
Again, for this issue we chose to maintain the aesthetic and, in the process, realized a gain in function for the whole house – at no sacrifice to the architectural integrity, while also achieving major advancements toward securing the viability and desirability of the house for the future.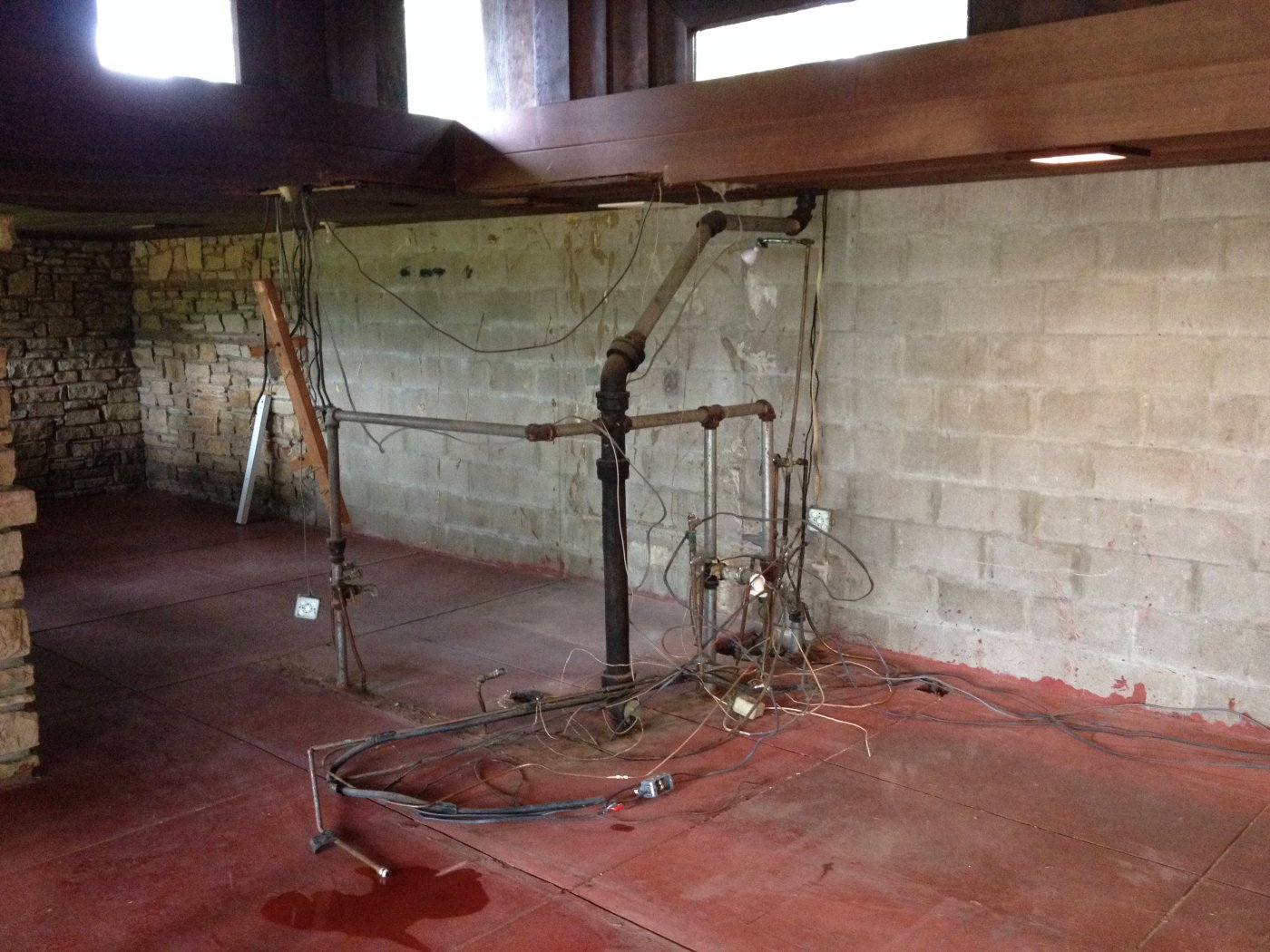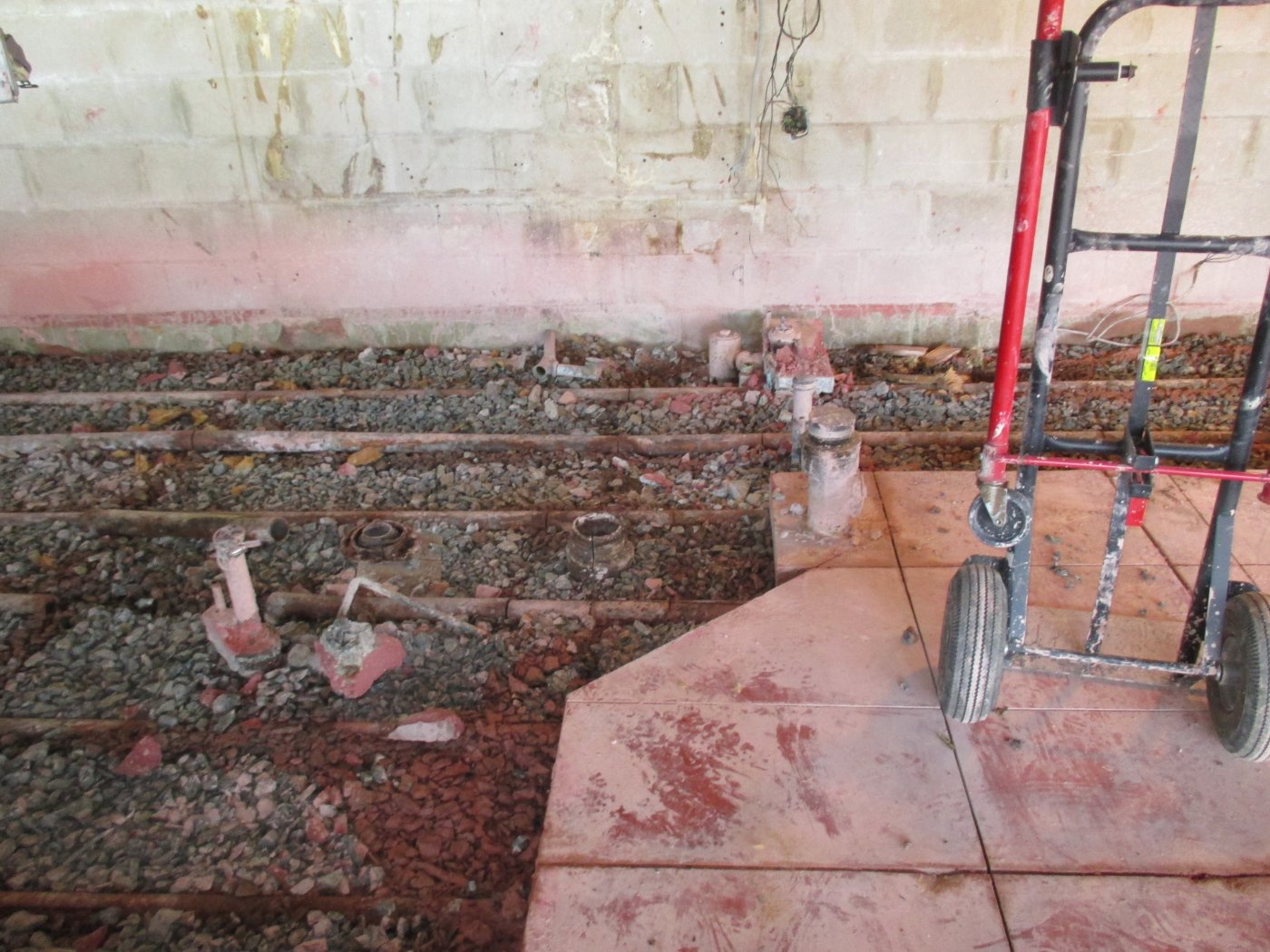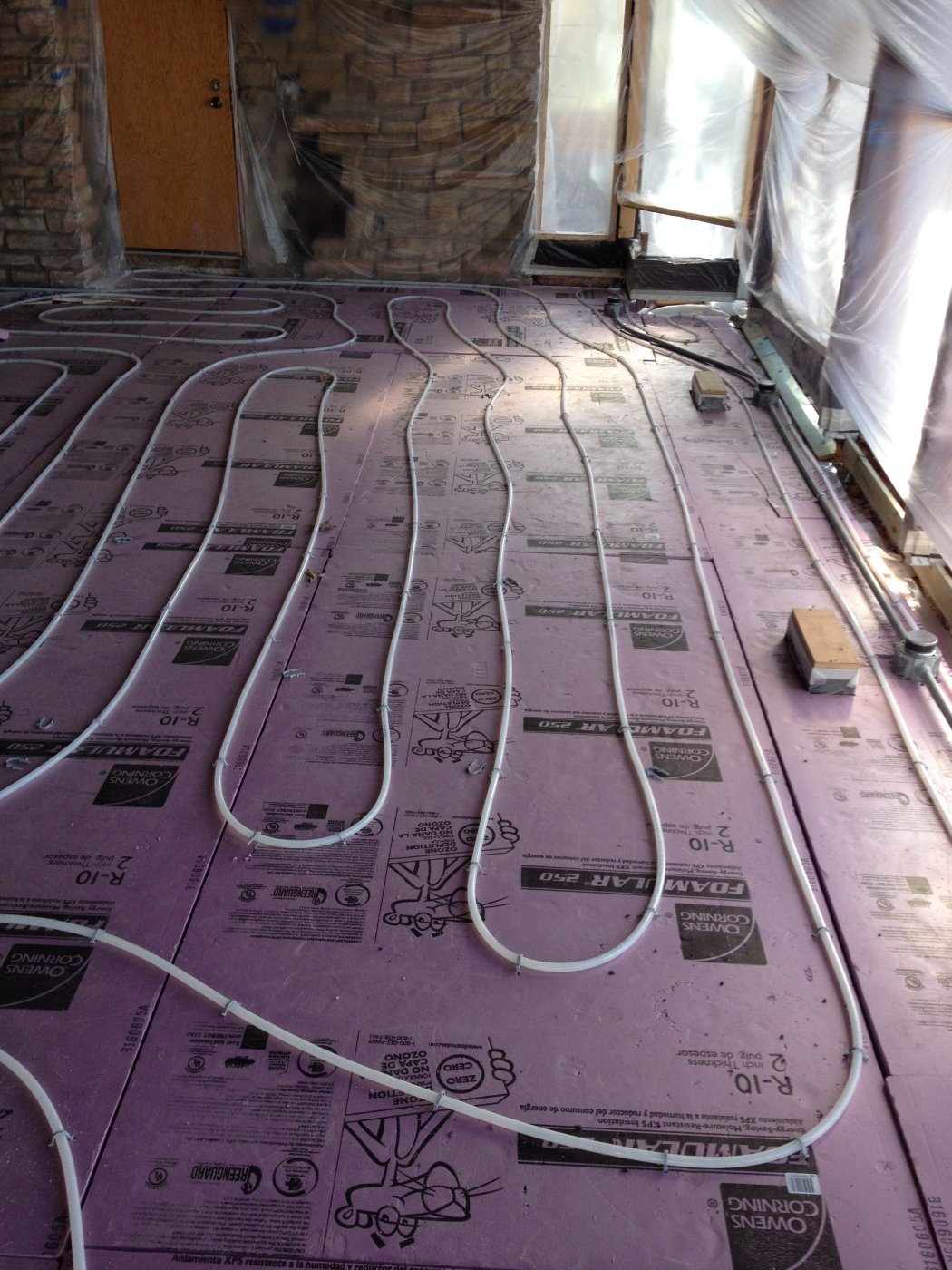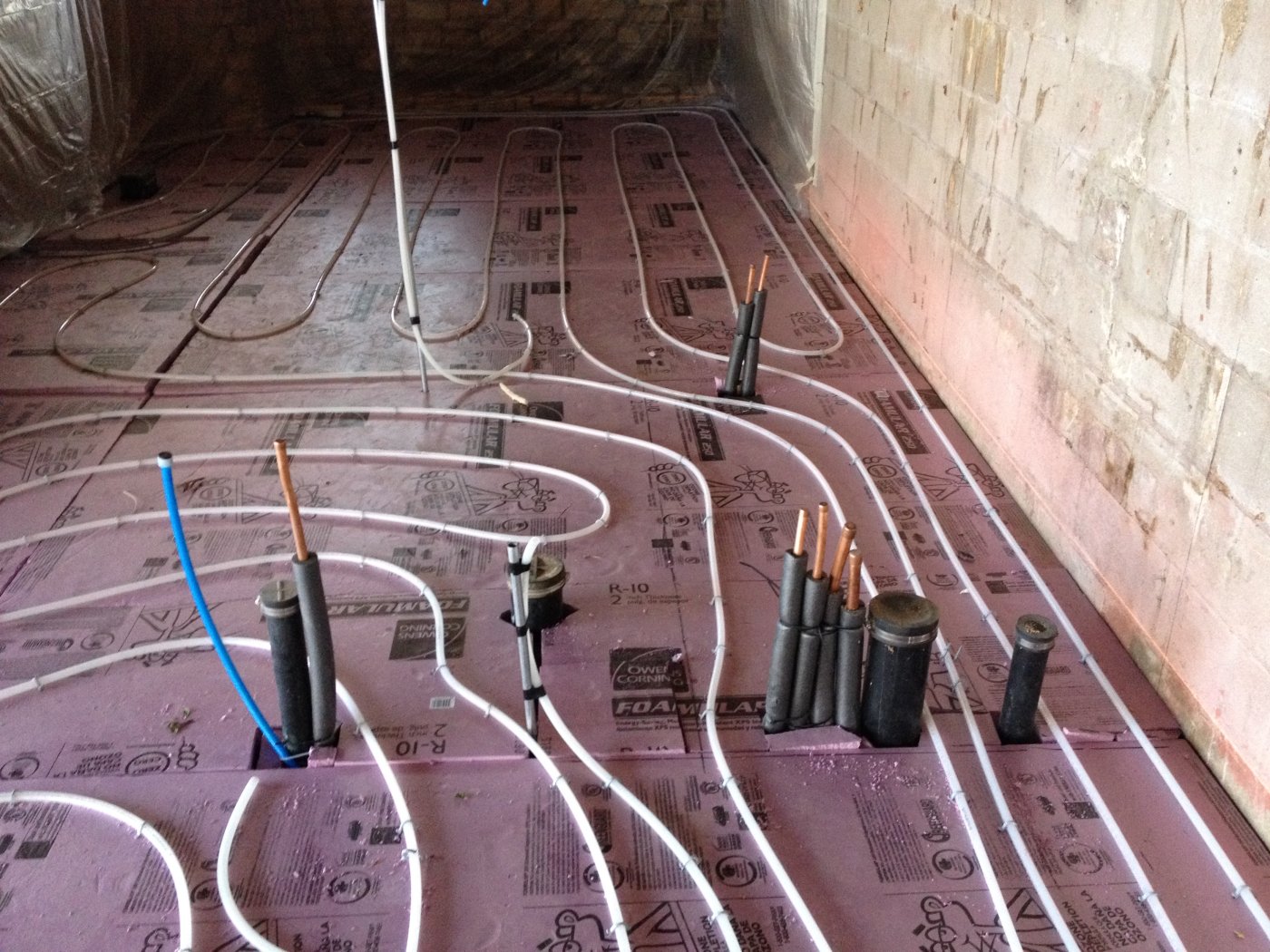 Fireplace
One other concession we made to our creature comforts was to convert the massive wood burning fireplace to gas. The Lovnesses used the fireplace often, but when not in use, Don would toss a half dozen eight-inch diameter by four-foot long birch logs onto the Wright designed fireplace grate for decoration. I wasn't inclined to lug those around, and Debi decided that for safety and convenience, a gas option would be better. As the mechanical room is located directly behind the firebox, the conversion was easily accomplished. However, the Wright-designed fireplace grate would be modified to accept the four-foot ceramic gas log set.  It looks terrific and heats like the behemoth that it is.
Glass
The southwest facing side of the Studio is an array of large panes of fixed-glass and French doors with large glass panels that offers a panoramic view of Woodpile Lake. The original glass was single-pane, but had been replaced with insulated glass sometime in the past. Two sets of large, mitered-corner windows flank the living room at either end. These were also made of insulated glass but one set had failed prior to our purchase. Stillwater, Minnesota, is cold, so we made an initial decision to replace all the glass with argon-filled low-E insulated glass to maximize energy efficiency. This was an easy task for the fixed panel and door glass, but for the mitered corner windows, that was a different story. A world-wide search revealed that no glass manufacturer would agree to make and warrant mitered corner windows without an intermediate mullion at the corner. This, of course, defeats the purpose of the invisibility of the mitered joint.
How, I wondered, did Don Lovness find a source? A little digging and a conversation with Don's son-in-law provided the answer. Don had a close friendship with the president of a local glass company that provides glass to door and window manufacturers around the world. Don's project was an experimental undertaking within that company's research and development department. When I contacted the current president about trying it again, he refused, saying that it was more of a favor to their friendship than a business experiment. Anyway, it not only had failed, but the R&D personnel who performed the work had since retired. Sealant deficiencies seem to be the cause for past failures.
Consequently, we had a dilemma to resolve. We could install thicker single pane corner glass to preserve the visual aesthetic that Wright intended or we could install insulated corner glass with a mullion at the corner. We elected to preserve the aesthetic.
The first winter brought us immediate regret. Condensate accumulates on the window interior, and depending on temperature and humidity either evaporates or freezes. If it freezes (which it often does), then, when it thaws, it will drain into the bottom wooden window frame. This is a condition we vowed to remedy. Last year we began working with Indow Windows, which makes removable window inserts, to solve this problem. The company is an experienced supplier of solutions for flat panel windows and has also made some limited attempts at corner glass by employing a special, removable corner mullion. This collaboration has solved the problem in six other, smaller, corner glass locations in the Studio. This year, we have turned our attention to the two larger locations in the living room. We are hopeful for similar success.  If we do succeed, these removable inserts will allow us to preserve the desired visual aesthetic during warmer weather months while preserving the wooden window frame when it's cold outside.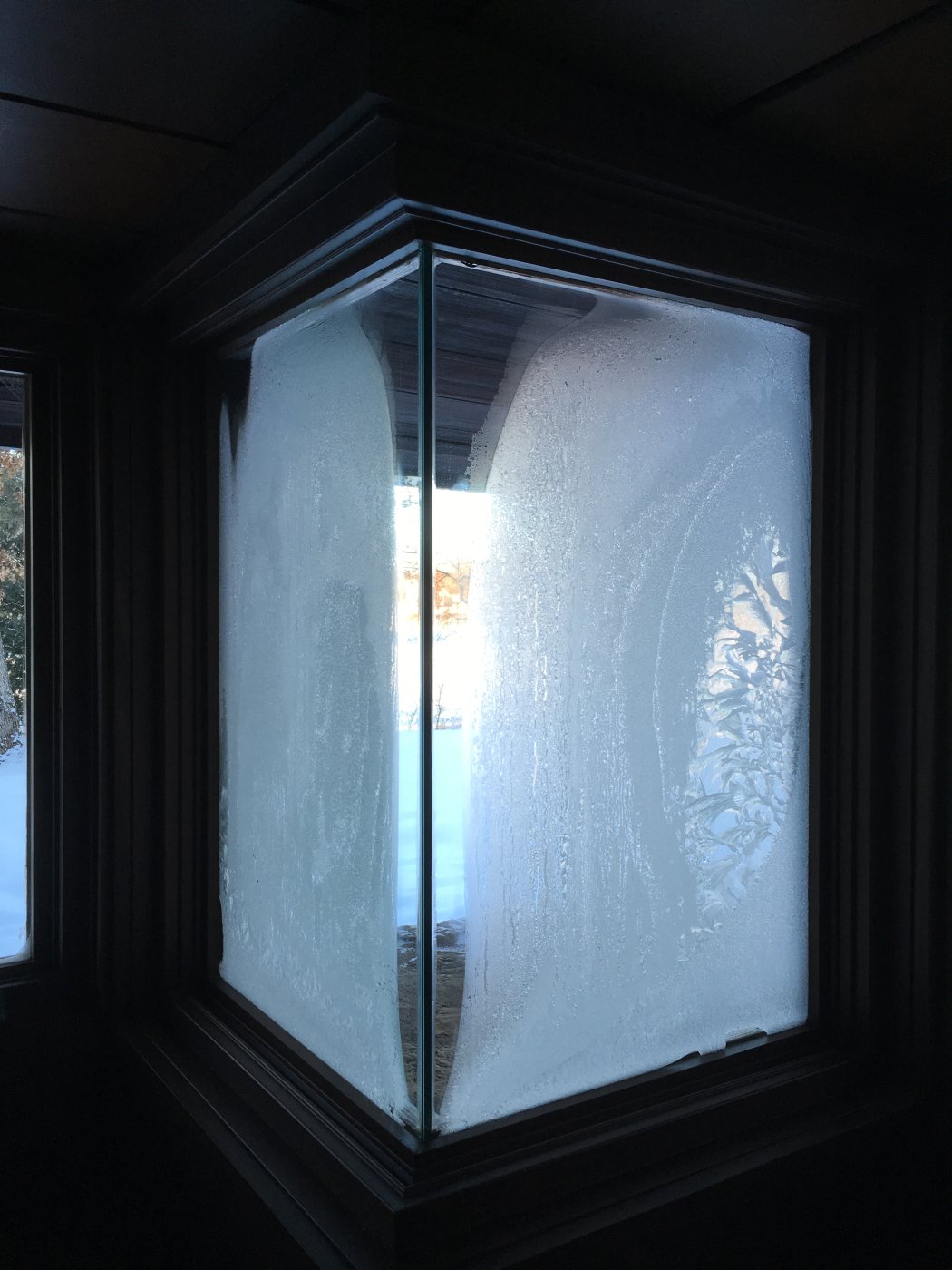 Hardware
All original handles, hinges, wall plates and locks were an assortment of bright brass or copper colored that had been well worn, pitted and tarnished. In order to provide a consistent finish throughout the house we selected period-correct, oil-rubbed bronze hardware as replacements.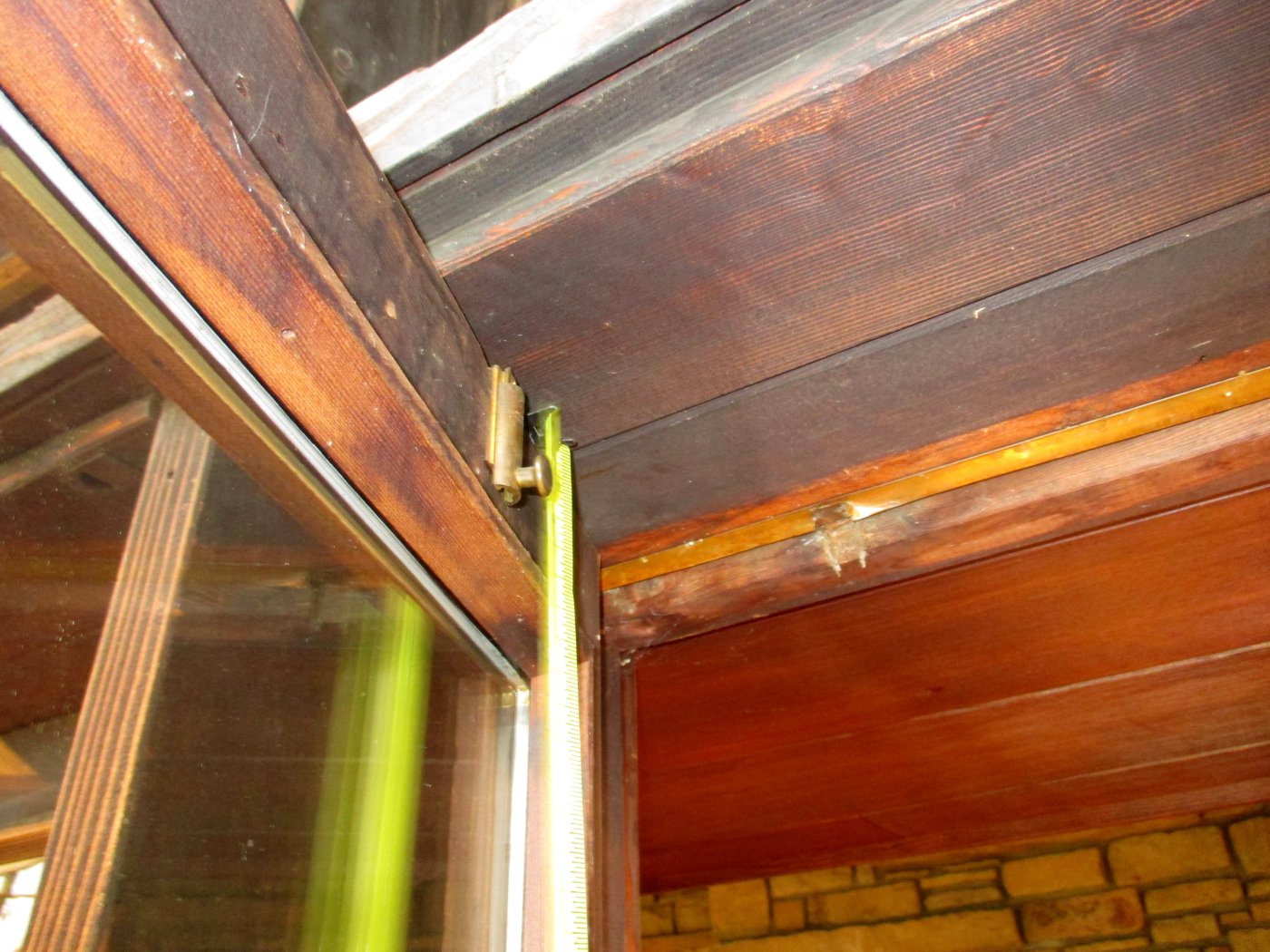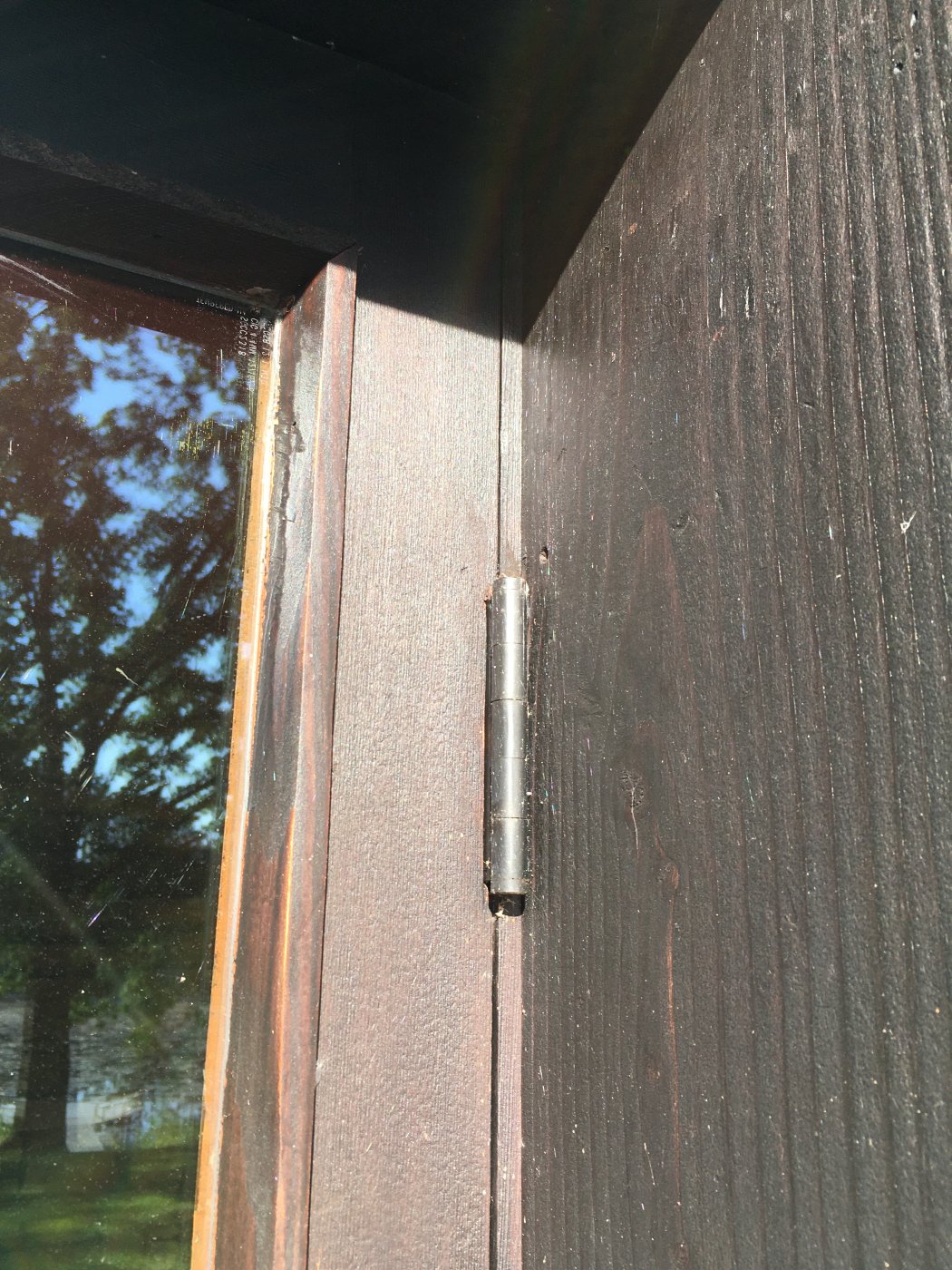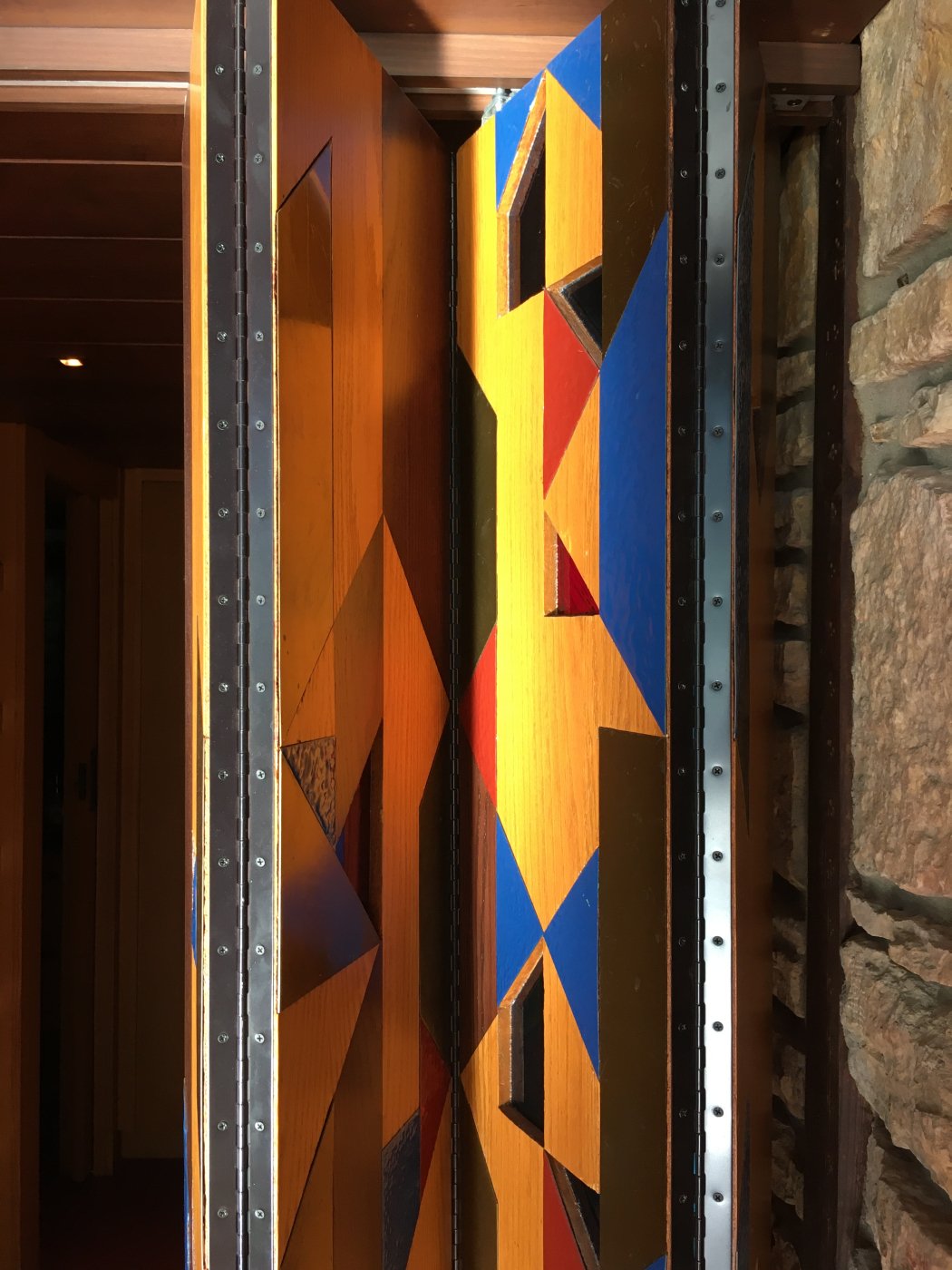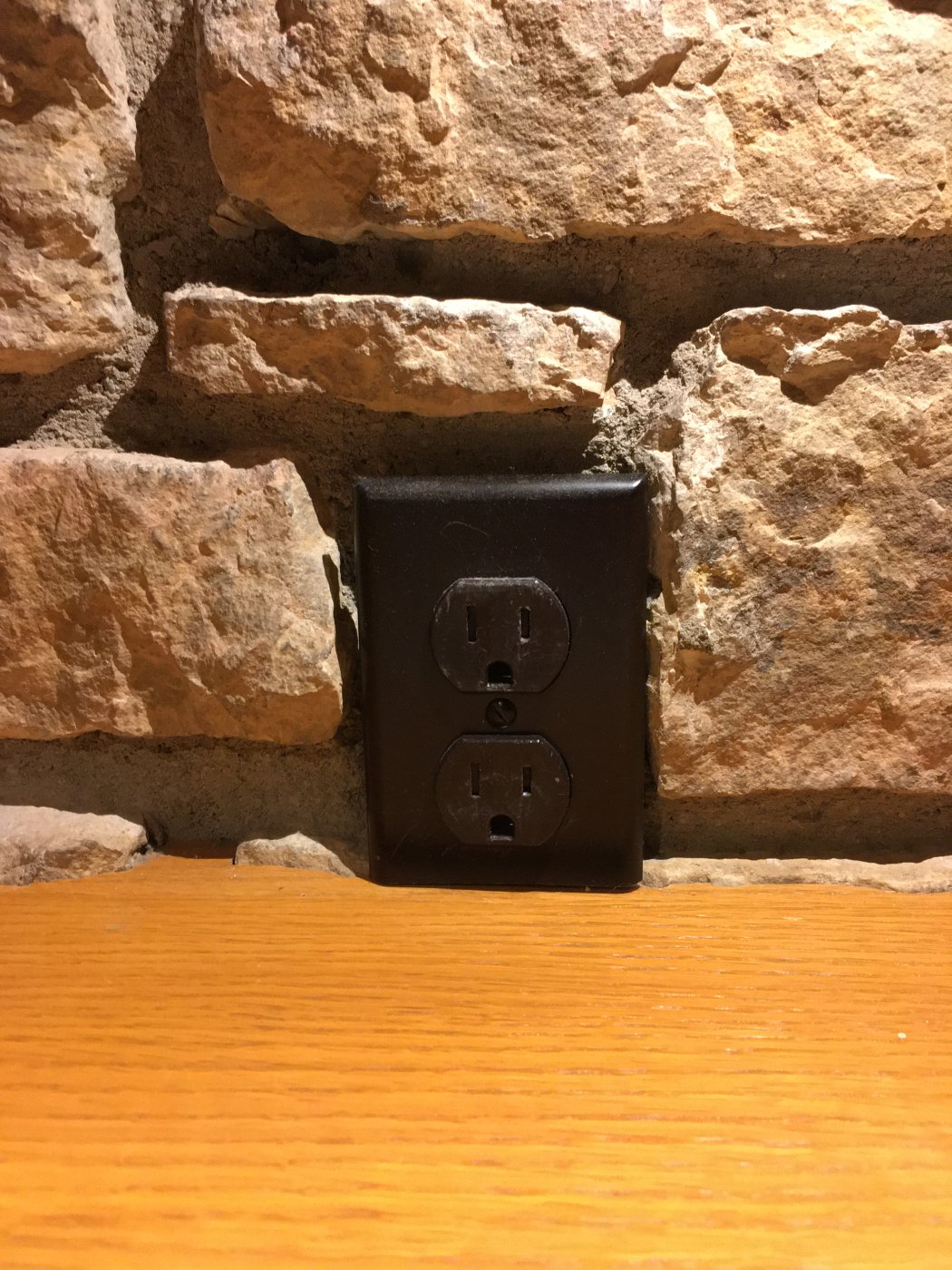 Lighting
Insufficient lighting is also a concern for many Wright homeowners, a point the Lovnesses discovered immediately upon sharing the family's first meal in the new house. Virginia told us that she called Mr. Wright and complained that she could not see her food at the dinner table. She said that he replied by sending her a Taliesin wall lamp. We rather suspect that Wright sent her the lamp plan and Don built it. The plan is in our archive and although the lamp is certainly there, we found it still to be woefully inadequate. Throughout the house, lamps were scattered compounding the clutter and distorting the view of Wright's amazing interior.
With the roof off we had access to the top side of the reflected ceiling.  Armed with the latest in LED technology we chose thirty-five locations where we felt additional lighting was necessary and added it accordingly. The fixtures measure two inches square, and are unobtrusive, being nearly the same color as the Douglas fir ceiling. The Juno fixtures function on tiny gimbals that can be aimed in the appropriate direction. Dimming models are also available. We placed all these task lights on circuits separate from the original recessed ceiling lights so, when we choose, we can reproduce the lighting intensity that Wright intended, which so greatly enhances the drama of his spaces at night.
New cabinetry offered us opportunities to add under-cabinet LEDs and puck lighting to the new shelves. All original electrical wiring, sockets, switches and plates were replaced with similar types. New mechanicals, appliances, lighting and other conveniences required an upgrade to a 200 amp service panel.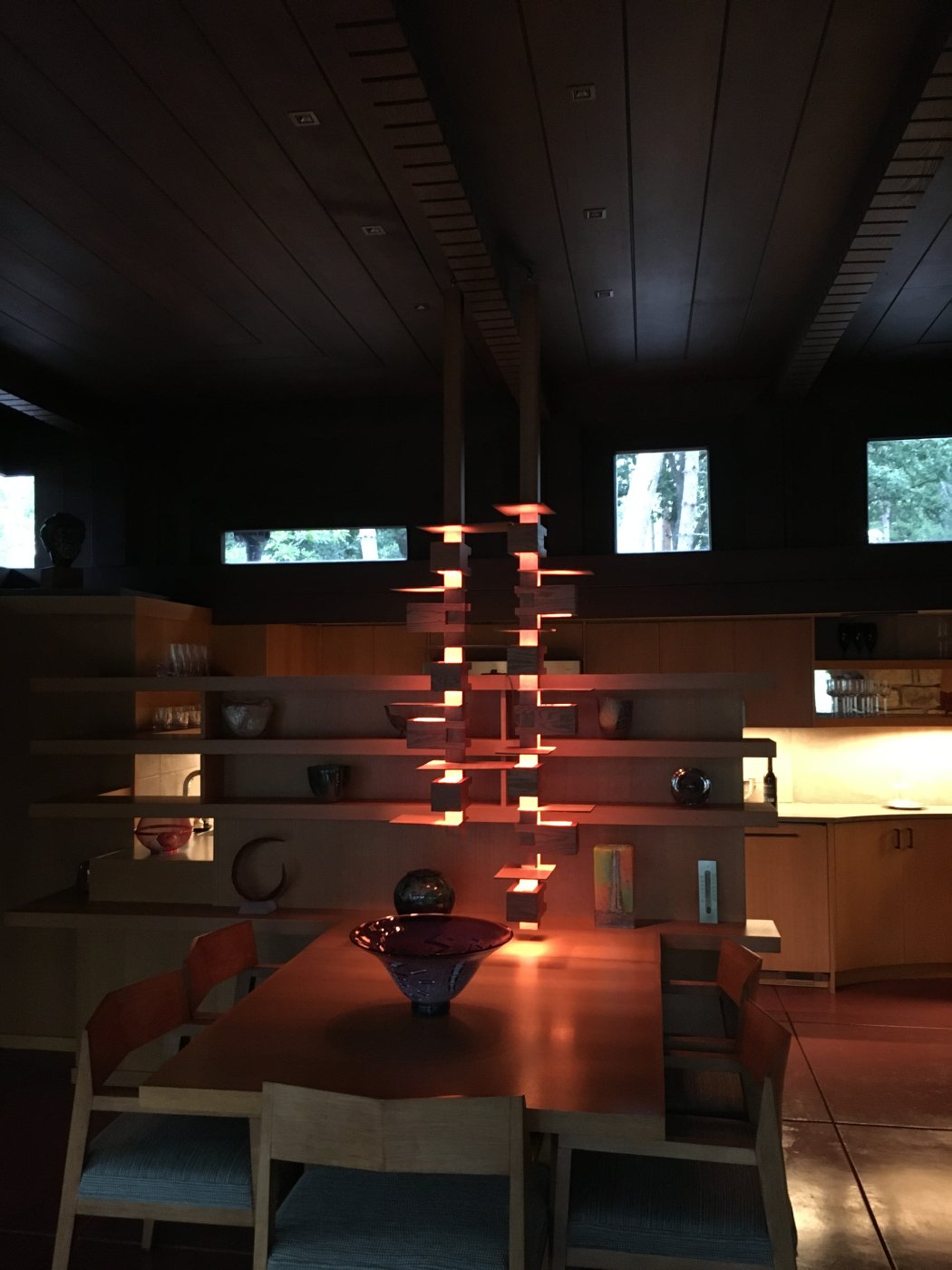 Furniture
Furniture designed by Wright for the house was similarly constructed of rotary oak and showed wear consistent with its age. Debi and I decided to store the originals and have reproductions of rift cut oak made. Our experience of living in the Studio for a year revealed that the Prairie style high-backed chairs that Virginia had insisted upon from Wright were uncomfortable and difficult to negotiate. The seats were lower than standard. The table heights were correspondingly lower. Therefore, new tables were commissioned of standard dimensions. After an extensive search, we selected and received permission to reproduce a set of dining chairs originally designed for the Pratt Institute in New York City. Our comfort was the highest priority, but the integrity of the design was also maintained.
With comfort in mind, our interior designer selected a matched set of upholstered Paris couch and living room chairs to soften the feel. And in order to provide some continuity, we restored two of the high-back dining chairs and many of the pieces of furniture Don had made from unexecuted Wright designs that he obtained from Taliesin apprentices. Visitors tell us they all blend seamlessly.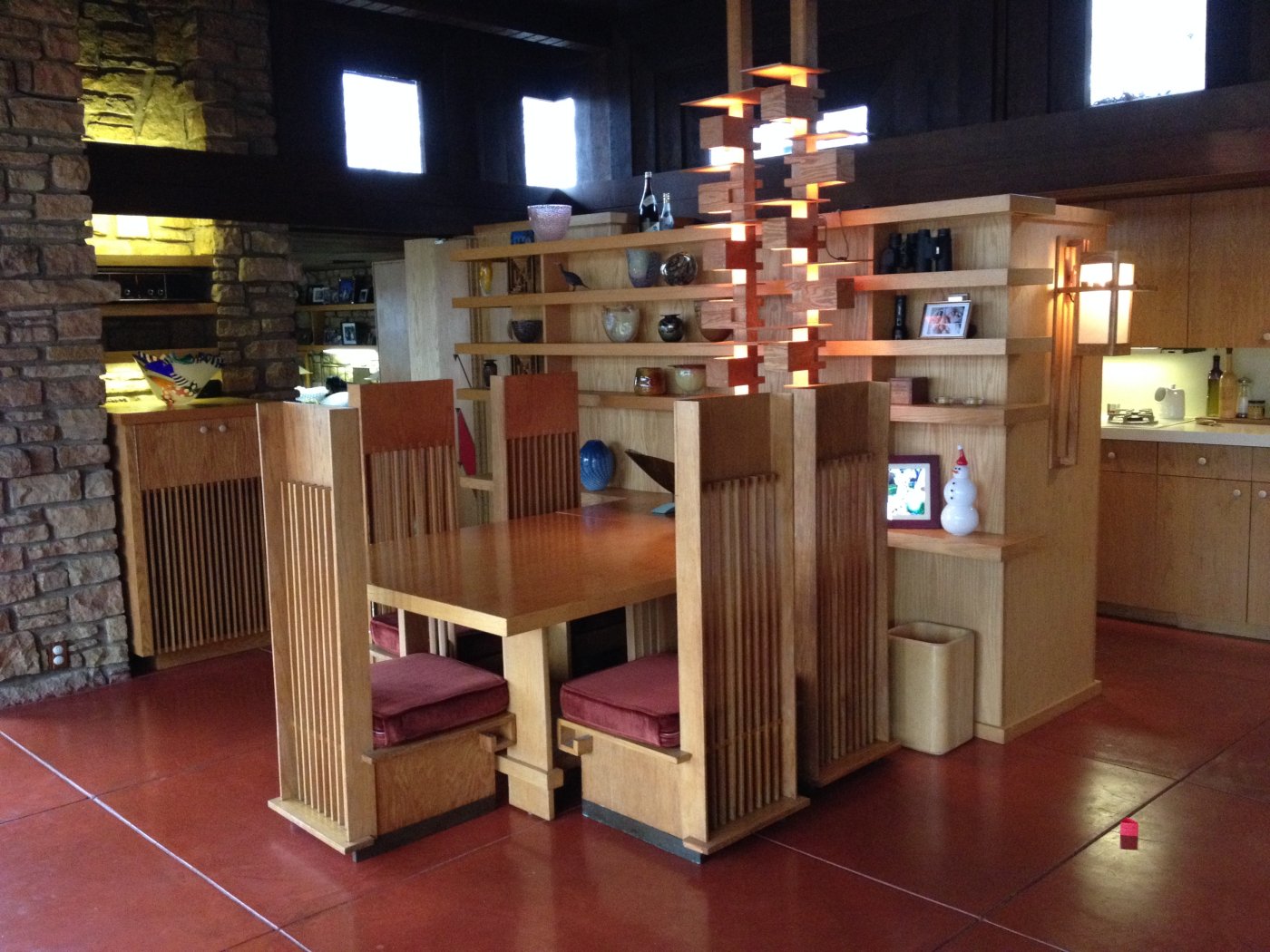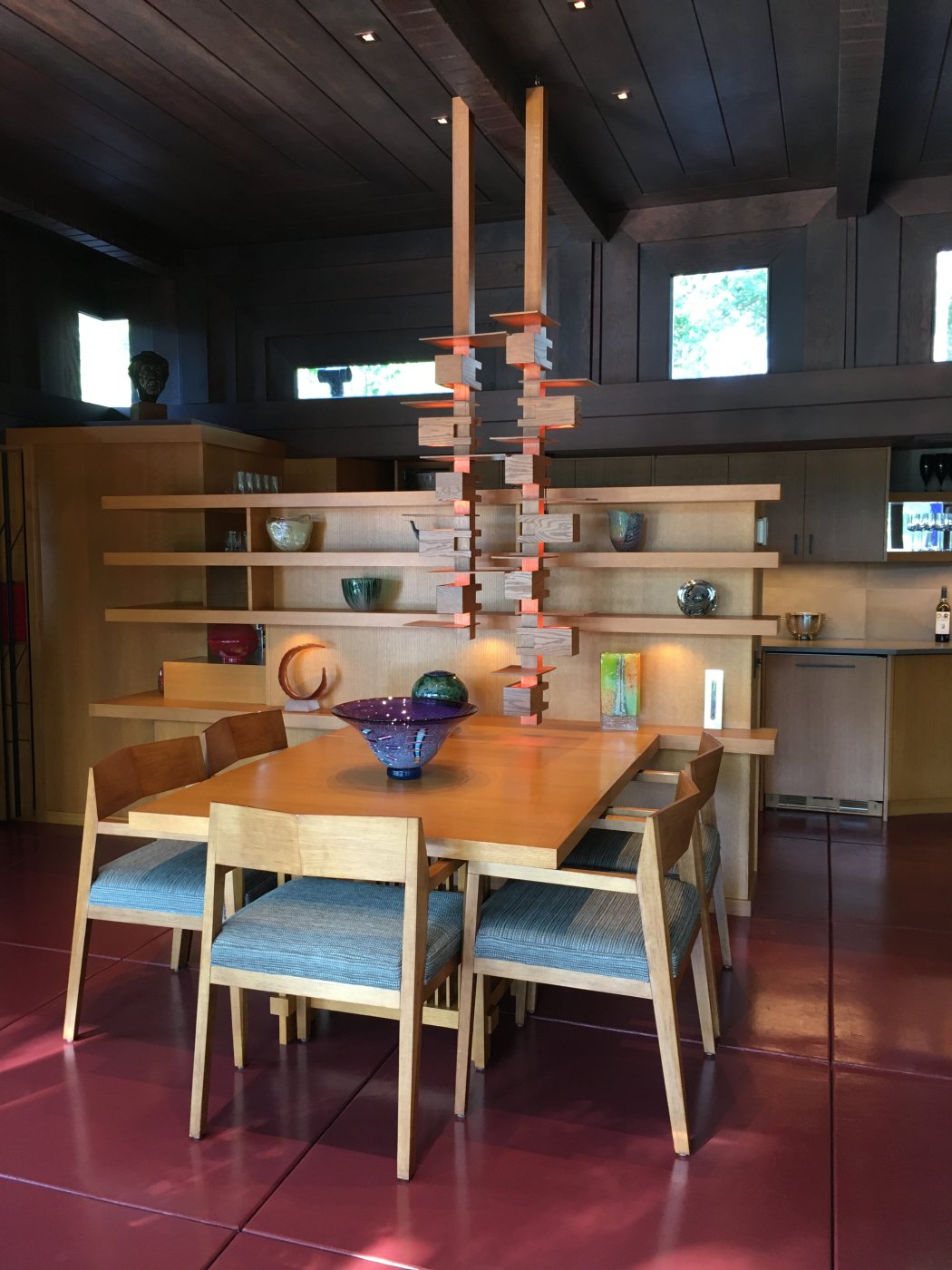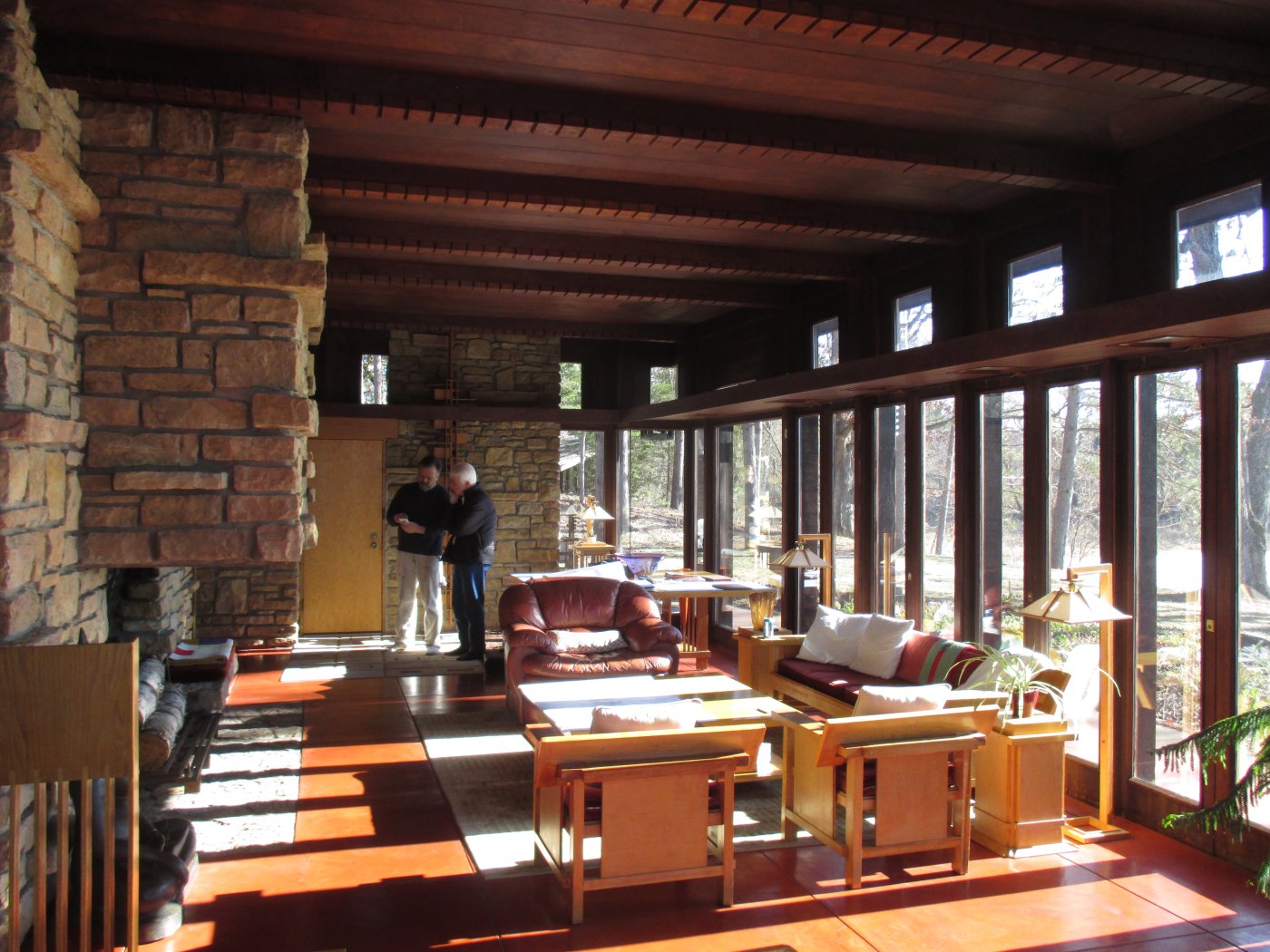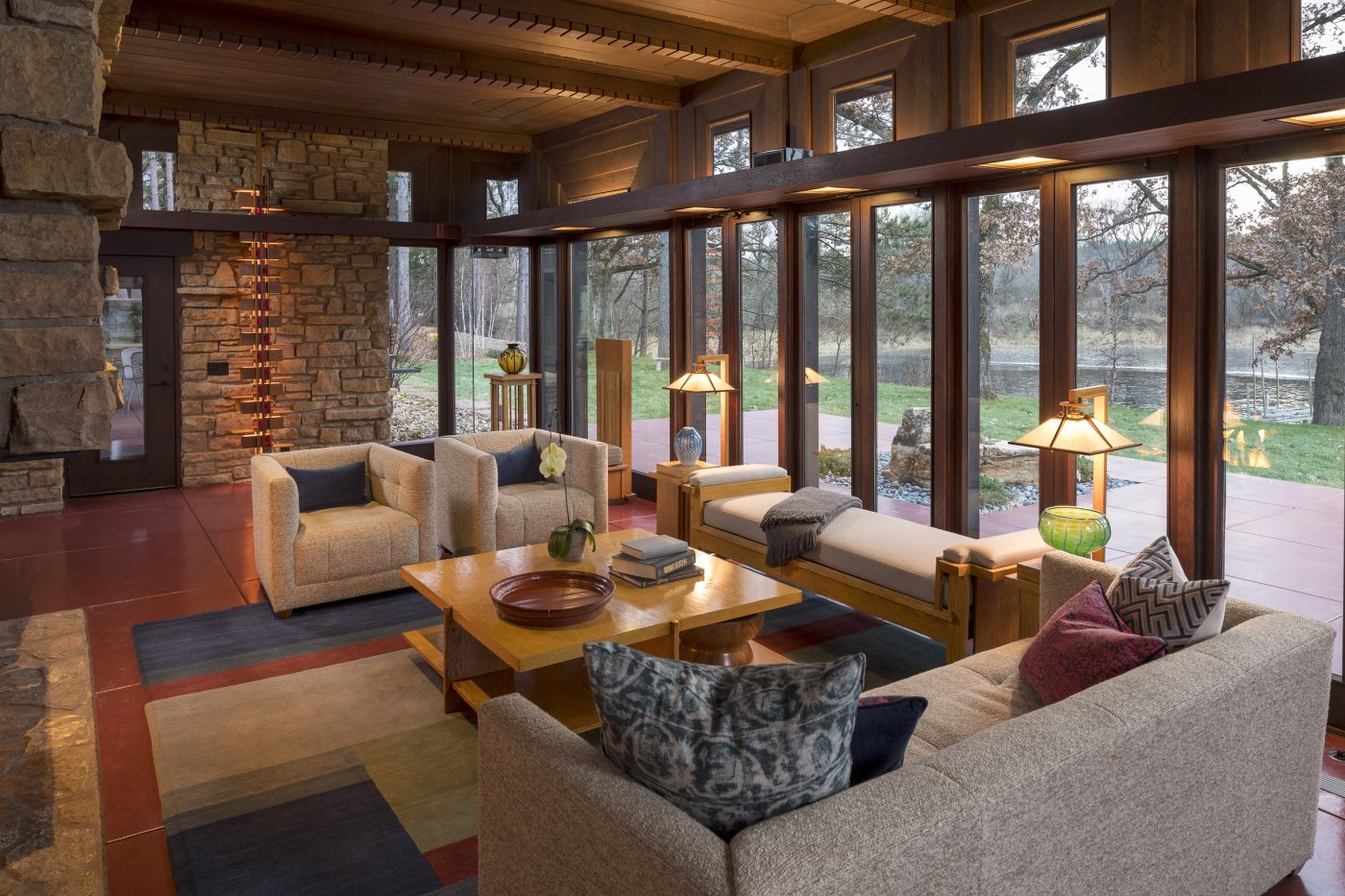 Landscape
Wright's original plans did not include a design for the grounds. The land that Don and Virginia had purchased was a lakeside cow pasture – an oak savannah. Virginia had planted a twelve-foot wide rock and plant garden outside the main window walls facing the lake. Over many years, the family also planted hundreds of red pines that have now fully matured. The property was fully forested when we acquired it – perhaps overly so.
After an extensive tour of the site with the architect to gain an insight and history of the project and its goals, we hired the services of a local landscape architect, who came up with a four-year Master Plan including a large garden, sumptuous planting beds, walls and a sixteen-foot patio replacing the rock and plant garden, which was very nice, but not very useful. The patio is now an outside extension of the living room floor and incorporates plantings and opens up views of the lake. It also affords us additional entertainment space during summer months. The American Society of Landscape Architects presented its 2018 Merit Award for Residential Design to our landscape architect firm.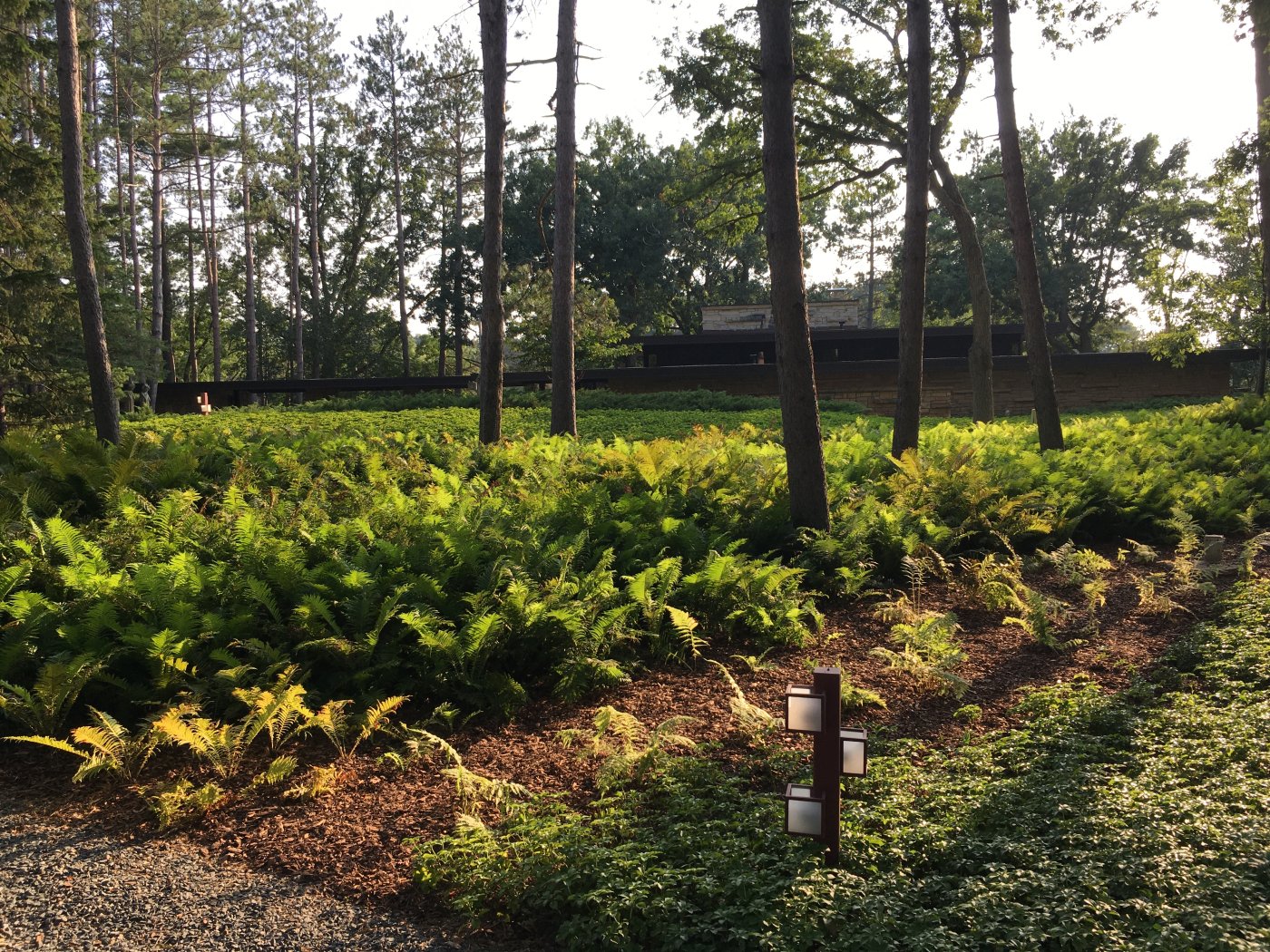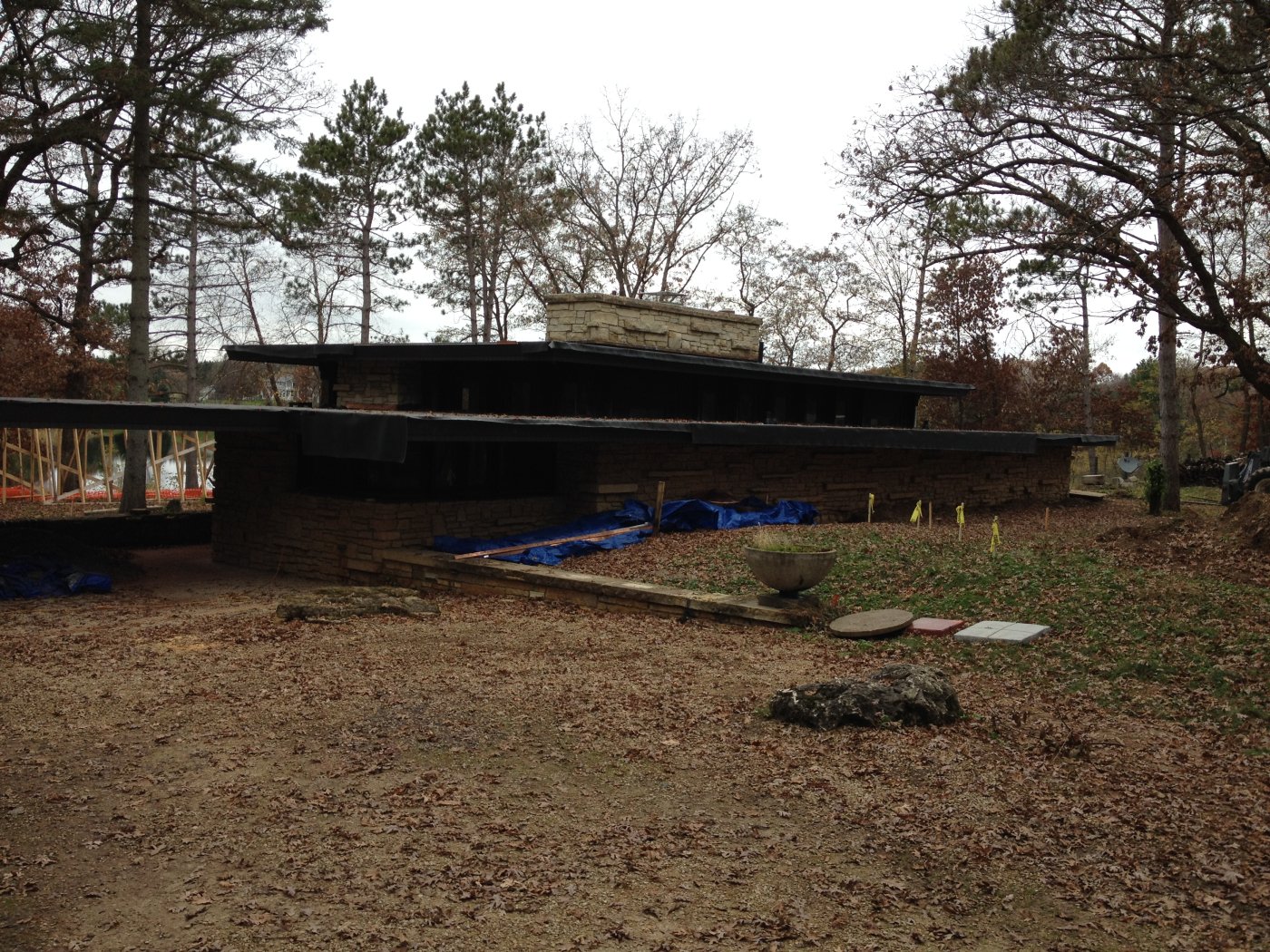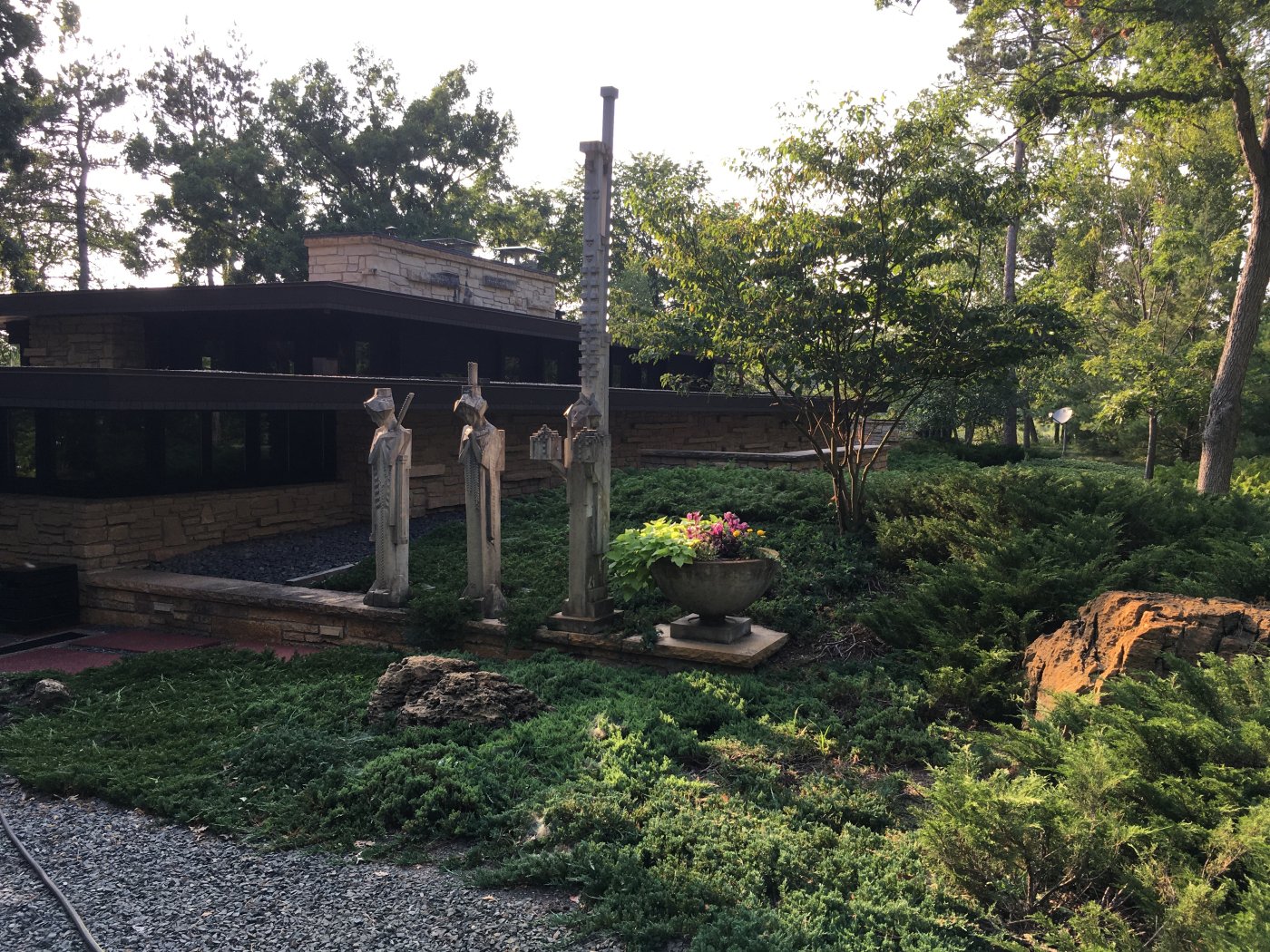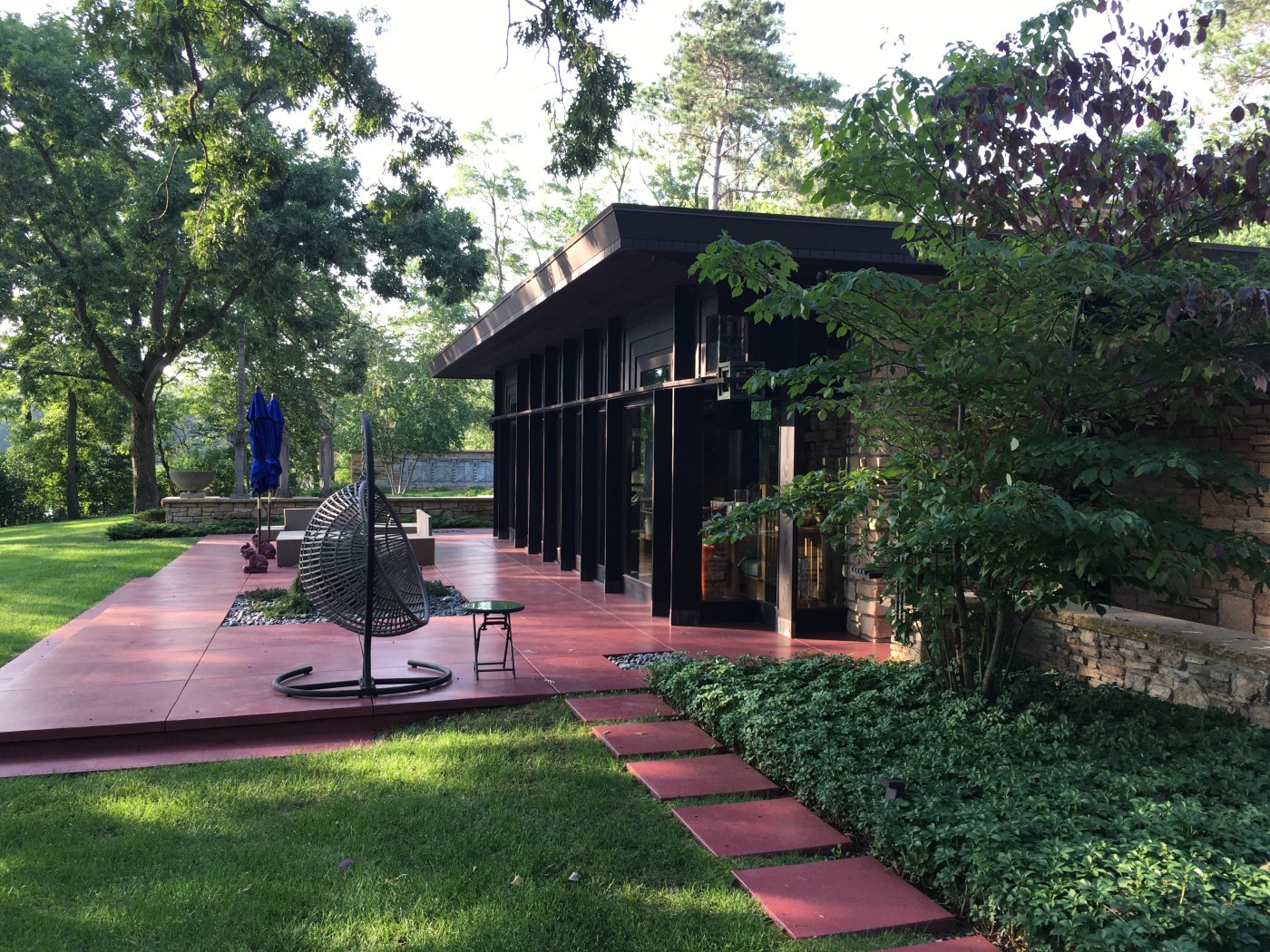 "Preservation"
Our activities have secured the longevity of this house as a residence while preserving the aesthetic of Wright's masterful design in a way that can't be duplicated by merely refreshing the original materials. That should be the only measurement by which the Wright community judges private residences. Our houses serve a purpose other than for posterity!
We also know from personal experience that today's Conservancy offers real and substantial advice to assist Wright homeowners in their quest for general advice, sympathetic repairs and restorations. Its Architectural Advisory Committee fields inquiries monthly from current Wright homeowners on subjects of concern. It is comprised of experienced architects, historic preservationists and homeowners, and is a sounding board to those who have questions regarding their plans or to suggest specific solutions to problems.
The Committee is an invaluable resource which has assembled a wide variety of articles and technical information on the Conservancy's website. These postings are of particular interest to homeowners. The Committee continually adds new information as a result of monthly homeowner contacts and other featured subjects. These resources bridge the gap between the Secretary of the Interior's Standards and the current reality for homeowners, with all points of view expressed. The committee may be contacted by email to [email protected].
Project Credits
* Please Note: The provision of this information or mention of a specific product or products does not constitute endorsement, recommendation, preference or approval by the Conservancy. It is provided only as a record of activities and as a starting point for further research by other building stewards.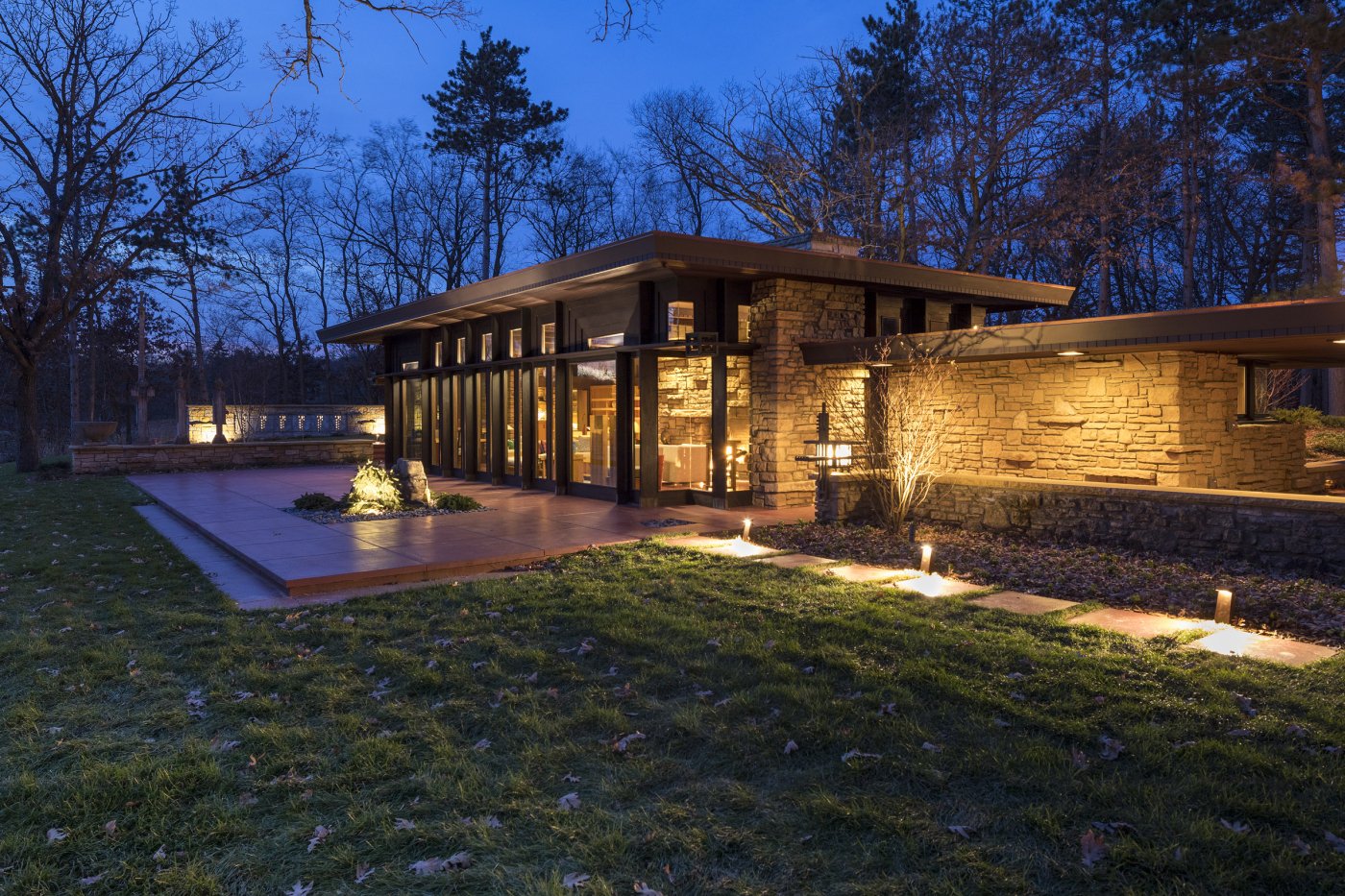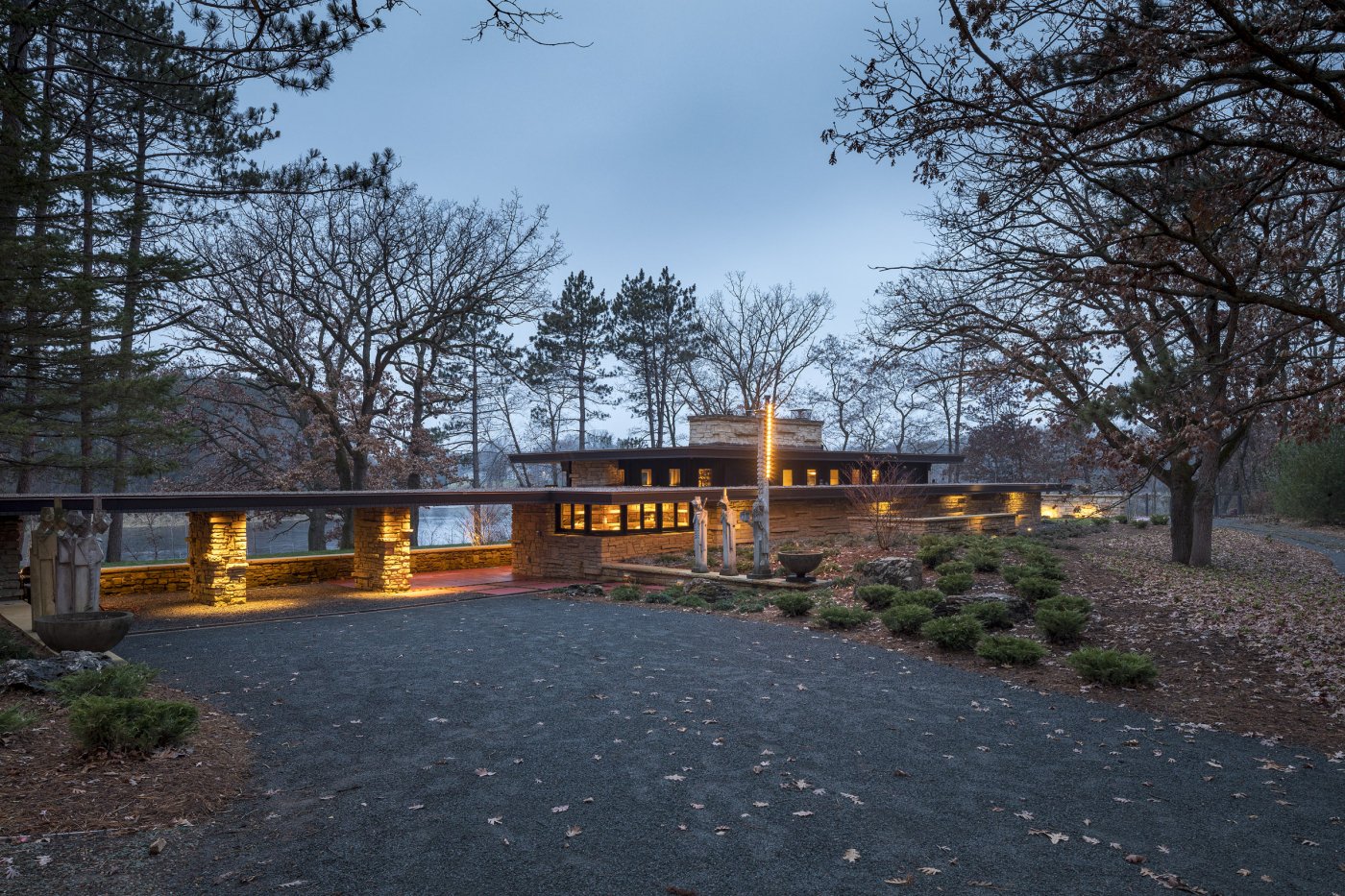 Posted August 29, 2023