Building owners and stewards may not realize that their Wright property is most endangered during times of property transfer. This is especially the case when future preservation is not carefully considered before the transfer process begins. Unless a well thought out succession plan is in place, what seems like a simple real estate transaction can easily lead to the destruction of a Frank Lloyd Wright building.
Here are some steps to ensure the safety of your architectural treasure.
While You Own: Keep up with Maintenance Issues
Keeping your property well-maintained is a win-win practice that can have long-term preservation benefits:
Win 1: While you are the active steward of the property, attention to regular maintenance helps keep small issues from getting larger. This will tend to lower overall repair costs.
Win 2: Completion of small maintenance projects leads to a more fulfilling experience of your house. You, as the steward, will be able to enjoy these benefits if you do them as they are needed, rather than waiting to do them for the benefit of the next owner.
Win 3: If you decide to sell, a well-maintained property will, under normal circumstances, be more valuable than one in poor condition.
Win 4: Finally, a well-maintained property will provide a positive baseline for future owners to work from, encouraging ongoing preservation. Conversely, a poorly-maintained property may discourage preservation-minded owners and encourage buyers who see the structures on the property simply as dispensable commodities.
For resources for maintaining your property, see our Homeowner Resources webpage.
Transferring Your Property: There are Several Options
Property transfer can be by bequest, donation or sale. When determining the best way to transfer your property, consider the preservation implications of each type of transfer.
Transfer within the family: Many Wright properties have been transferred within a single family. For example, the Walker House in Carmel-by-the-Sea, California, is now being stewarded by great-grandchildren of Wright client Della Walker. If you are thinking about giving your property as a bequest, communication is critical. Talk with your family. Make sure that your expectations for the property are understood, that your family members have similar goals, and that they have the resources to achieve them. You might also consider transferring the property to a close friend. A similar need for communication would apply in this scenario.
Transfer to a not-for-profit: Nearly 40 of the remaining Wright-designed residential properties are now in public hands of some type. Many are owned and managed by stand-alone not-for-profits, such as the Westcott House and the Laurent House. Some are owned by larger cultural organizations, such as the Zimmerman and Kalil Houses, owned by the Currier Museum of Art. Others have been donated to educational institutions such as the Melvyn and Sara Smith House, which is owned by Cranbrook Academy, and the Hanna House, which is owned by Stanford University.
If you are thinking about donating or selling your property to a not-for-profit organization, or facilitating the creation of a not-for-profit that will steward the house, examine the future viability of such an organization. While stand-alone institutions may have a dedicated mission solely focused on the preservation and interpretation of a particular site, they must compete for the attention and support of the larger community. On the other hand, a property stewarded by a larger institution must compete internally for support. It's worth bearing in mind that, while an institution may be enthusiastic about stewarding a building at the time of its donation, that institution's priorities may change, leaving the property without the administrative support it once enjoyed.
While the properties mentioned above are exceptionally well-stewarded by their owners, some institutions, particularly colleges and universities, struggle to maintain their historic sites. Such institutions may assign a facilities administrator, unfamiliar with stewarding historic structures, to oversee the site. This may leave the property subject to inappropriate maintenance and renovation work.
Unless a well thought out succession plan is in place, what seems like a simple real estate transaction can easily lead to the destruction of a Frank Lloyd Wright building.
In any of the scenarios discussed here, proper funding is critical. Investigate whether the organization that might be stewarding your property has adequate funding, not just now, but into the indefinite future. If it does not, you may want to consider creating a dedicated endowment for the property that is sufficient for stewardship for decades to come. The appropriate size for an endowment will vary from site to site, but first, review your own costs for maintaining the property. Then, work with the not-for-profit to which you are considering donating the property (if it already exists), to understand their expectations of expenses incurred in maintaining a site that is open to the public. If a not-for-profit does not currently exist, consider speaking with stewards of other public sites to learn about their expenses. The Conservancy is a part of a strong network of Wright public sites and likely will be able to connect you with knowledgeable stewards.
If you determine that funding is not adequate for the future support of your property as a public site, consider selling the property with adequate legal protections to ensure its preservation. The majority of Wright's built structures were designed as single-family houses. Safeguarding that they remain so is a sound preservation goal.
Transfer by sale: This is the most common form of Wright property transfer. The Conservancy's guide to selling a Wright property provides suggestions for marketing your property. Our Wright on the Market webpage typically lists between ten and twenty Wright properties for sale at a given time. Whether you expect your house to be sold during your stewardship or by your heirs, without careful planning the sale of a historic property can put it at risk of being purchased by a non-preservation-minded buyer.
Unlike transferring to a family member, friend, or to a not-for-profit organization, with a sale there may be limited opportunity for communication between you and the potential buyer. Without safeguards in place, there is no way to know if the Wright-designed property you have carefully stewarded will be cared for. Instances have been known where a buyer has represented him or herself as preservation-minded, but after sale has demolished or significantly altered a structure.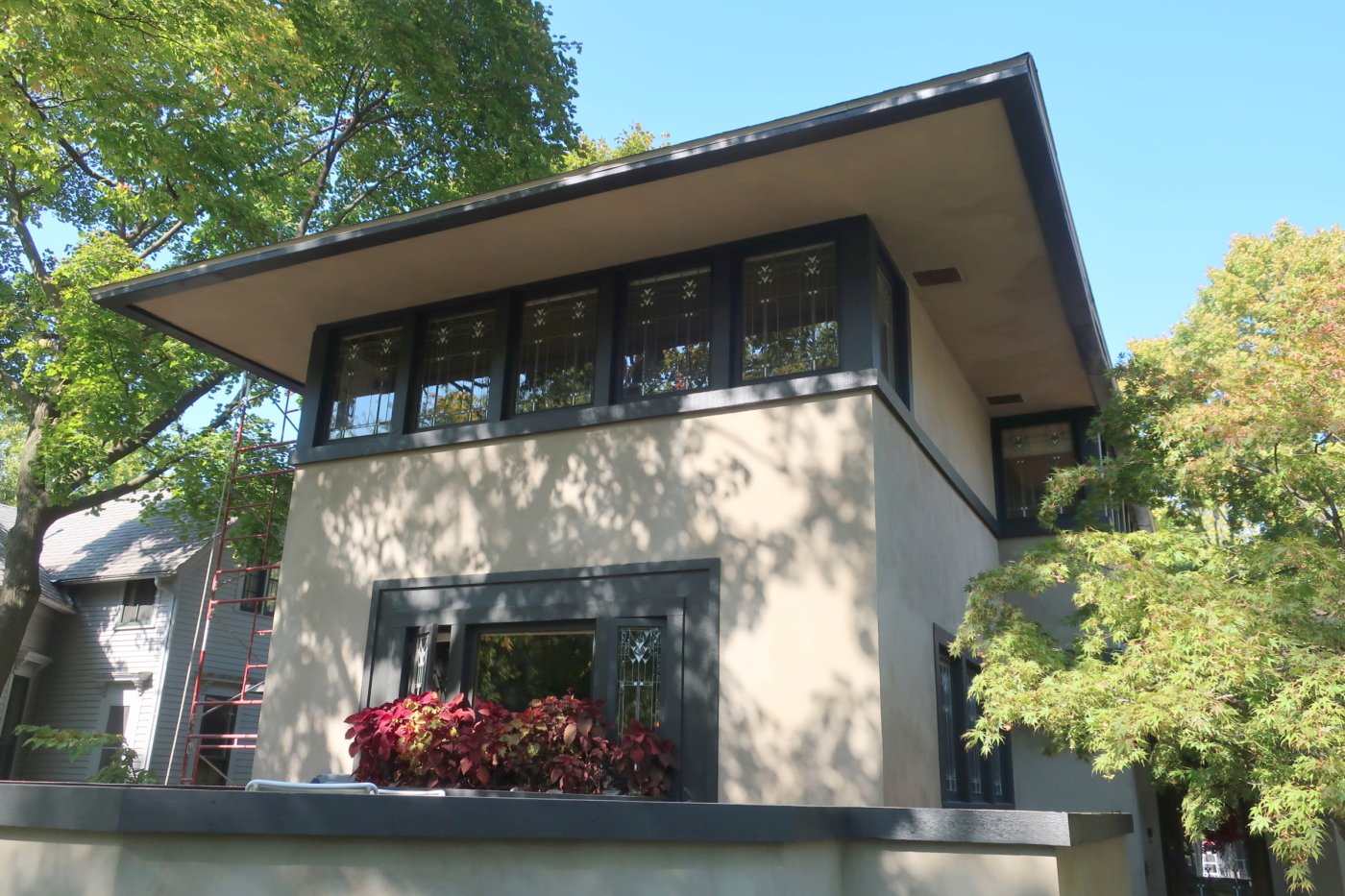 Ensuring the Future of Your House: Legal Protections
Legal protections such as strong local landmarking or a preservation easement are the only certain way of ensuring a property's future. While some shy away from such protection, fearing it may diminish the dollar value of a property or limit options of owners in the future, these designations can be seen (and marketed) as an indication of the value you and others place on your property. They can act in effect, as a "seal of approval" certifying the historic quality of your property.
It is worth noting that not all local preservation ordinances have the same strength. When evaluating your community's landmark ordinance (if it has one), it is helpful to check with your local or state preservation advocacy organization. Some ordinances give a property only honorary landmark status, which does not protect it from significant alteration or demolition. Similarly the listing of a structure on the National Register of Historic Places is an important step in its recognition as a significant site, but gives little direct protect for a structure.
For these reasons, the Conservancy considers a preservation easement to be the strongest and best tool to assure the long-term preservation of qualifying historic structures.
When the owners of Hoffman House in Rye, New York, decided to sell, they included the donation of a preservation easement as a part of the purchase agreement. In Elmhurst, Illinois, the Henderson House owners donated an easement while the house was on the market to protect it in an area heavily prone to teardowns. Preservation-minded owners who appreciate the Henderson House for its architectural and historic value have since purchased the home. The former owner of the Booth Cottage in Glencoe, Illinois, decided not to protect the cottage before selling. The building was saved from demolition only after a major effort by the Conservancy, Glencoe advocates and others.
Moving Forward
Maintaining your property while you steward it, carefully planning ownership transition and establishing strong preservation protections are the key ways to ensure its future preservation.
The Conservancy would be happy to work with you as you plan for the future of your Wright-designed property, please don't hesitate to contact us at preservation@savewright.org or 312.663.5500.
---
Posted on October 14, 2020
Posted October 14, 2020