In April 2016 the Conservancy brokered the move of the R.W. Lindholm House, designed by Wright in 1952, from Cloquet, Minnesota, to Polymath Park in Acme, Pennsylvania, to ensure its preservation. In April 2019, Conservancy Executive Director Barbara Gordon and multiple Conservancy board members attended a grand opening celebration for the beautifully reconstructed house.
The house was donated by owners Julene and Peter McKinney (a grandson of original owners Ray and Emmy Lindholm) to Usonian Preservation Inc., the nonprofit corporation affiliated with Polymath Park in Acme, Pennsylvania. The deal followed efforts by the McKinneys and the Chicago-based Frank Lloyd Wright Building Conservancy (Conservancy) to find a solution to secure the long-term viability of the house. The Conservancy worked with the McKinneys to market the house to potential buyers who would keep the house on its original site, which had become encroached by burgeoning retail development along a brightly lit and noisy commercial strip, as well as those who sought to relocate it.
The building—minus the concrete block, floor slab and roof rafters—was deconstructed during April and May 2016 and moved to Polymath Park in Acme, Pennsylvania, where a relocated house by Wright and two houses by Wright apprentice Peter Berndtson are also located. Construction of Mäntylä was completed on its new site in April 2019. The grand opening celebration took place on April 29 and was attended by Julene and Peter McKinney; Polymath Park owners Tom and Heather Papinchak and many of the artisans who worked on the house reconstruction; and Barbara Gordon, executive director of the Conservancy as well as several Conservancy board members who monitored the reconstruction process. The house will be protected by a preservation easement and monitored by the Conservancy. Copies of the original drawings will remain with the house, along with other archival material.
In 2007, Tom Papinchak (President of Usonian Preservation Inc.) and his wife, Heather, relocated the previously dismantled Wright-designed Elizabeth and Don Duncan House (1957) to the 130-acre Polymath Park, located 20 miles from Fallingwater. The reassembled Lindholm House will be showcased through overnight stays, educational programs and tours.
At the grand opening, the McKinneys were thrilled that their goal of preserving their Wright-designed house was achieved. "The decision to relocate the house was a very difficult one for us," says Peter McKinney. "The house has been in our family for over 60 years and our son, David, grew up there. The three of us believe this solution is best for the long-term survival of the house."
"The Conservancy has long disfavored moving a Wright house unless its demolition is imminent or its site becomes so compromised that it is unmarketable," says Gordon. "The McKinneys and the Conservancy concluded that there was no viable long-term future for the house as a residence on its once secluded, wooded site. Seeing the wonderful work done by the Papinchaks to reconstruct the house on a similar site in the woods—and knowing that people from all over the world will have the opportunity to visit this little-known Wright work—we all feel like the right decision was made for the future of the house."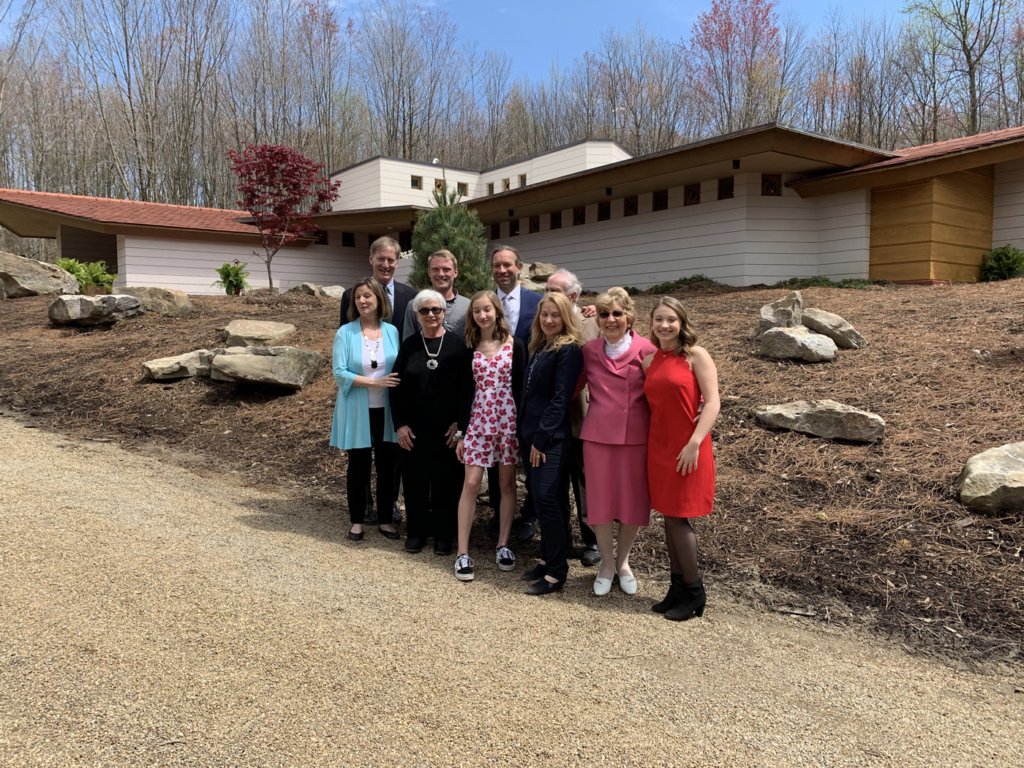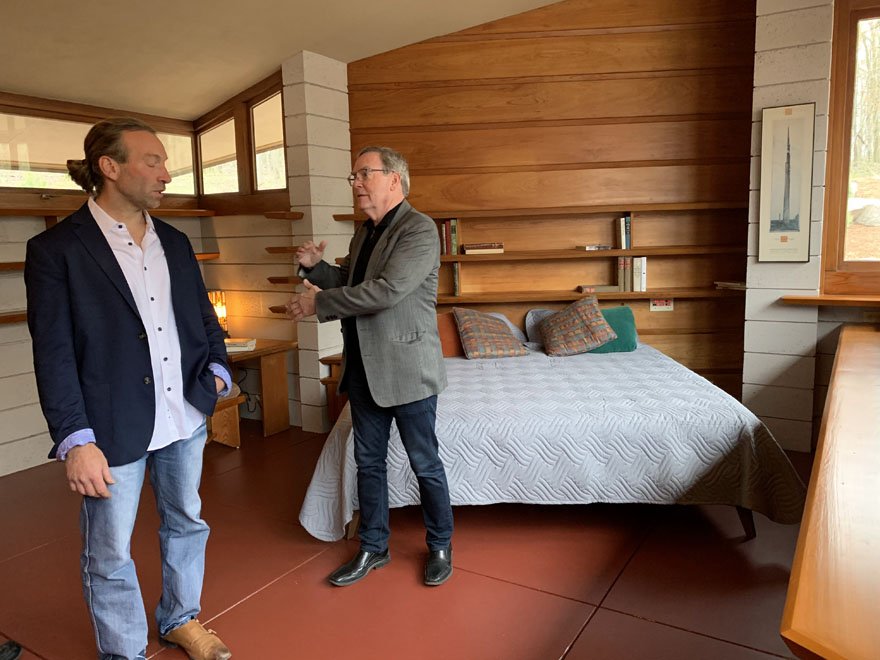 Posted May 16, 2019